It felt like it was just yesterday that the sudden announcement(s) of changes came.
As a fan of Running Man for many years, I've been so used to having 7 members. Seeing all 7 members interact with each other through the ups and the downs were the highlights of the show.
And when Kang Gary left, I'm sure many of our worlds crashed as well.
But as if that change wasn't enough, for a short period of time, it was confirmed that Kim Jong Kook and Song Jihyo were apparently told to leave the show as well.
If you thought these two crashing news weren't enough for a frail heart to handle, shortly after the big controversy of the "firing" of two of the show's aces, SBS announced their intention to include emcee Kang Ho Dong as part of their cast.
And then, they decided to end Running Man completely by February 2017.
Talk about Makjang dramas being too overtly emotional. All these very real things happening within a span of 2-3 months was even harder to handle. More so if you've been a fan of Running Man.
It seemed like the future of Running Man was bleak and hopeless. But just when things only seemed to be going downhill, SBS retracted their last 2 statements and decided to keep our SpartAce couple and Running Man running as a whole.
But here's the catch.
2 new members, Yang Sechan and Jeon So Min were going to be added to the 6-member cast.
Personally, this, of all news, was the hardest to accept, initially.
I wasn't ready for 2 very new, very permanent members joining the solid cast relationship they've built for the past 7 years.
For 7 whole years, many fans including myself were so used to watching the same lovable cast every Sunday. It was almost religious to see them fight and protect each other altogether.
This was also the same reason why many fans preferred episodes with no guests, episodes where they worked together to outwit and outsmart the PDs and the writers.
It was like them against everything else. And many loved it.
Monday Couple, SpartAce Couple, Easy Brothers, Pil! Chok! Cross!, Candy Alliance etc. etc. were pairings that hit close to home.
So to break into unknown seemed like a burden to many fans, with many opposing to the addition. Many were unsure of the addition of another female member or were afraid that the original chemistry was going to blow up in flames.
Suddenly, ending the show on a high didn't seem like a bad idea anymore. It seemed like a giving the show the proper ending it deserved was a better option than going into oblivion.
But if there's anything Running Man taught us, it was to always think about situations in a different perspective.
It took me 4 months to finally find the courage to give Running Man another watch after the changes. For 4 months, I couldn't stand the idea of not liking the cast of one of my favorite shows around, and I wasn't open enough to accept the changes because I never understood why the changes we have always wanted included a cast addition.
I wasn't sure of what to expect, but I missed my weekly dose of happiness a lot.
I was prepared to dislike it, but I was defeated.
In all truthfulness, I cannot say I was bought over in one episode. But it was an episode that took away the dry spell of genuine slapstick comedy on Running Man. I liked how the original cast members tried to interact with the new members, and it played out well when So Min and Sechan seemed comfortable and relaxed in the episode.
It was an hour filled with fresh new feelings, perspectives and all the like, but it was an interesting kind of experience. My concerns seemed unfounded and I continued watching subsequent episodes.
As reports have shown, many people who gave the new episodes a shot found it to be more entertaining. And if the ratings were any indication, Running Man was slowly gaining back its popularity when it first started 7 years ago as an urban escape variety show.
Many new pairings emerged from the change, like Mongdol Sisters. 
But many fans still are unable to accept and give the new episodes a shot, including many die-hard fans I know. Some of whom even introduced me to Running Man in the first place.
It's not surprising why it's difficult to accept change when we're so used to a routine. But if you're one of the many many Runners out there who hasn't watched Running Man since the change for one reason or another, let's do it as a gift to the cast members for their 7th year anniversary, original or not.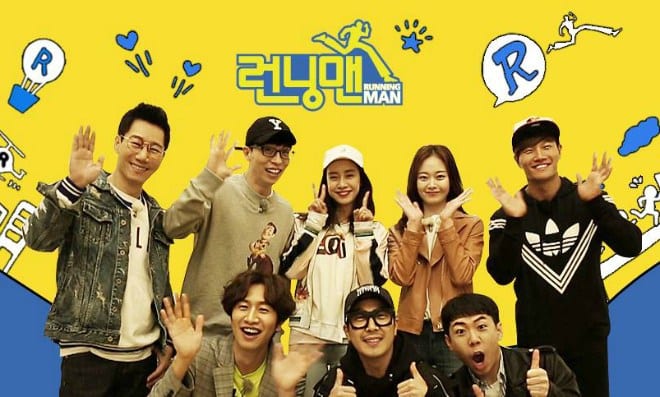 It must've been tough for the original members to accept the change themselves. If we thought it was hard to watch them, they had added responsibilities to ensure that the new members feel welcomed and that there was no jarring awkwardness between all of them.
I'm sure it was difficult for them too, even if the worry was minimal.
Ji Suk Jin, Yoo Jae Suk, Kim Jong Kook, Haha, Song Jihyo, Lee Kwang Soo and even Kang Gary, have been running their hearts out for the better of the show, putting in their best efforts to bring laughter every week without fail. But as time passes and age catches up with them, there must be inevitable changes made to the concept of the show to keep Running Man going for as long as possible.
7 years since the first episode aired has passed on 11 July 2010, and many fans who were loyal followers of the show since the start were, sadly, not around to celebrate this huge milestone.
So I encourage you to give it a try. Who knows? Maybe you'll grow to like the show as you did years ago and you can be thankful you didn't give up on a gem you cherished so much (:
Happy 7th Anniversary Running Man, thank you for the unending laughter and joy.
We'll be cheering for you!
Article by: Beatrice @ KAvenyou