Korean superstars Hyun Bin and Jang Dong Gun will be coming to Singapore at the end of this month! Together with director Kim Sung Hoon, they will be here to promote the highly anticipated period zombie blockbuster RAMPANT on 30 October.
Besides gracing the gala premiere, fans can get to see the actors and director upclose at a public meet-&-greet event! Do not miss the chance to meet them as this will be the ONLY international junket for the movie!
Following the international junket in Singapore for RAMPANT, it will lead up to a 19-country simultaneous release on Halloween week. The movie sneaks on 31st October for Halloween and opens in cinemas islandwide on 1st November.

Director Kim Sung-Hoon's third feature, RAMPANT, tell the story about the undead demons that are rampant in Joseon. With his home country on the verge of collapse, Prince Ganglim (Hyun Bin) returns to Joseon; only to be greeted with peasants who seem to be infected with a mysterious virus. He is forced to kill his own people alongside Baron Park (Jo Woo-jin) and his men; and he unwillingly joins their crusade to eliminate all the demons before they reach the royal palace. Meanwhile, Minister of War Kim Ja-joon (Jang Dong Gun) has his eyes set on the throne and uses his authority and influence to gather enough support to dethrone the king and uses the virus to create chaos in the palace.
RAMPANT Singapore Meet-&-Greet Event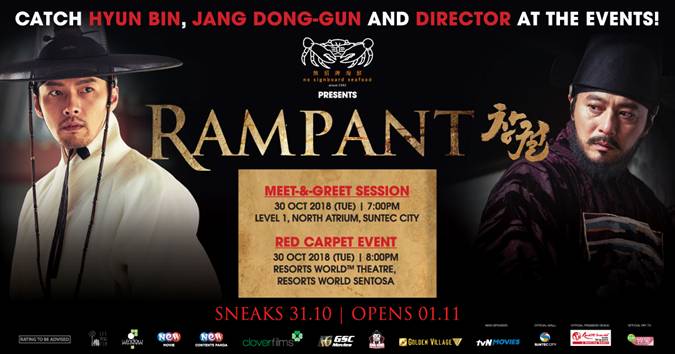 Date: 30 October 2018 (Tuesday)
Time: 7pm
Venue: Level 1, North Atrium, Suntec City

Hyun Bin, Jang Dong Gun & director will also be attending the red carpet & gala premiere!