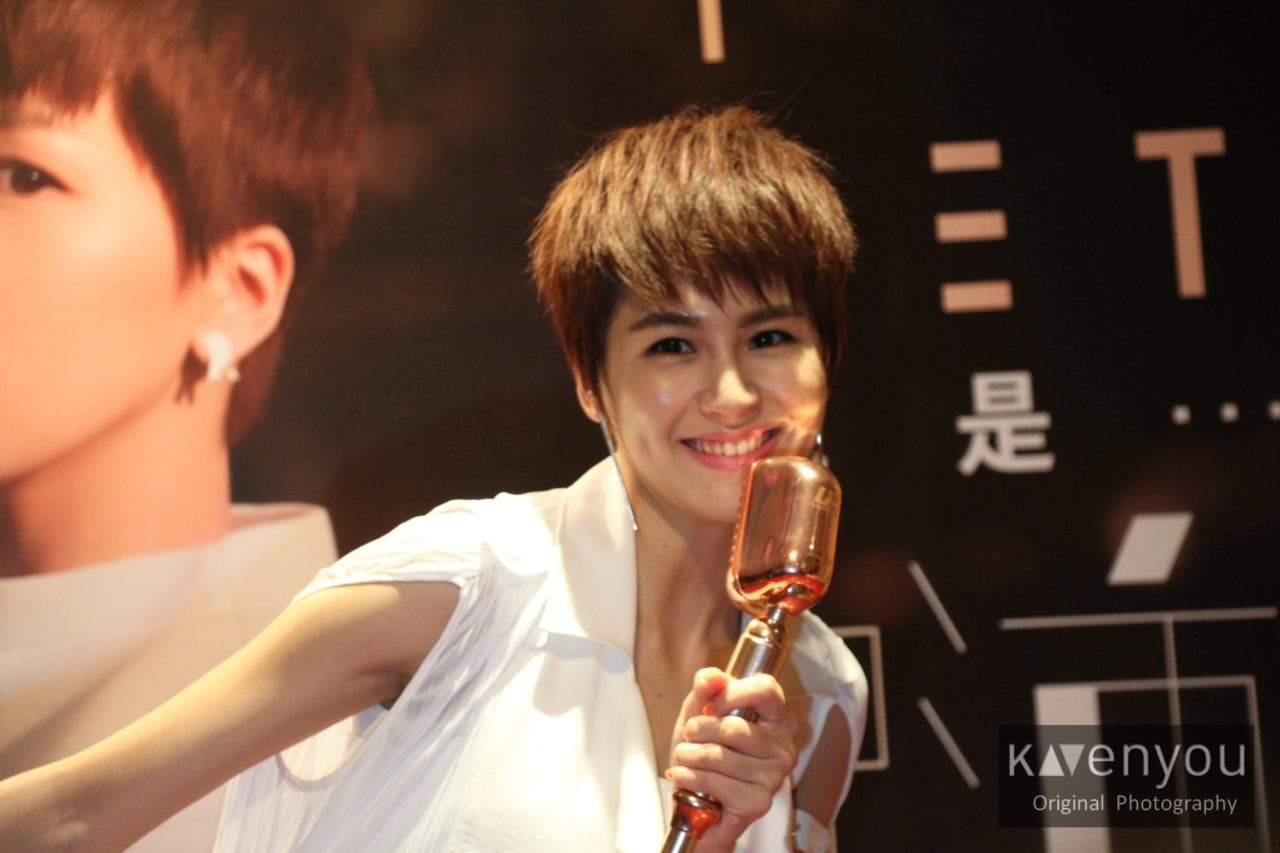 Press Conference
3rd April 2015, Malaysia – Been in the industry for 7 years, Pets Tseng finally made her debut as a singer in December last year.
It wasn't just her first visit to Malaysia, but also the first time she got kissed by a fan since she debuted. During the press conference, Pets mentioned that at the end of her Sharing Session in UTAR Kampar, she felt a peck on her cheek when she hugged with a fan. As this was her first time to Malaysia, she thought that Malaysian fans were as warmth as the weather.
As this was her first album after seven years, the company put in a lot of effort by arranging Hong Kong Top Celebrities hairstylist to style her hair. She also mentioned that although her hair length now was the shortest since she debuted, however, her refreshing short hair had gained praised from her friends. "许多异性朋友都称赞我变漂亮了!既然当歌手会变漂亮,那我要继续当歌手!"
During the press conference, Penny Tai (戴佩妮) , the songwriter for Xiao Ren Wu De Da Yuan Wang《小人物的大愿望》and Eric Lin (林建辉) , the Malaysian singer who had a one-to-one competition with her for three consecutive weeks in One Million Star (超级星光大道), also gave their blessing to Pets through VCR recorded earlier. Pets was touched by the VCR, however, she said "I had cried too many times in Taiwan, I can't be crying today!" "我在台湾已经哭太多次了,现在不能再哭了。"
Pets also mentioned that she loves sour plum lime juice (桔子酸梅). Besides, she had Roti Pisang (Banana) as breakfast and she was amazed by the food that can be added into Roti Canai. She said "it sounds weird but it taste really good." "听起来很冲突,但是吃起来很好吃。"
During the interview, Pets had chosen Eric Chou(周兴哲)as her rival during the promotion period because Eric released his album at the same time with her. Besides, she said that he is young, his album was fully self-composed, and he is also "小鲜肉". She said that they met quite often during their promotion tour in Taiwan.
Pets joked that she was the "2014 oldest new artist", and expressing her hope that she can be nominated for Best New Artist in Golden Melody Award(金曲奖)as Golden Melody Award is a very significant award in the Chinese Music industry. She also cutely asked the media to pray for her.
Promo Tour
4th April 2015, Melaka, Malaysia – Pets Tseng had her Meet & Greet with fans at Mahkota Parade, Melaka at 7.30pm. Due to her tight schedule and the jam on the road, she was late a little but this does not doused the fans' enthusiasm.
Pets started the Meet & Greet with her title track "Just Lose It"(不过是去了一点点)and "Years Later"(多年后). She requested the fans to sing along with her.  During the talking session, when the host asked her what she saw on her way to Melaka, she answered that she saw some red buildings, passed by Jonker Street, saw a lot of trishaw on the road. She also cutely added that she heard a lot of bird chirping but she can't seem to see any bird! "我看到很多红色的建筑物,经过了鸡场街,看到很多人力车。啊!我还听到了很多鸟叫声,但是都没有看到鸟!"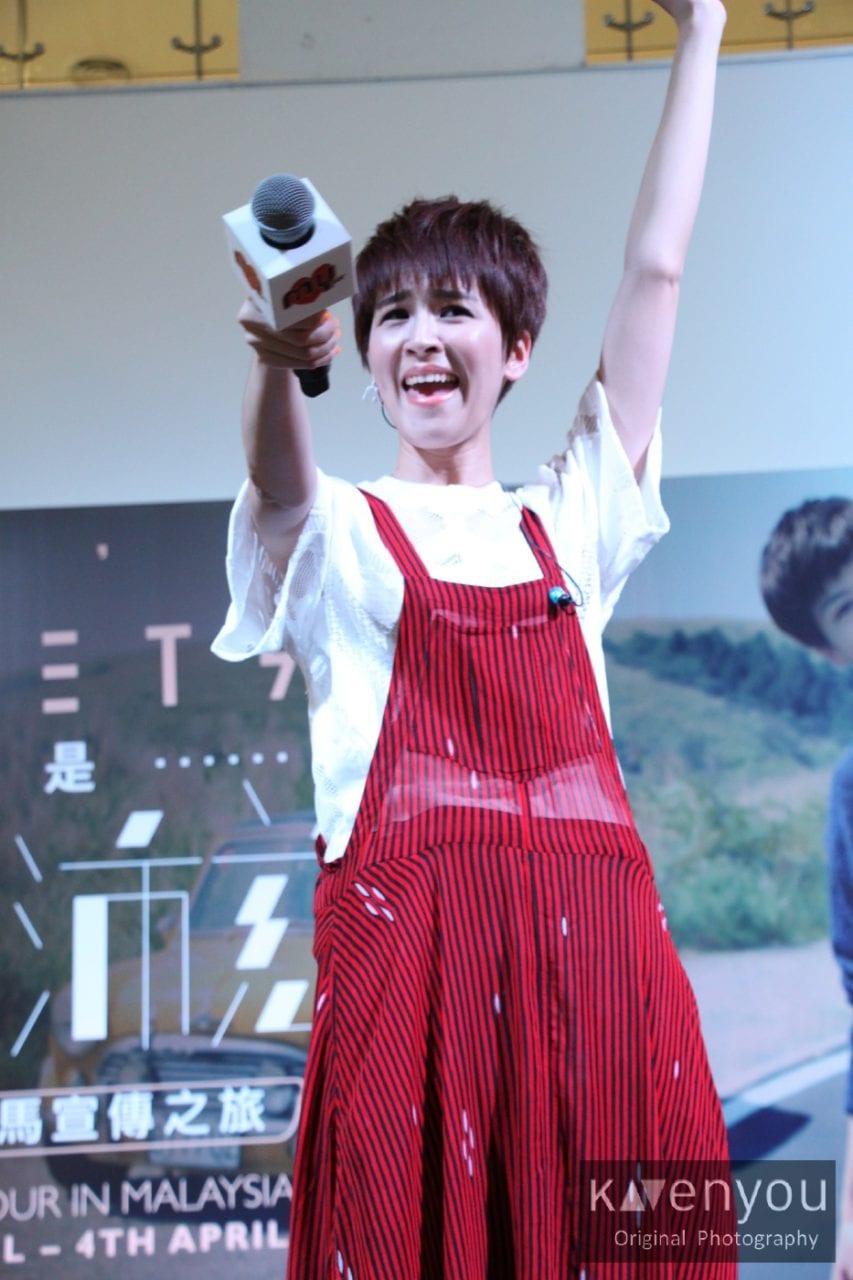 During the game session, Pets taught three lucky fans the steps of dance of "Black-Framed Glass"(黑框眼镜). The winner had a chance to selfie with her. When the host emphasized that the winner can only take one photo, Pets said that there were once when one of the fan selfie with her, the fans took numerous photos by using the burst function.
She gave a very real vibe during the Meet & Greet. Her interaction with fans was like friends. She also spontaneously changes the lyrics of "Years Later". The last song she performed was "Black-Framed Glass"(黑框眼镜)before she started her signing session.
Article by: Jessica
Photography by: Crystal