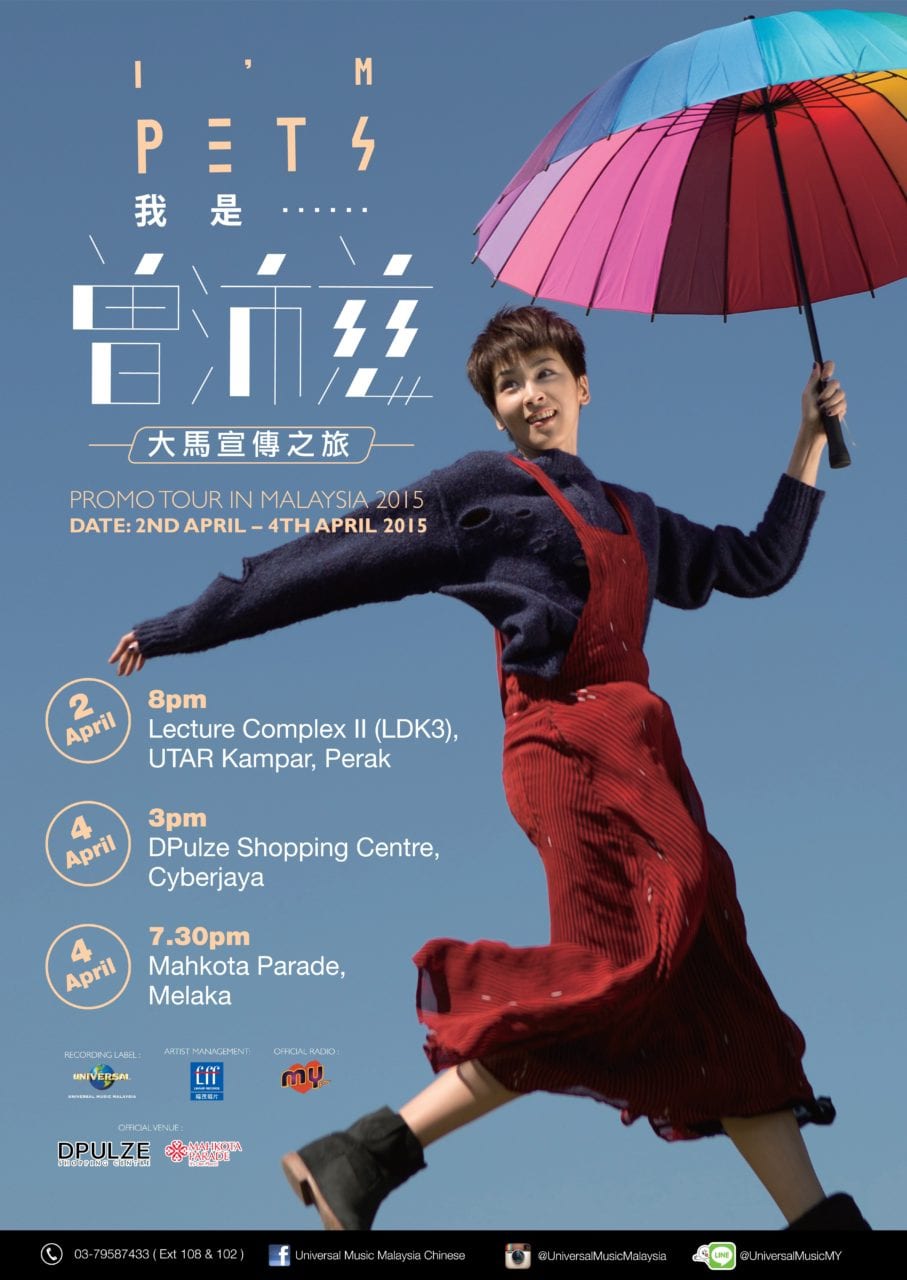 It was a seven years wait and a long journey, but Pets Tseng's perseverance and hard work paid off with the release of her first album <I'm Pets> last December. The Taiwanese songstress will be heading down to Malaysia on 2 April for 4 days 3 nights promo tour.
Pets made step foot into the entertainment industry through Taiwan television singing competition <One Million Star>.  Seven years in the industry, Pets has gained popularity through her roles in dramas K.O.3anguo and K.O. One Returns. However, throughout these years, Pets has never given up on her dream to be a singer. Her track  <Yi Ge Ren Xiang Zhe Yi Ge Ren>  from K.O. One Returns even hit the top of charts. Her latest album was also well received with title track <Bu Guo Shi Qu Yi Dian Dian>entering top chars within a week from its release. <I'm Pets> also achieved outstanding pre-sale records.
Pets' fans who named themselves "Chong Wu Mi" have been eagerly expressing their wish for her to bring <I'm Pets> to Malaysia through Universal Music Malaysia Chinese Facebook. The wait is finally over, when fans can catch her live at various venues. Pets will be sharing her experience and seven years journey through a campus sharing session at UTAR Kampar. Other than that, she will be having a meet the fans session in newly launched DPulze Shopping Centre in Cyberjaya. Through a voting session on Facebook, Pets will also be heading down to Malacca to meet her fans.
For further enquiries, do log on to Universal Music Malaysia Chinese Facebook page or dial 03-79587433 (Ext: 108/206).
Pets Tseng <I'm Pets> promo tour schedule
Date
Time
Event
Venue
02/04/2015(Thursday)
8pm
Campus Sharing Session
UTAR, Kampar, Perak
04/04/2015(Saturday)
3pm
Meet the Fans
DPulze Shopping Centre, Cyberjaya
7.30pm
Meet the Fans
Mahkota Parade, Melaka