PENTAGON Comeback Showcase – PENTAGON has returned with 10th mini album WE:TH, which was released on Monday evening. The PENTAGON members participated in the production of all 6 tracks in the album, once again establishing themselves as a self-produced idol group that has a unique colour to their music.
This comeback marks Yan An's return to PENTAGON following a 1-year hiatus, as well as the group's first comeback following Jinho's military enlistment. KAvenyou attended the online media showcase for WE:TH prior to the album release, where we watched the music video for 'Daisy' prior to its release, the stage performance, learnt more about their album concept, as well as some interesting stories behind the album cover illustration and music video filming.
Yan An greeted the media following his hiatus, "It has been long since I stood together with PENTAGON on the stage, I am very happy and am looking forward, I will use all the energy that I have accumulated for the past 1 year for this promotion, so please look forward to it."
Hui added that for this comeback, since they were missing a member, PENTAGON practiced more to fill that gap up. In particular, Hongseok especially worked harder to fill up Jinho's place musically.
WE:TH Album Introduction
PENTAGON's leader Hui introduced the WE:TH album, which shows a levelled-up version of the matured side of PENTAGON. This theme of this album is based on 'empathy', which incorporates the infinite communication between PENTAGON and UNIVERSE who exist for each other, and all the moments and emotions we may experience as we live on. Hui continued, "We usually show off bright and powerful performances so for this album, we decided to slightly remove the 'strength' and to show a more matured and adult side of PENTAGON."
Kino's Daisy Artwork for WE:TH
It was revealed during the media conference that Kino was the one who actually drew the daisy that we see on the album cover, as well as in the teaser image.
Kino said, "I do not major in drawing and have only been drawing for 8 months. I didn't expect to be able to show my drawing to fans within such a short period of time as I didn't want to show fans a less than satisfactory artwork, but I am happy that my drawing made 'suave debut' as our online artwork cover.
Hui also added that the online album cover was actually his birthday present and he thought it belongs to just him, but now it has become something that belongs to everyone, so Kino gifted Hui with another drawing. Kino also mentioned that it is because he wanted to give Hui a special present before he enlists, since 'Daisy' is like a present that Hui is giving to PENTAGON prior to his enlistment.
Pentagon's Flower Concept for comeback
The KAvenyou team asked PENTAGON regarding the idea behind the flower/daisy concept for the comeback teasers, as well as the flower that they feel best represents the group.
Yeo One: I feel like the sunflower best represents PENTAGON, with UNIVERSE being our sun 🙂
Kino: All the flowers that appear in our concept photos build up to our main theme, daisy. The concept photo represents both the image of a hopeful daisy and heartbroken daisy. Thus, I feel like the daisy best represents PENTAGON.
WE:TH Tracklist Introduction & Behind-The-Scenes
Kino (on the album name): For WE:TH, the 'WE' literally means 'WE' and 'WITH', so we replaced the 'WI' with 'WE' (우리 함꼐). The coexistence and infinite communication between PENTAGON and UNIVERSE, a keyword and all the moments, emotions and feelings that everybody encountered and relate as they live.
'Daisy', which Hui and Wooseok worked on alongside composer Nathan, is a song about the heartbreaking feelings anyone may feel after a breakup. Daisy is used as a metaphor for the two contradicting feelings, of wishing for an ex-lover's happiness while at the same time wishing they would miss you because they are unable to find someone better than you.
Shinwon: Daisy was written quite some time ago, during the period right after we ended Road to Kingdom. When Hui hyung let me listen to the demo of the song and asked me how was it, I was like 'That's it, this is it!' It made me feel very comfortable and at ease while I prepared for the album as the song is really good, I did not have to worry much for the album.
Hui (on 'Daisy'): The genre is alternative rock – I am recently into rock, thus I have decided to try and compose a song of this genre, and was thinking what theme should I use for this song and thought of our keyword 'relate', and I was thinking what will be the easiest that people would be able to relate to, and thought that 'love' is probably the one.
For the music video of 'Daisy', Kino talked about filming for the water scene, which took him 5 hours to film, but he only appeared in the actual MV for 1.5 seconds, which he felt was a pity. As he likes being in the water, this was the first time in his life that he actually felt that being in water was a scary experience.
'Beautiful Goodbye' which Kino and Wooseok participated in, is a track with the lingering emotions of knowing that the love has already ended, but wishing to take only its good memories. Wooseok is also involved in composing and writing the lyrics for 'Nostalgia', a song about cherishing the times of sadness and laughter for that year, that month and that day, which will be filled throughout our lives.
Yeo One: 'You Like' (which Hui and Wooseok participated in) is a song of hip-hop genre, dance song that starts with a piano, thus you may be thinking how is this a hip-hop song. But as the song flows through, it naturally transitions, making this the charm of the song. 'You Like' is also a strong contender for being the title track of the album!
'Paradise' is an electronic dance track that gives off a "back to 2008" K-pop style, perfect for those 2nd gen K-pop fans who get nostalgic with that style, with the addition of PENTAGON's unique style. This is also a song that Hongseok personally likes a lot.
'I'm Here', Jinho's solo track (only available in album version), is a small gift for his friends who are running towards their dreams, from someone who will always be on their sides. "You are doing great, so don't worry", a warm-hearted voice from Jinho hopes to bring comfort to every listener. This track was kept as a secret from the other PENTAGON members, which they only learnt of the song title when the album was completed, and they have not heard the song before.
Hui: There are so many sentiments in this album: longing, heartbreak, and even joy. You will be able to enjoy this album any time you listen to it because it addresses so many different feelings. So please check out our album!
On Yan An's Return
Yan An: I really wanted to come back to Korea over the past year. Through this album, people will get to see how much I've improved during my hiatus. I'm very happy to return, and I'm having the happiest time of my life right now being on stage with my teammates again.
Kino: There is a part of Yan An that has improved so much. His dance skills have gotten so much better that we were so surprised. Apparently he spent a lot of time on dance training when he was in China. There is this dance skill known as "the cobra" and he mastered it. We're happy to see that he has mastered the cobra, but what makes us feel the happiest is Yan An enjoying the fact that we enjoy seeing him demonstrate the dance.
Hui on Upcoming Enlistment
Following Jinho, Hui will be the next PENTAGON member slated for enlistment. Being the leader of the group, as well as the main vocalist, and a producer who has been participating in the crafting of title tracks, Hui was asked by a member of the media regarding the future plans of the group after he enlists.
Hui: I am at the point where I may have to follow the footsteps of Jinho shortly. I haven't really thought about our future plans yet because regardless of whether I am with my teammates or not, they are so talented that they will certainly be able to make up for my absence. I just happen to do what I'm doing, and any one of my teammates can do it too. If Hui is not around, someone else can be the new Hui. We are primarily focusing on promoting our new album and 'Daisy' at the moment that we don't really have our future planned out. We are just nine Huis with nine different names. Hui Kang, Hui Yang, and so on, everyone has their own set of amazing talents.
Message for UNIVERSE for WE:TH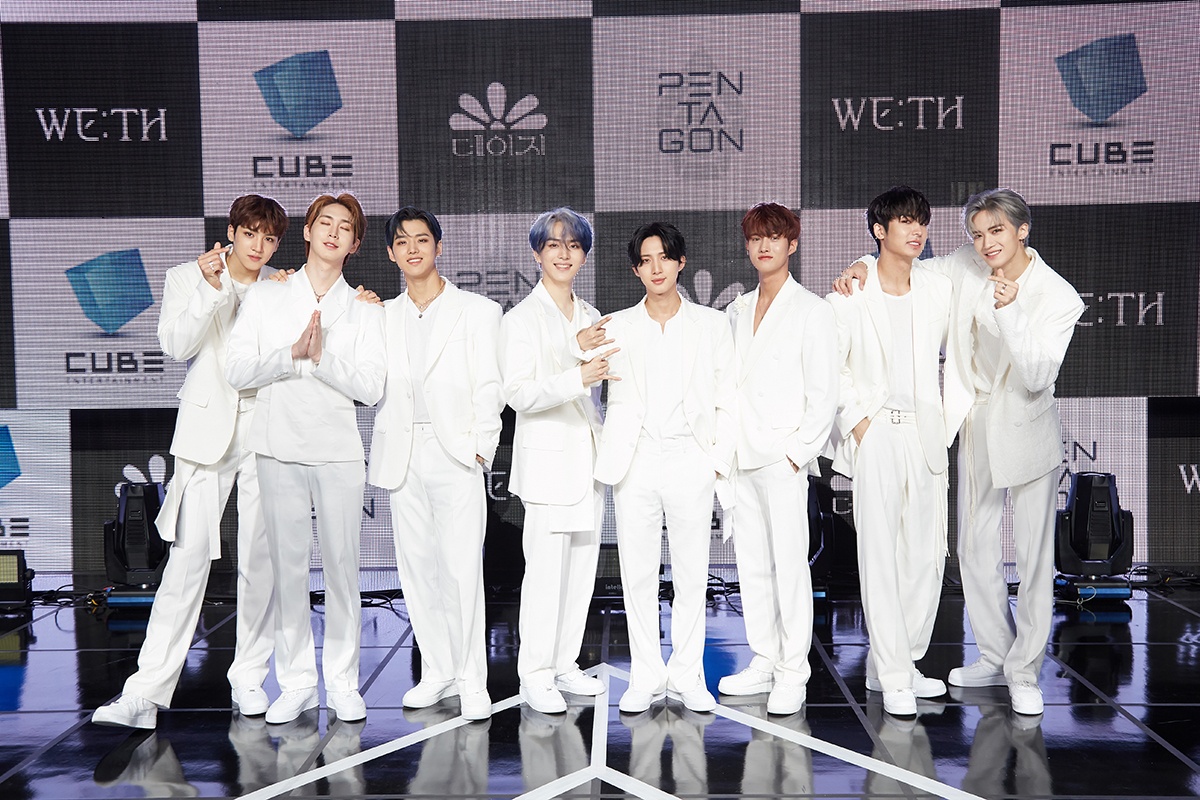 Hongseok: Since our trainee days, we have been endlessly contemplating on what we should do musically for our fans and the greater audience. So with every album we challenged ourselves and tried to do something new. We believe our title track 'Daisy' and our album WE:TH are another adventure for us and that we're presenting something of our own, therefore we don't want to be remembered by one particular thing. I would have to say there may be genres PENTAGON hasn't done, but there aren't any genres PENTAGON can't do.
Kino: Every step, every minute, and every album in PENTAGON's journey is a part of the process of strengthening the bond among us. Which is why this 10th mini album is just one of the many albums that lets us take a step further, regardless of the number of members that are a part of this album and any other changes we many face in the future. A new combination of members only allows PENTAGON to present something new, so I expect this album to be a special moment.
As for this comeback's achievements, Shinwon stated that he would love to see PENTAGON win 1st place on music shows, but his personal wish is to see everyone smiling, whether it be UNIVERSE, PENTAGON, or their staff, once the promotions for this album are over. It may sound like a trivial wish to others, but in fact it isn't very easy to achieve.
View all photos from the online media showcase: PENTAGON WE:TH Online Media Showcase
PENTAGON's 10th mini album, WE:TH, along with the music video for 'Daisy' has been released. Watch the MV below:
Listen to the album, WE:TH here:
▫Melon https://bit.ly/2GUBVtB
▫Spotify http://spoti.fi/3nJmmpq
▫Apple Music http://apple.co/3lzABeI

Article by: Zhen Zhen
Translation by: Yvonne