PENTAGON held their online concert, 2020 PENTAGON ONLINE CONCERT 'WE L:VE' on December 13th and had a special time with global UNIVERSE. During the online concert, PENTAGON captivated fans through four chapters in the keyword 'L:VE', which can be interpreted in many ways.
PENTAGON kicked off the concert with powerful performances of 'Basquiat', 'Gorilla', and 'Can You Feel It'.
We should have held the concert two weeks ago, but we're sorry for coming to meet you now. It's a more chaotic situation than ever, but we're really grateful to be able to hold the concert and meet you.

– PENTAGON
Excitement levels were raised through a series of performances of their best hits including 'Happiness', 'Shine', 'Naughty Boy', 'Spring Snow', and 'The Black Hall' – which fans picked as their most desired song to watch.
A showcase of individuality through unit performances
Hui and Shinwon showed off their rock spirit with their self-composed song 'WTH', which was performed for the first time at the concert, and rapper Yuto and Wooseok captivated fans' hearts with their swag-filled hip-hop performances. Hongseok and Yanan presented warm winter sensibilities with Ailee's 'I Will Go to You Like the First Snow', while Yeoone and Kino drew an explosive response from fans by their deadly sexiness with Taemin's 'Move'.
Jinho who enlisted in military service last May, joined the online concert and communicated in real-time through live chats, offering special moments to fans. Jinho showed off his strong friendship with the members by giving enthusiastic support to each and every performance of the group. Fans also responded enthusiastically to every moment of PENTAGON through live chat and held comment events such as 'PENTAGON, we love you. You're precious', 'We're always with PENTAGON'.
PENTAGON continued with performances of the title track 'Daisy', as well as 'Paradise' and 'You Like' which were shown for the first time since the release of their 10th mini album. 'Nostalgia' was chosen as an encore song and the group performed the UNIBONG dance made by Kino and made a heartwarming scene. In particular, UNIVERSE's voices, which had been prepared secretly, were heard during 'Nostalgia', which left a deep impression to PENTAGON members as well as the viewers.
PENTAGON unveils "Flame" for the first time
Wrapping up the concert, PENTAGON performed 'Flame' – a song specially prepared for UNIVERSE, who has been with the group since their debut. The lyrics quoted fan letters directly sent by fans containing the faith and thankfulness for each other.
"You're not in front of us right now, but I believe we're connected to each other with our hearts. We think we will be thinking of the concert we did together today for a long time. It was such a happy time to be with UNIVERSE all over the world. Let's walk together now and forever."

– PENTAGON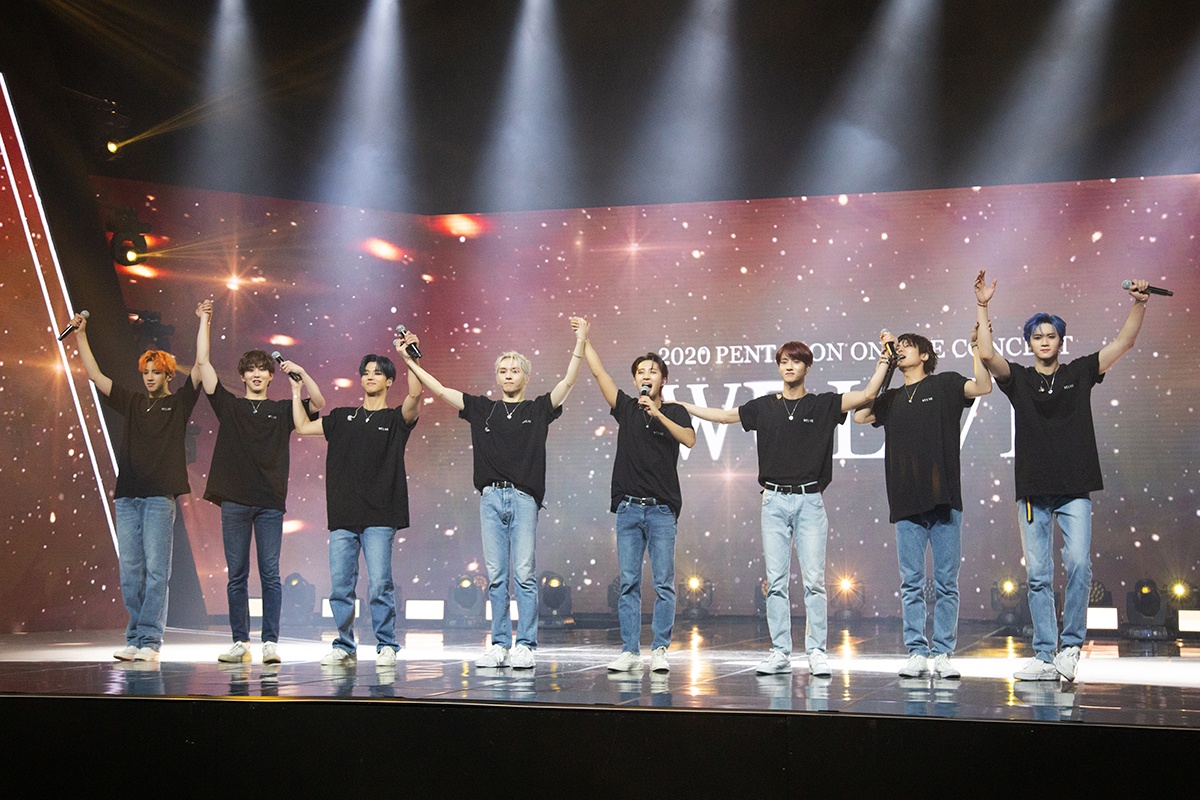 Before the concert ended, Hui also added, 'I feel it whenever I perform, but I'm most grateful for the love from UNIVERSE. Many things happened and there were lots of changes as well, but I was able to stay here because of UNIVERSE. I'm leaving you for a while, but please wait for me because I'll be back in a much better and healthier way."