Partnering with Nike, G-Dragon's fashion label PEACEMINUSONE has announced a collaboration earlier this month with Air Force 1 "Para-Noise" sneakers. There was already ongoing rumours about this collab for months, and we're definitely excited to see it finally happening. Although the sneakers are not released worldwide yet, it has already launched in its motherland with a Korea-exclusive Artist version.
Inspiration behind the design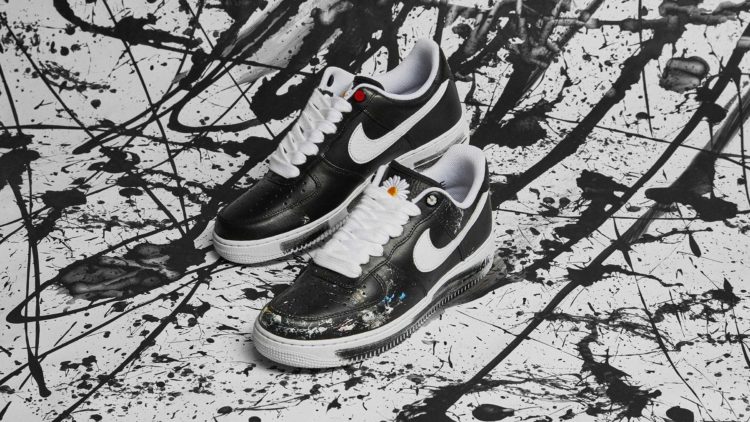 As a top K-pop star and a style icon, G-Dragon has made the Air Force 1 an integral part of his uniform. The PEACEMINUSONE x Nike Air Force 1 "Para-noise" reflects this overtly with a unique upper fabrication that features a black painted overlay designed to slowly wear away over time to reveal a personal artwork created by the man himself.
The hidden artwork conveys a sense of optimism, inspired by the singer-songwriter's vision of a world where the youth are unified through creativity and a free exchange of ideas, where the lines between reality and utopia are blurred.
"I was made by a culture derived by people from the past,"

G-Dragon
More design notes
Other embellishments on the sneakers include a daisy embroidered on the tongue and removable custom pins in the upper eyelets (we spy the daisy and the PEACEMINUSONE logo).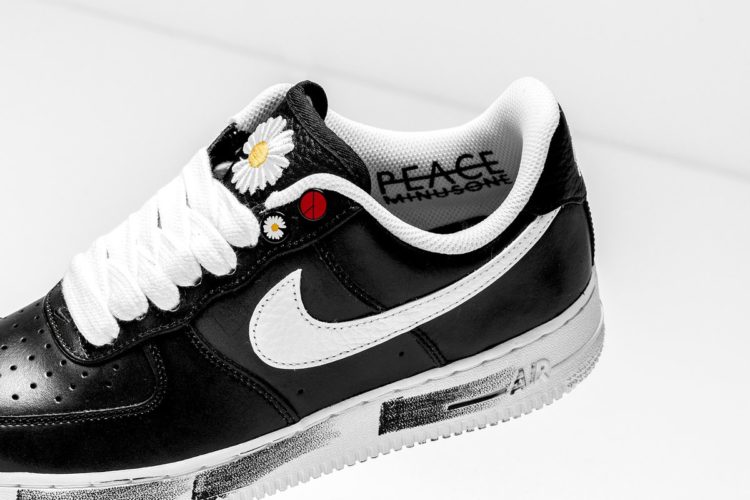 Other details include black strokes around the soles, the PEACEMINUSONE text on the insides of the sneakers, and even well designed and swag-filled insoles that we'll want to show off.

The text on the insole and shoebox apparently reads, "FLOWER IS THE YOUTH OF LIFE".

Korea version vs Global version

Even prior to its public release, there's already many photos of the much coveted Para-noise popping up, with different colour variations of the iconic Nike swoosh and in different packagings. Let us break down the different versions of AF1s for you:
White Swoosh: Daisy version (worldwide release)
Red Swoosh: Artist version (Korea exclusive release – 818 pairs only)
Yellow Swoosh: Staff version (Family & friends exclusive – 88 pairs only, not for sale)
White Swoosh / Daisy Version

The more commonly seen version is the one with the White Swoosh, which is available for sale worldwide. There's no news of how many pairs will there be available in the market as of now, but we'll expect this to be wiped out upon release, as we'll see both VIPs and sneakerheads vying to cop a pair.
Red Swoosh / Artist Version
The Korea exclusive Artist version with the iconic Red Swoosh, garnered an immensely long line in front of the Nike store in Hongdae, and mind you, the queue doesn't even allow you to purchase the shoes directly, but to first enter a "Shock Draw" raffle, to even stand a chance to buy them.
Yellow Swoosh / Staff Version
The Staff version with the Yellow Swoosh is the rarest one out there, with only close friends and family members of G-Dragon receiving this custom made piece personally from GD. The packaging is so elaborate that it can a piece of artwork by itself. One can only imagine owning a pair of these Yellow Swoosh sneakers in his/her dreams.

Packaging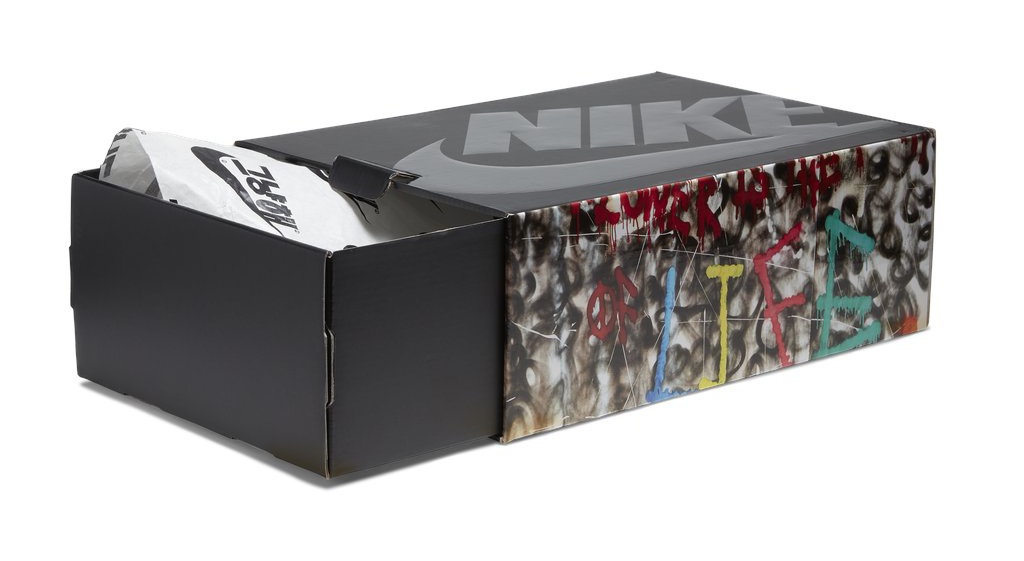 The first thing that probably caught your eye when it comes to the packaging is the Hangul Nike wrapping paper, which reads "그냥해" – literally meaning Nike's trademark slogan "Just Do It" in Korean. Not just the wrapping paper, each pair of Para-noise will come in a special artwork-covered shoebox, that you'll probably want to store it properly somewhere and not let it collect dust (that is, if you even own a pair).
Check out the unboxing video for the Artist version:
Korean model HYUNHO (cr. rico_9c) pic.twitter.com/KapDyPdnGG

— Liza Hasanova (@lizahasanova) November 12, 2019
For the Staff version, the exquisitely designed shoebox is even tagged with the recipient's name in graffiti format, and more daisies greet you upon opening the shoebox – I guess this is what we truly call aesthetics. Here's an unboxing video from BIGBANG's bodyguard Jae-ho:
Celebrities wearing them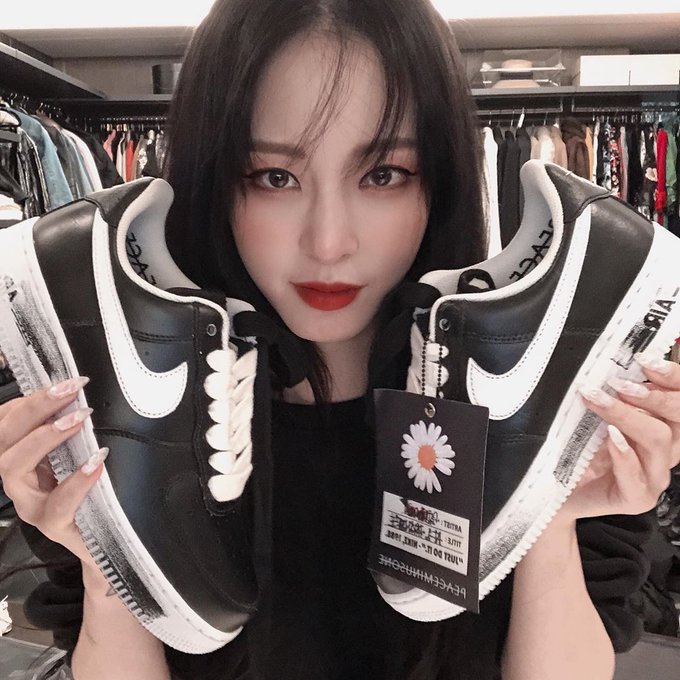 Korean celebrities that have been spotted flexing their Para-noise sneakers on social media or donning them out and about include:

Taeyang & T.O.P (of course), Park Shin Hye, Giriboy, Gray, Sik-K, The Quiett, Wonjae, Code Kunst, Changmo, Soyou, Suho, Sehun, Jessica Jung, Hyoyeon, Eunji, Simon Dominic, Jo Seho, Somi, Jang Woohyuk, Oh Hyuk, Park Narae, Joo Won, Lee Si Young, Han Yeseul, Lee Chung Ah, Kim Young Kwang, Lee Da Hee, Song Haena, Kim Min Jun, Zion.T, Kwon twins
How to cop a pair?

Similar to the Korean release, it seems like for the worldwide launch, authorised retailers are mostly doing ticket raffle for the Air Force 1 "Para-Noise". They're also available online on certain online retailers (not sure if they ship worldwide) and on SNKRS in some countries as a standard line launch. In Singapore specifically, the sneakers are available for online raffle application at Dover Street Market Singapore.
UPDATE: Limited Edt will be releasing some pairs to the public (exact numbers not announced) at Culture Cartel this December 6th to 8th.
G-Dragon's PEACEMINUSONE x Nike Air Force 1 "Para-Noise" launches worldwide on 23 November 2019. The retail price in Singapore is S$279.

For VIPs hoping to get your hands on these gorgeous sneakers, here's us wishing all the best of luck to you guys!
Meanwhile, learn the proper way of wearing Para-noise from none other than the king Kwon Ji-yong himself: