It's about 2 months into 2016 and I hope that everyone is already having a blast! But if you're hanging onto little bits of 2015 left, worry not. I'll take you on a short trip down memory lane, here are 10 K-dramas for you to look back on!
1. Producer
Broadcasting Company: KBS
Release Date: 15th May 2015
Number of Episodes: 12
This was personally one of my favourites as we had the chance to once again look at the quirky side of Kim Soo Hyun playing the role of Baek Seung Chan, an up-and-coming maknae producer who started working at the variety department of KBS. Albeit innocent and sometimes clumsy, his charm grew on Tak Ye-jin that was played by Gong Hyojin. You could say that he wrecked her bias list. Personally I wished that the drama could've been longer because I felt like I could relate to the content of the drama and it would have been interesting if they made it even longer! If you want to know what went on, don't miss out on this iconic drama!
2. Kill Me, Heal Me
Broadcasting Company: MBC
Release Date: 7th January 2015
Number of Episodes: 20
Cha Do Hyun who is played by Ji Sung is a third-generation business heir who suffered from dissociative personality disorder. He has 7 different personalities and tries to overcome various life-threatening situations while trying to seek help. This drama takes you on many emotional twists & turns, as unpredictable as when Do Hyun is going to change into a different person. Definitely worth a watch as this breaks away from the usual high school love story plot in idol dramas and delves deep into a person with a unique mental disorder.
3. She Was Pretty
Broadcasting Company: MBC
Release Date: 16th September 2015
Number of Episodes: 16
Childhood friends Ji Seong-joon (played by Park Seo-joon) and Kim Hye-jin (played by Hwang Jung-Eum) were polar opposites with differences in their appearances huge. However, Seong-joon's sudden departure to America left their friendship hanging where they left off as kids, connections only held by a puzzle and an umbrella analogy. By a twist of fate, they met each other again as adults, feeling like their lives have completely switched places.
If you've liked dramas that played plots of fate switcheroos, you're bound to like this one!
4. Healer
Broadcasting Company: KBS
Release Date: 8th December 2014
Number of Episodes: 20
Kim Moon-ho (played by Yoo Ji Tae) was just one of those people that mixed up his personal feelings with his career. Being a popular reporter at a major broadcasting company, he digged slowly into the past and realised that things may not be what it seems. Instead of taking a step back, he took a nose-dive and took matters into his own hands and while doing so is caught in countless dilemmas battling between truths and beliefs.
Join him on his journey, in the drama 'Healer'.
5. Yong Pal (The Gang Doctor)
Broadcasting Company: SBS
Release Date: 5th August 2015
Number of Episodes: 18
Actor Joo Won has once again taken up the role of being in a doctor drama and this time, playing the role of Kim Tae Hyun is a surgeon with impeccable skill but in a desperate need for money due to his younger sister's medical condition being in dire straits. Desperately searching for cash, he begins looking for other avenues to rake in the big buck and realised a gold pot at the end of the rainbow – but with a huge risk involved. Now privately treating members of the most notorious gangs who would pay him everything they can.
But his life takes a turn when he meets Han Yeo Jin (played by Kim Tae Hee), a chaebol heiress who has been in coma for 3 years, he's determined to do all he can to make her open her eyes again.
I vividly remembered Joo Won's superb acting in Good Doctor where he played a doctor with Autism. It was amazing how he could reenact someone else's life in such great detail. Kudos to you, Joo Won! I'm looking forward to more of your other pieces!
6. Ex-Girlfriend Club
Broadcasting Company: TvN
Release Date: 8th May 2015
Number of Episodes: 12
What happens when you have to work with your ex on a story that he wrote about… his ex? This is exactly the life of Soo-Jin (played by Song Ji Hyo) who is a producer at a film production company and was approached to do a webcomic that was written by Myeong-Soo (played by Byun Yo Han). Talk about awkward! There's no turning back and now she has to do this entire production with his ex and his three ex girlfriends.
I personally have not watched this drama but I'm really looking forward to seeing what kind of chemistry that could be emitted from Song Ji Hyo and Byun Yo Han. I vividly remember Byun Yo Han's excellent performance in a previous drama Misaeng that shot him to his fame. In fact, I think I'm going to go start watching the drama now!
7. Reply 1988
Broadcasting Company: TvN
Release Date: 6th November 2015
Number of Episodes: 20
Here's the famous or should I say infamous drama that swept everyone up in a whirlwind when it was released. The third of the Reply series, it seems like they're going further and further back in time with each Reply series. Maybe 10 years later they'd continue this trend, filming a drama with the dinosaurs. Ha. Ha.
Anyway, this drama boasts a star-studded cast and a long list of cameos and supporting actors which already makes it worth a watch, in my opinion. A drama like that always starts with seemingly normal lives of a group of high school students that grew up together and lived in the same neighbourhood, albeit with largely different family backgrounds. In order not to reveal too much of the story, basically life happened to these students. And if your butt is itching, just relieve it by watching this drama. I promise you'll only need three boxes of tissue. Only three, I promise.
8. High Society
Broadcasting Company: SBS
Release Date: 8th June 2015
Number of Episodes: 18
Like most characters in chaebol dramas, often insecure about the fact that their wealthy background might disturb the judging of them as a person, Jang Yoon-ha (played by Uee) hides her chaebol identity and holds a job as a part-timer at a food market, while attempting to find true love, in a man that sees her as a woman first before seeing her money.
This is where she meets Sung Joon (played by Choi Joon-ki) who is dating her just for his own personal gains and motives. Being raised from a background completely different from Yoon-ha, he worked hard on his own accord to get to where he is now and he decides that he needed to go even higher. WIth his feelings slowly taking over him and playing the game, he feels bad that he's dating Yoon-ha other than the reason of actually loving her.
Will he stay? Will he leave? Will he get what he wants? If you want to be part of the 'High Society', time to delve deep into this drama!
9. Who Are You – School 2015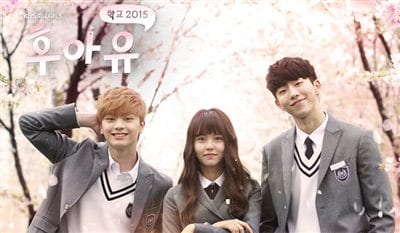 Broadcasting Company: KBS
Release Date: 27th April 2015
Number of Episodes: 16
Kim So Hyun who plays two different roles in this other drama also having a star-studded lineup, is back after an extended period of disappearance and comes back as someone completely different to whom she was before, seeming to have lost her memory.
Her disappearance and reappearance has really led the people around her to ask her once question, "Who really are you?". A drama plot befitting of the title itself, maybe it will also lead the viewers themselves to talk to screen and ask her, "Who are you?"
10. The Awl
Broadcasting Company: JTBC
Release Date: 24th October 2015
Number of Episodes: 12
Based on a webcomic that was written based on a true story, The Awl is a drama that ventures into the humble lives of employers of the mega-supermarket chain in Korea, E-mart. Deeply moving scenes of these employers getting unfair treatment from the people above with power, it was a drama that could be closely related to by the members of the Korean public, especially of those who are working in the service line.
Straying away from a cliche drama plot of wealth, The Awl will take you on a ride to view another perspective of the Korean society and sometimes the not so beautiful side of it. Prepare your hearts and keep your minds open when you watch this drama as the context isn't something that can be easily understood. Backed up with a cast of sturdy actors, this drama has proven to be a drama of feelings in 2015.

It's never too late to look back and watch dramas in 2015 again even if you've already watched them. Good thing that people in the dramas never change, allowing you to go back and indulge in it over and over again, whenever you want. Sometimes I see that as my escape from reality and it feels good to try to put yourself in someone else's shoes and let the stories, scenes and music sway you from story to story, character to character.
2015 was sure a swell year for Korean dramas and I'm getting more and more impressed by the array of dramas as years go by. May this year be an amazing year of great Korean dramas with veteran actors and also the new ones!
Are there any dramas that should have been included in this list? Let us know in the comments section! ^^
Watch this space for more updates about music, entertainment and Korean culture at "KAvenyou: Your Avenue to Non-Stop Entertainment, Lifestyle and Fashion"
Article by: Cass Zheng @ KAvenyou