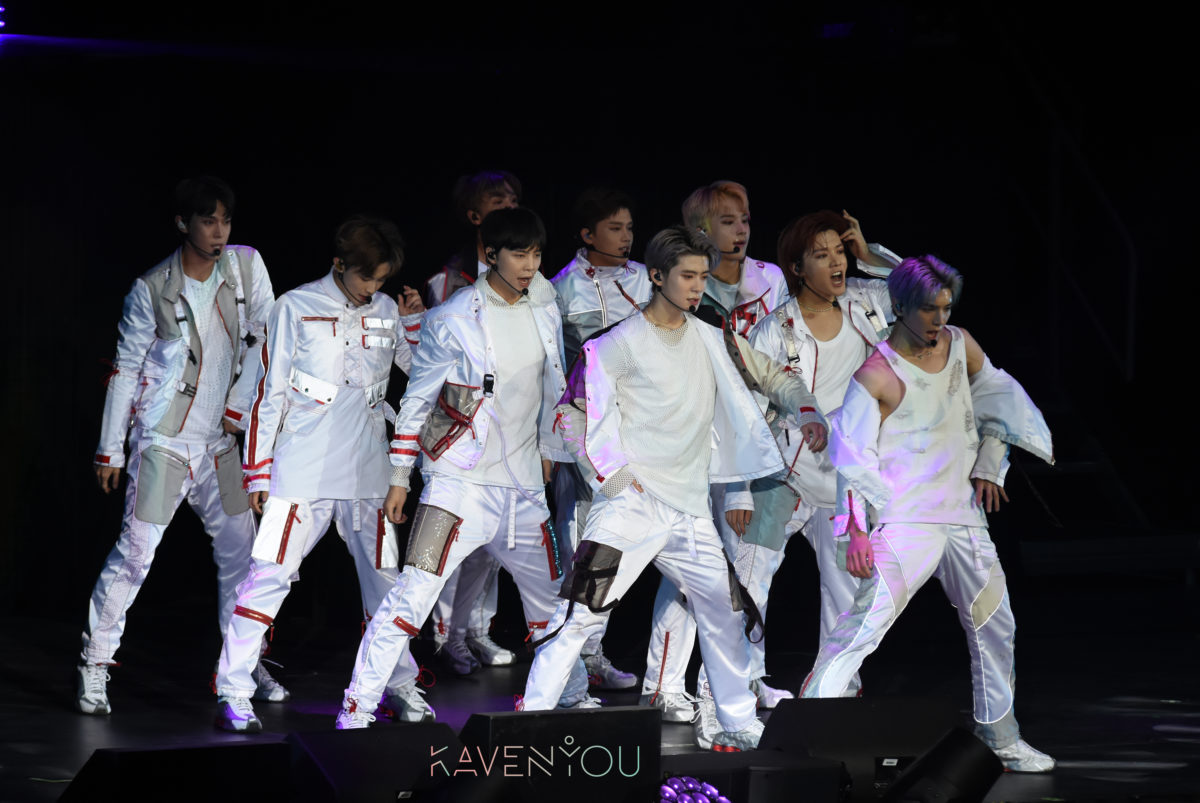 NCT 127 debuted 3 years ago and already gathered a lot of experience. A new experience, however, was performing in Europe. This included a stop in Paris on July, 10th.
It comes as no surprise that the group from SM Entertainment gathered many eager fans. The venue was buzzing with excitement even before the doors opened. Fans wore their best yellow neon clothes, paying homage to the group's lightstick. A gesture that the members didn't fail to notice as they mentionned it themselves on stage.
On stage, NCT 127shows precision and confidence. The vocals are on-point, the choreographies perfectly mastered and the rappers deliver their lines with charisma.
Nothing falls out of place during the show, as the members perform Simon Says, Limitless, Touch, Firetruck or Superhuman… Songs from the groups' latest albums as well as older songs all are equally well received by the fans.
Each member also gets his time to shine. Rappers, vocalists, dancers… No position is left behind, and NCT 127 shines in all three areas. From stage props that look like barricades to a dance battle from the 90's, they also can pull off any concept.
During ments, the members expressed themselves and all explained how happy they were to perform in Paris. They stated reasons such as the beautiful scenery, well-known places (the Eiffel Tower) etc. to explain their love for Paris. But of course, the main reason was the fans and their energy.
Haechan explained that to him, Paris is similar to Neo City – as it displayed variety and diversity. And for sure, the fans were happy to be citizens of Neo City. At least for once, Paris was indeed Neo City, a city with only happy and pround citizens / NCTzens.

During their speeches, all members made special efforts and tried to say a few words in french. Mark tried specially hard, since he has learned french in the past. He said he forgot a lot of it but NCTzens still appreciated that he tried to remember it.
An other ment though was a little bit less sentimental and had the members go a bit extra. The hyung line (older members of the group) were on stage together, and decided to prove that they can be sexy. They all went for sexy poses and the fans couldn't handle it.
To conclude the evening, as a gift to fans, the members said goobye while throwing signed balls and frisbees. A thoughtful thing to do as balls usually only reach the standing area. The frisbees flew all the way to the seating sections, giving everyone a fair chance of bringing back home a precious memory.
An extra one, to be more precise, as the concert itself is a very precious memory for the fans. For the group too, if we judge by Jaehyun's "I fell in love with Paris" tweet.
We thank Magic Sound K-Pop for having us at the concert.