If you're a K-Pop fan, you've probably seen many pictures of "Music Bank arrival photos".

Indeed, KBS officially allows fans to gather in front of their building to catch a glimpse at the artists who arrive at the studio.

KAvenyou decided to give it a try on August 31stand to see if fans can easily grab the weekly opportunity. If you go to Seoul and want to get a close look at your favorite idols, follow these steps.
Music Bank Tip 1: What can I expect if I decide to go to Music Bank arrivals?
Seoul provides a lot of opportunities to see your idols (concerts, fanmeetings, festivals, fansign events, TV shows etc.) Some of these opportunities are expensive. Others are pretty difficult to grab, or require a lot of luck.

Going to Music Bank arrivals is a good alternative. You won't get to see the groups and artists perform of course, but at least you get to see them, and from pretty up close. It is a nice opportunity to see many groups at once. Some of them you'll just catch a quick glimpse of, some others you may see quite a lot and get a smile or a wave from. To sum it up, it can be a great experience especially for fans of multi-fandoms, for fans who didn't get much opportunities to attend concerts and festivals, or if your favorite group is attending the show.
Music Bank Tip 2: How to watch the arrival?

Music Bank arrival is open to everyone. You don't have to plan ahead of time, register etc.

The show is recorded at KBS building (Address: Seoul, Yeongdeungpo-gu, Yeouido-dong 18).

It is pretty easy to get there – just take the subway to National Assembly station, use exit 4 and then walk (not even) 5 minutes to reach KBS.

Once you reach the KBS area, you'll probably see fans and barriers. Just find a good spot and wait for your favorite idols to arrive.
Music Bank Tip 3: What is the best time to arrive?
The safest answer is "as early as possible".

First of all, the area may be crowded. Depending on who is promoting, fans can arrive very early and in large numbers. On August 31st, BTS, Shinhwaand NCT Dreamamong others, were performing. These idol groups have a large fanbase in South Korea so despite arriving around 7.00 a.m., it was very difficult to get a good view of the groups' arrival.

The second reason is that the official arrival is actually pretty early. By 9 a.m., all groups were here. We would have expected rookie artists to come first and senior or more popular groups to come much later. By 9 a.m, even BTS and members of Shinhwa had made their way to the studio.
Music Bank Tip 4: What is the best spot?
For the official arrival, artists arrive through the guard post next to the building. Then they stop near the door for a small interview (there should be red dots on the ground where they stop so it's easy to know) and enter the building.
Though when choosing your spot, also look out for fans' stools. Many fans will bring one for a better view, which means you could think you have a great view but once they get on it, all you'll see is the back of their head. Make sur you don't stand behind someone with a three-step stool.

Edit : From December 1st, Music Bank will ban stools, chairs etc.

Besides that, follow the staff's instructions. Music Bank's security staff will tell you where you can and can't stand, as the main point is making sure everyone can enjoy the arrival safely.
Music Bank Tip 5: Is it useless to stay after 9 a.m.?
Actually, after the official arrival might be when you get the best experience.
Once the official arrival is over, you'll see many people leaving the area.
Fans either leave the place, gather for attendance check or attend the pre-recording sessions. The area gets much less crowded and that's when you'll start wondering if you should stay or leave. But that is also when some of the idols start getting in and out of KBS building. They may be done with pre-recording and leave for another schedule before coming back later. Or they may even just go to a coffee place nearby. Some of the youngest members may also arrive after school… Whatever the reason, not all groups stay indoors for the whole day.
Since the area is less crowded and security staff a bit less present, that's also when you may get a better chance to call out the artists' name and get noticed. Besides, with many fans away, you'll very easily get a much better view.
However, remember that some artists DO stay inside until the actual recording. There is not guarantee you'll see your very favorite group, so if you stay for a long time, just focus on enjoying it instead of waiting for a particular group.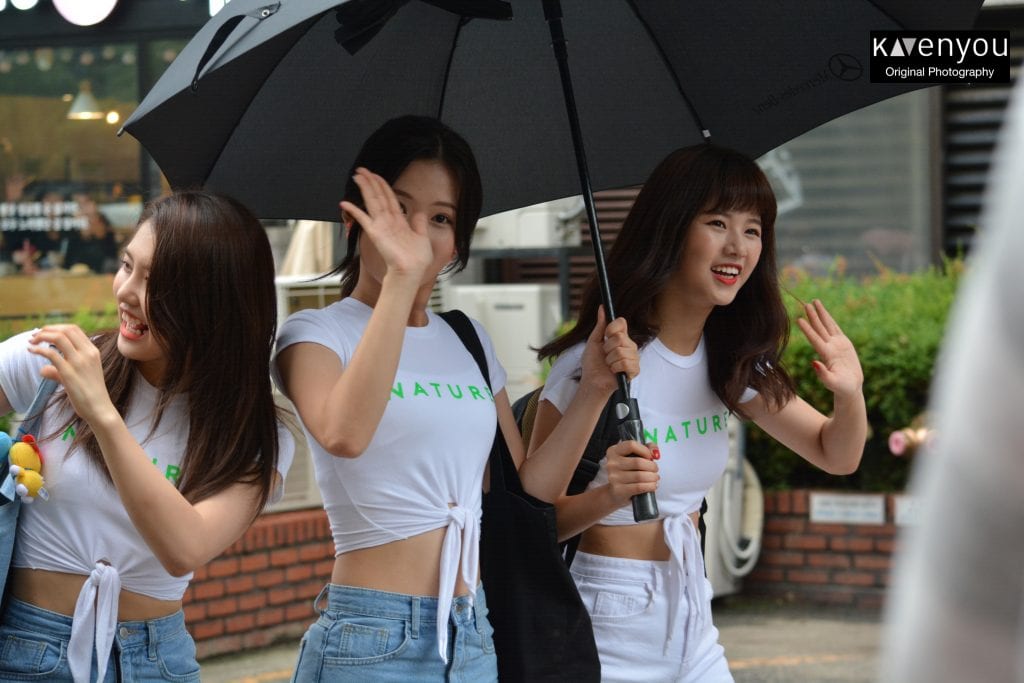 It is also possible to wait until the show is over but mostly, groups will get in their car as soon as they exit the building.
Music Bank Tip 6: Is there anything that I should bring?
Actually, this one will be obvious but if you have any, bring your cheering tools (lightstick, slogan etc.). It will not only help you cheer on your idols, but it will also help you befriend other fans – especially if you stay for a few hours.

Rather than en item you "should" bring, there now is an item you "shouldn't" bring. From December, 1st 2018, Music Bank will ban ladders, chairs etc. Do not bring one if you visit after this date, there will be a lot of security staff so they'll probably make sure that the rules are followed.
Last but not least, make sure to have something to drink or eat with you – even if it's just snacks.

You'll easily find food near the building. There is a grocery store and a coffee shop right next to it, and many others on the way to the subway station. But from our experience, once you'll realize that idols get in and out the building at any time, you may be reluctant to go and get food in fear of missing out your favorite group.
Now you know what to expect, pack your phone or your camera, your extra battery, and get ready to let your inner fangirl / fanboy out!