They say distance makes the heart grow fonder. This statement must resonate dearly to fans of male Korean artists who have to go through mandatory military service for two years.
Personally, I've had many friends who have complained about this compulsory national service.
"Two years is too damn long."
"I don't understand why they must serve if they're already representing their nation in other ways."
These are common sentiments among a considerable number of fans. It is no easy feat, to accept that our favorite oppa will be gone for this long, I must admit.
What will happen to the group they're in? What will happen to their careers? Missing them will be such a torture.
Many of these idols and actors hold final fan meetings before their enlistment. They will reminisce the good times when they were actively promoting, before breaking down into tears because they will miss all of this.
Fans always come in support when they enter service. Many of them are seen in tears as they unwillingly send their beloved oppas in for two years, missing them before they even disappear among the other enlistees. These idols will be seen close to tears more often than not, as they can't bear to see their fans being so upset about their enlistment.
But how can we bear to have the last meeting with our oppas be filled with so much sadness?
Perhaps we should all look at enlistment in a different light.
While it is understandable why they'll miss all this after pouring their life into their careers, personally, I feel they shouldn't be feeling sad about enlisting.
They should be filling up with a sense of pride instead.
They're doing something so honorable for their country. They will be training to fight for a place they've called home to their lives, yet they feel so incredibly upset when they enter the force.
So maybe instead, as fans, we can start by being proud that our some of our favorite people are going to become stronger and tougher.
It won't be easy, I know. As a fan of one of the largest K-pop group to date, Super Junior, it was difficult watching each member enter the force one after another, knowing it'll take me close to a decade to have a reunion.
But it made it much better to know that these boys will become stronger physically and mentally. They have fought hard for two years with pride for the safety of their own countrymen.
They'll become better men.
It's all about changing your perspective on enlistment so that the people whom we love can enter service happily, instead of being gloomy!
Just imagine how fulfilled they will be, knowing that they have the blessings and well-wishes of their fans, instead of tears and sadness. They may even perform better during their military service because of this.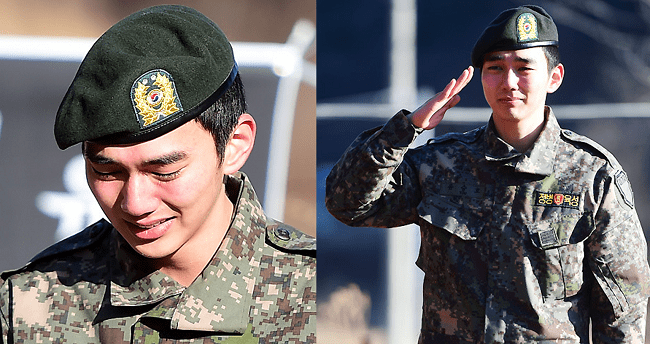 As fans, it is always our greatest joy to see our oppas happy. Maybe we can start by assuring them that we'll always be with them, whether they are active or not. And this can come in the form of being proud that they're going to do something great in the military.
So the next time another idol or actor is set to enlist, let's send them off happily and proudly, because we know we'll see them very soon and that they will do just fine.
Perhaps then, two years will pass by in the blink of an eye (:
Article by: Beatrice Ng