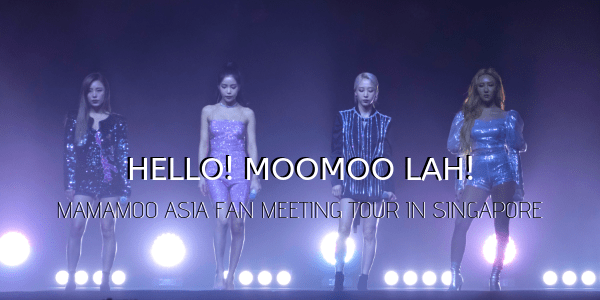 27 April 2019, Singapore – Having successfully wrapped up their first Asia Fan Meeting in Bangkok and Jakarta earlier this year, MAMAMOO has finally dropped by town. This time to spend quality time with their fans, loyally known as Moomoos, at their first "HELLO! MOOMOO" Asia Fan Meeting Tour in Singapore 2019. The four ladies of MAMAMOO were previously in Singapore to perform at the 2017 Music Bank World Tour. After a yearlong wait, Moomoos were treated not only to their explosive vocals; but also their "beagle" moments which they saw at their intimate fan meet session throughout the entire evening.

The girls kicked off the fan meet on a high, with a grand entrance on stage with shimmery outfits. They performed one of their hit songs, the lush "Egotistic", from their seventh EP, 'Red Moon', which delivered many of their dynamic vocals. This was followed by "Wind Flower" which showcased the girls singing prowess along with the guitar riffs. All these were accompanied by powerful fan chants from the whopping 2,500 crowd that literally engulfed Zepp@BigBox. Singapore Moomoos were full of energy throughout, fuelled by the powerful girl crush, showing their love and appreciation.
Fan service clearly in the blood of Mamamoo, with no lack of interactions
MAMAMOO also did many other hits such as "Gogobebe", "No More Drama", "Star Wind Flower Sun", "Starry Night", "Yes I Am" and "Decalcomanie" throughout the night. Fan-service in abundance, as the girls did multiple short question and answers, and a game segment. Four lucky fans got up-close with the girls (even getting "free" personal hugs, hi-touches and solo selfie with all the group!) much to the envy of the rest who were seated. Happy lah!

The "MOOMOO Tree" – a segment where the girls each picked a wish or message from Moomoos to be fulfilled immediately. These requests included one for Hwasa to rap a short part of her collaboration with Loco, "Above Live".
Moomoos celebrated belated #HappyWheeInDay with exotic chicken feet cake
While the girls were finishing up their ending speech, Moomoos serenaded Wheein with a belated birthday celebration. All these while she watched in awe at her beautiful chicken feet cake. Even at the end, the girls and the fans were not showing any signs of fatigue with constant interactions. The girls eventually returned for their encore in traditional Peranakan costumes, and performed a cute rendition of "Waggy" and "Um Oh Ah Yeh" much to their fans' delight.
Well loved by Moomoos, the vocal powerhouse MAMAMOO gifted fans a memorable time at their fan meet. A night power-packed setlist which showcased their vocal abilities, as well as their down-to-earth fun personalities. The girls were thankful for their Moomoos, and with this as their first ever fan meet in Singapore, the girls shared that they hope to come back to Singapore to perform again. While the girls are sorry for Moomoo's long wait, they want to ensure everyone that they've been and will always be here with them. Closing off the evening on a high, MAMAMOO rounded up their Asia Fan Meet with Singapore 2019 as their final stop.
"HELLO! MOOMOO" Asia Fan Meeting Tour in Singapore 2019 was brought to you by Wowstar Entertainment, promoted by The WonderLand+ and Oh!K TV Asia as the Official Pay-TV Partner.
Article and Photography by Vanessa @ KAvenyou