Singapore – How do you express your thoughts or document significant life events? It could be your graduation, your first solo trip or just a day when you feel extremely thankful for life. Do you snap a photo and upload onto your social media or simply watch it fade away and be forgotten? Here's something you can consider – a Traveler's Notebook.
In today's feature, we sat down with Yvonne (@toughbouquet), an avid Traveler's Notebook enthusiast, as she shares with us more on the art and beauty of a Traveler's Notebook.
Q. What is a Traveller Notebook?
Yvonne: Traveler's notebook is from a Japanese brand called Traveler's Company. They have Traveler's Notebook, brass products and other stationery related products which are very popular among the journaling community. You can find the products in their shops which they named it Traveler's Factory in Japan. For overseas customer such as myself, we get them from official retailers like Tokyu Hands, AnBC, Kinokuniya. You can also get them from Cityluxe, a local online platform that directly bring them in from Japan.
Q. How did you get to know about the Traveler's Notebook and why do you enjoy doing it?
Yvonne: I first got to know from a post shared by my friend on Facebook 2 years ago, whereby it was showing a user's Hobonichi (another typed of journaling notebook) and I gradually became interested in it. Thereafter, I did some research and purchased my very first hobo and some stickers decorate it. However, it didn't feel very personalised and I happened to chance upon Traveler's Notebook through Instagram. Fascinated by how it can be personalized, I immediately got myself a Traveler's Notebook and never looked back. I'm in love with the superb paper quality which inks will not bleed through every page. I felt that I can pen down thoughts, memories, inspiration down like brain dumping to free my mind. I enjoy playing around with my stationeries to unleash my creativity and self-expression.
Q. How would you describe your decorating style and what are your tools? 
Yvonne: I don't have a specific style actually. If the use of colors in my journals can be considered a style then that's probably mine. I tend to follow my feelings and mood a lot. Just go with the flow that my brain and heart desire.
First and foremost, the base which I use is my traveler's notebook. I use a horizontal weekly version for the first half of the year and vertical version for the next half year. I am currently using the free versions because stamping the dates is what I look forward to every week and month! Stamps, washi tapes, and stickers are some of the decorating tools that I use.
Q. Where do you get those tools?
95% of the items are bought online as they are produced by overseas artists. Mostly originated from Taiwan, Japan and Russia. I would purchase them directly if this option is available, otherwise, I would get them from resellers.
Q. Who influenced you to pick up this as a hobby?
The one who really influenced me to start is a Youtuber named Claire Marshall. At that point in time, she started bullet journaling and shared how it helped her to 'brain dump' her ideas and thoughts onto paper which will not be forgotten. Furthermore, by putting your thoughts down will also help clear one's mind and be more positive and brighter in life.
The one who really encouraged me to kick start this hobby is a really good friend of mine. Initially, I was afraid that my interest will fade away quickly even after investing so much time and money in it. However, she told me to go ahead with it and put my heart into it. Here I am today, still going strong and passionate about it. I am being influenced every day by the amazing people in this journalling community that I will not stop writing.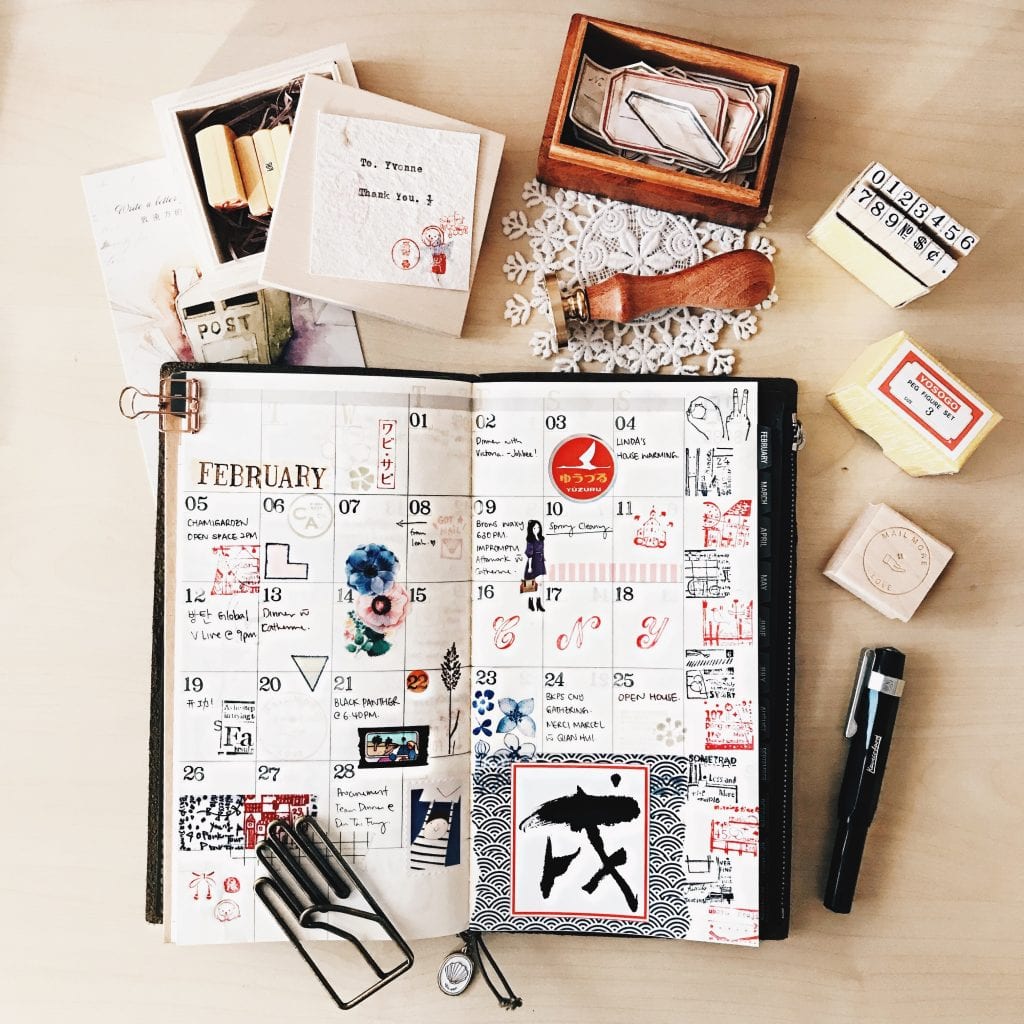 If you've enjoyed the feature and would like to find out more about Yvonne's creations, hop over to @toughbouquet for her updates.