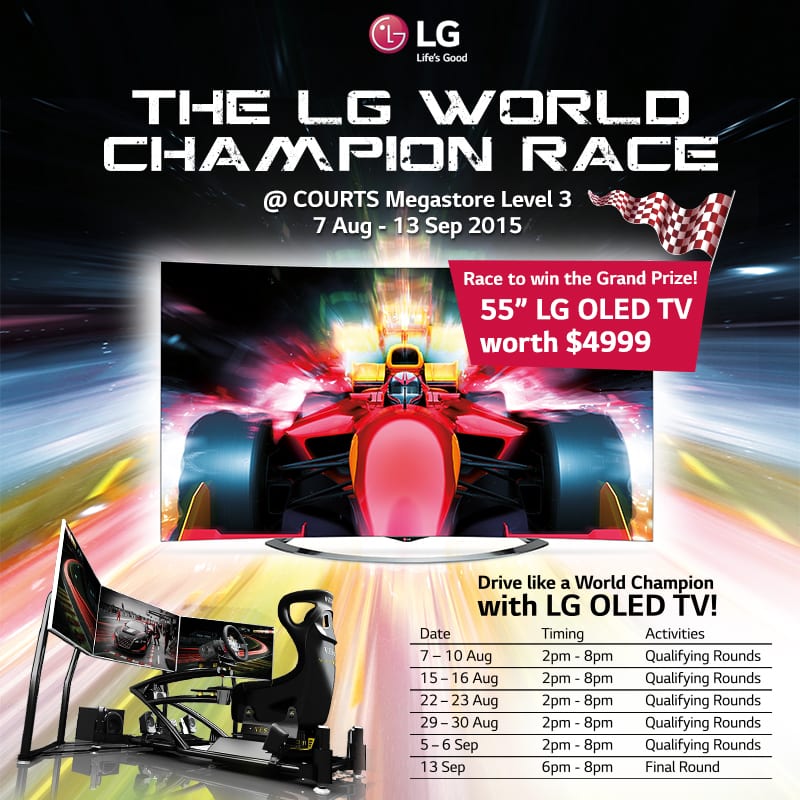 Vrroom! LG Electronics is searching for the next World Champion candidate. Slated to take place at Courts Megastore Level 3 from August 7 to September 13, 2015, the LG World Champion Race will galvanize all daredevils to feel the rush of adrenaline in a virtual milieu. Participants will battle it out like a true racecar driver on a driving simulator that is fitted with the LG OLED TV for an augmented racing experience. Held during the weekends, this competition is a partnership with TechToy, designer of advanced simulator systems. The newly crowned World Champion will get to go home with a pristine LG 55" OLED TV worth S$4,999.
To qualify, participants have to:
'Like' LG Singapore and Courts Singapore on Facebook and get One (1) Drive Chance
 'Like' LG Singapore and Courts Singapore on Facebook as well as purchase any LG product at any Courts outlets for Two (2) Drive Chances
For more information on The LG World Champion Race, please visit
www.facebook.com/lgsingapore.
4K OLED TV – Superiority Anchored by Revolutionary Display Technology and Crystal-Clear Resolution
LG is the first in the world to introduce the OLED TV with 4K Resolution, boasting the market's most cutting-edge technologies — its curved panel is composed of organic light-emitting diodes in ULTRA HD 4K quality.
The TV utilizes LG's proprietary Four-Color Pixel WRGB technology. 33 million sub-pixels work to produce vivid, most life-like colors and infinite contrast ratio. The result is a viewing experience close to reality. The self-lighting pixels give richer, brighter and more natural hues as well as perfect blacks.
Supported by a flowing, leaf-shaped stand, the slender, curved screen of the 65EC970T is both cinematic and stylish. For installation flexibility, the TV can be wall mounted. Designed to accommodate wide viewing angles, viewers sitting in any area of the room can enjoy exceptional picture quality.
Completing the superior viewing experience is LG's multi-channel ULTRA SURROUND sound system. Designed in tandem with lauded audio expert harman/kardon, ULTRA SURROUND creates a rich, detailed environment that brings entertainment immersion to the next level.
The 4K OLED TV has earned plaudits around the world and multiple media outlets have sung its praises. Digital Trends, a major media outlet for technology news and expert product reviews, touts it the "Best TV Ever". Reviewed.com echoes this sentiment, believing that LG's brainchild deserves all the superlatives used to describe it.
For more information on LG TV, please visit www.lg.com/sg.