Can't get up in the morning? Ask Lee Dong Wook to record a morning call for you ☺
That was what exactly what a fan requested from Lee Dong Wook at his recent "For My Dear" Asia Tour in Singapore on 15 April 2017 and Lee Dong Wook recorded a one and only morning alarm for his fan.
Not only that, his fan service was superb that night as he acceded to all his fans' requests, from doing a staring contest and palm pushing game, to performing a short segment of TWICE's TT and acting out his famous "나요 (me)" scene in drama Scent of a Woman.
There was also a segment where he re-enacted photos from drama scenes together with his fans, for example doing a tango pose, a back hug, a princess hug and the classic scene in Goblin where the Grim Reaper and Goblin walked out of a tunnel suavely, while carrying a bag of spring onions in their hands (and that lucky fan even got to bring home two bags of spring onions lol).
Besides the entertaining fan interactions, there were also moments at the fan meet where Lee Dong Wook had a "heart-to-heart" talk with the fans.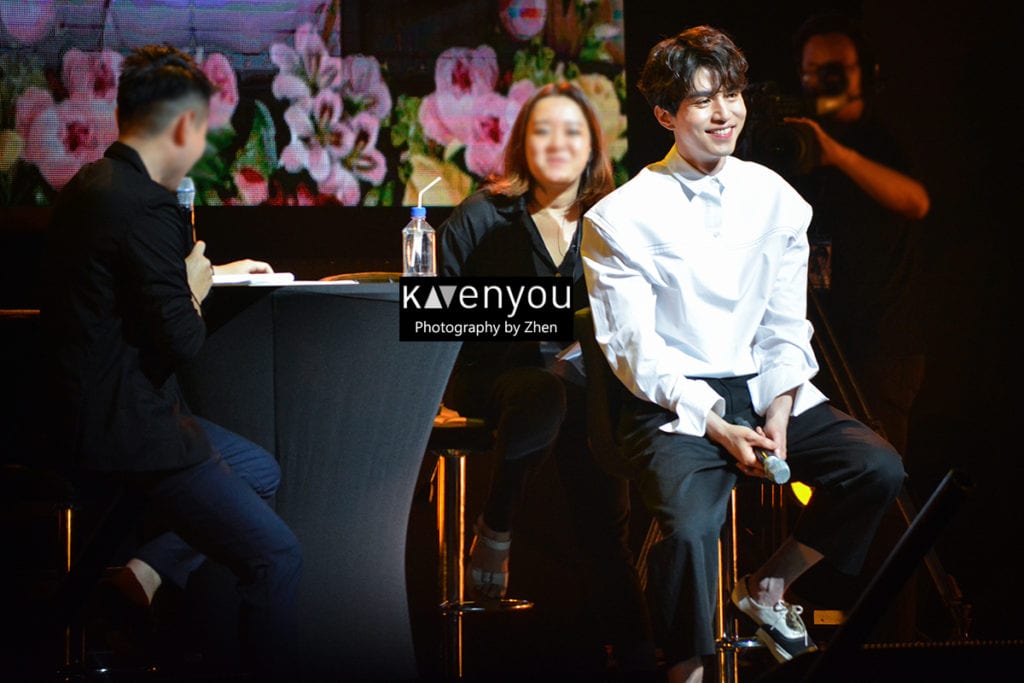 Six years ago when he filmed drama Scent of a Woman, it was his first drama after he was discharged from the army. Having been in the army for two years, he recalled that he was very worried that fans will not remember him after he returned. Also, while watching a crying scene of him trying to win the heart of the female lead from Scent of a Woman, he felt that he looks so much younger then (he still looks young now right!).
In another crying scene where the Grim Reaper met Sunny again in Goblin, Lee Dong Wook shared with his fans how he managed to film the scene. He mentioned that he is the kind who hardly cry in real-life, not even once a year sometimes, and hence to film such crying scenes, he has to think of every sad moment he had in his life, for example when his puppy passed away or when he was scolded by his mum, in order to shed his tears.
At the end of the fan meet, the charismatic actor transformed into a singer, and sang a song called "My Time Towards You" from Bubblegum OST. Everyone was immersed in his performance till the burst of the confetti at the wrong timing towards the end of the song, which left Lee Dong Wook and the fans giggling.
Already missing Lee Dong Wook? Catch him at Hotel King on Oh!K (Starhub Channel 816), from Sunday, April 23 onwards at 2pm.
For more photos of the fan meeting, please check out the photo album and like KAvenyou's Facebook page: 2017 Lee Dong Wook Asia Tour in Singapore
Do also check out our coverage of the press conference here: 'Grim Reaper' Lee Dong Wook charms fans at public press conference
Article by: Victoria @ KAvenyou
Photography by: Beatrice & Zhen Zhen @ KAvenyou