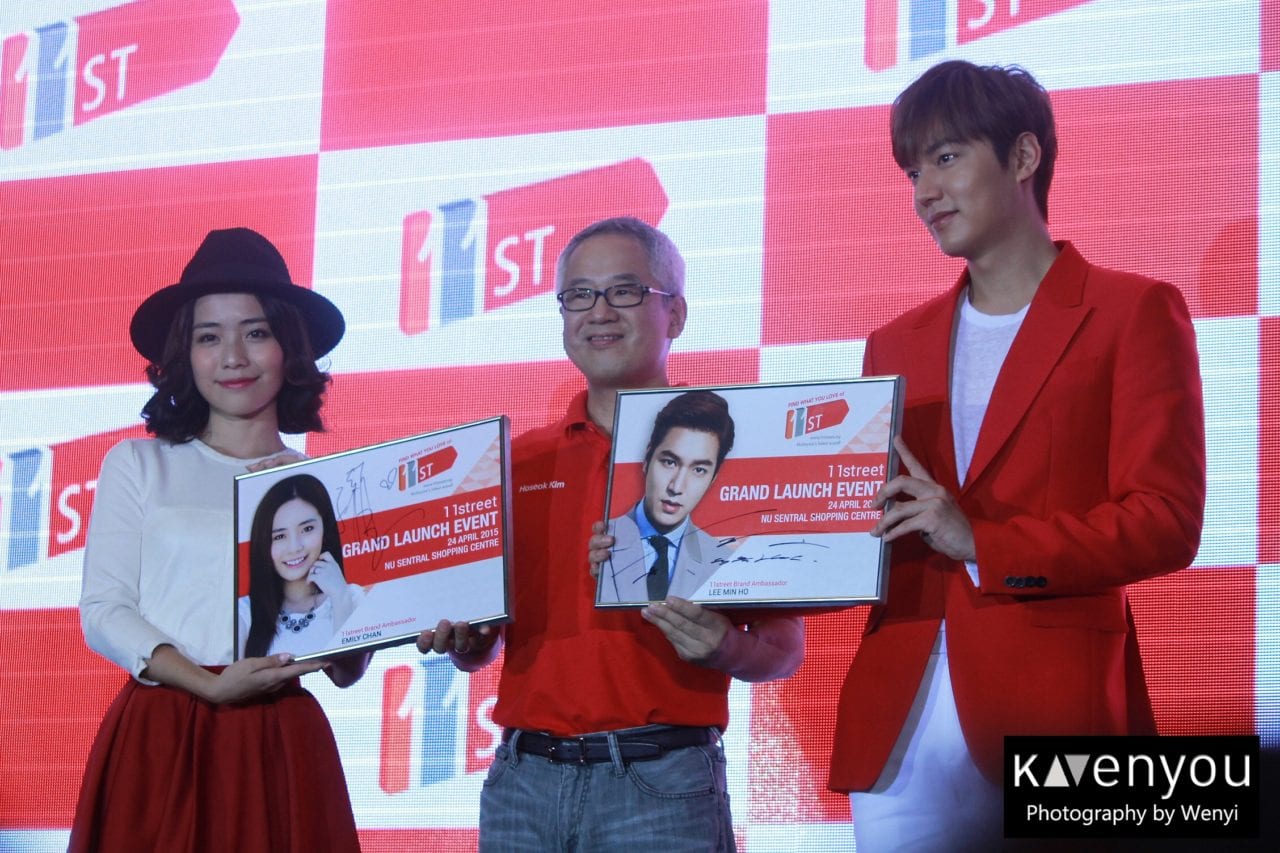 The online shopping platform, 11street, was officially launched at NU Sentral Shopping Centre on 24 April 2015. The event kick started with a speech by the CEO of 11Street, Mr. Hoseok Kim. He introduced 11street as a trust worthy and convenient online shopping platform, with a good mixture of local and global brands. Local consumers can shop for a wide selection of products such as, fashion, electronics, groceries, and many more at competitive prices on www.11street.my.
Lee Min Ho, a well-known South Korean actor, and Emily Chan, a local film actress, are introduced as 11street's official ambassadors. Emily Chan arrived shortly after the showcase performances. Being admired for the chance to work closely with Lee Min Ho, the heartthrob among female fans, Emily shared some of her experiences filming 11street's CF with Lee Min Ho. She praised him, saying that "oppa is very kind and friendly, he is also very tall". She jokingly mentioned Min Ho's nickname of "long-leg oppa" and asked the fans for a hint on his exact height, filling the event with giggles as different guesses were made. Fans got the opportunity to take pictures with Emily as she went down the stage to interact with them.
Roars of cheers arose upon the arrival of Lee Min Ho. The sea of fans that has gathered at NU Sentral Shopping Centre, filling even the railings on the 2nd floor all the way up to the 5th floor, gave Lee Min Ho an extremely warm welcome. Lee Min Ho looked delighted with the warm welcome as he waved to his fans, on and also above the ground floor. He even greeted the Malaysian fans in Malay saying 'Apa khabar, lama tak jumpa!' (how are you, long time no see).
Several lucky contest winners got the opportunity to take pictures and receive autographs from Lee Min Ho on- stage. When asked about his shopping habits, Min Ho mentioned that he loves to shop online on 11street, he said, it offers extreme convenience as his busy working schedules make it hard for him to do regular shopping. Both the 11Street ambassadors exchanged gifts on stage. Emily Chan gave Lee Min ho a soccer ball and got a scarf in return from Lee Min ho.
The event came to a close with Min Ho saying his regret to only be able to stay for a short while on this visit, and promising to be back for longer visits in the future.
Article by: Debbie
Photographs by: Wen Yi
For more photos, please click here.