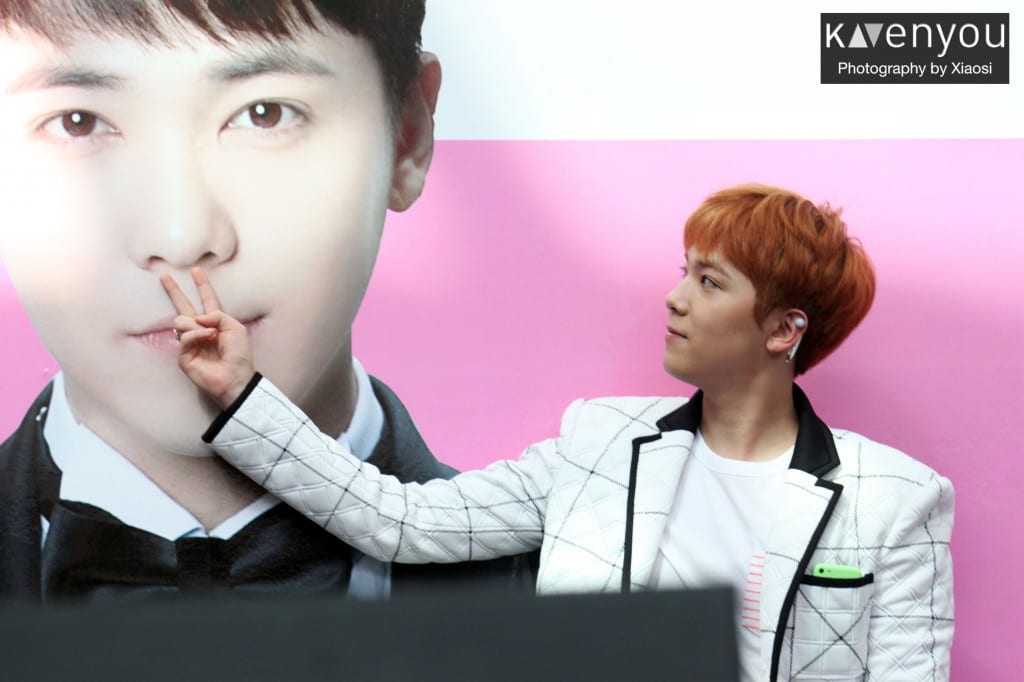 27 JULY 2014, Singapore – It's almost every fangirl's fantasy to end up and getting proposed by their favorite idols. But first, let's get to know more about the groom-to-be, Lee Hong Gi, lead vocal of the hottest korean band FTISLAND. At the press conference, Lee Hong Gi shares more about himself and his latest projects on hand.
Donned a white Louis Vuitton suit, Hong Gi's arrival was accompanied with waves of deafening welcoming screams. He first talked about one of the role he recently took up in the musical "Dracula", explaining that he took up the role because he wanted to try acting as a vampire and the blood-sucking parts seems pretty cool for him. Despite his busy schedules, Hong Gi keeps his sleep as the top priority and hereby assured his fans that he is taking good care of himself,  telling them not to worry about him. To destress amidst the packed schedule, Hong Gi sometimes drinks with his friends or works out. Going further into the role which is described as genius yet psychotic, Hong Gi has to constantly be alert and know his position on stage. Not only that, he explains that because its a musical, he learnt to sing genuinely through singing his script out.

Hong Gi was asked if he was missing his band mates since it's his solo promotional trip to Singapore, he cheekily answered no and followed on by saying he's happy to be here without them. A question on his published nail art book was raised, asking if any of his band mates are into the nail art like him. He answered that none of them are interested in nail art but he does it because through nail art, Hong Gi can express his mood and feelings – it's like Hong Gi's unique  style of fashion.
The star was asked to rank himself for his looks on the day and he answered 100/100 without hesitation – just because he was in a pretty good mood! Taking up one or two roles at a time, Hong Gi shares the reason for venturing into the acting scenes. When he acts, he could be a CEO, a vampire and many others, of which he cannot be in real life. With that, Hong Gi hopes for more opportunities to try out as many different roles as possible in future.
What does Hong Gi likes to do besides playing music with his band and acting? Doing crazy things and getting into trouble – which he described as doing things that no-one knows, not even their manager. One example would be basking on the streets and traveling overseas alone.  If there is one thing that Hong Gi could change in his teenage years, it would be his first try on smoking – that's what he would want to change if time could reverse.
Hong Gi's advice to all teenagers: "Do what you enjoy doing and not what others tell you to do! There are so much more in life to explore, and I hope you (teenagers) can experience the best of your teenage years!"
Hong Gi was exceptionally cheeky and happy at the day of the press conference, making funny faces and answering fans cheers while being interviewed!
KAvenyou would like to thank MODE ENTERTAINMENT for the invite to Lee Hong Gi Proposal in Singapore – Press Conference
Check out KAvenyou's Facebook for more photos of the event! – Lee Hong Gi Proposal in Singapore
Article by: Xuanlin @ KAvenyou
Photography by: Xiaosi @ KAvenyou