The Paris Fashion Week is currently held for the spring/summer 2018 women's collection.

As it is often the case with Paris Fashion Week, actors, it-girls and celebrities sported all kind of looks. And though most shows on October 1st were attended by an audience of women, Lee Dong Wook was present at the Givenchy show.
Lee Dong Wook wore a stylish suit brown suit with a black T-shirt. It was perfectly fit for a gentleman in Paris' fall weather. The simple but efficient look just matched his clean and dandy-like image.
Previously, the actor himself used "Givenchy" hashtags on his instagram. Because of it, fans waited for him at the exit of the show. His previous role as "Goblin"'s Grim Reaper earned him more fans even in Europe. The fans' presence seemed to make the actor happy. He took some time to take pictures and sign autographs for his french fans.
Because of attention that fans gave him, he also quickly caught the medias' eye
Later that day, the Valentino show's guests also provided very fashionable looks.
Taiwanese actress Joanne Tseng also showed a very classy image. Her brown-and-black dress complimented her innocent image. She also provided some fan service, as her fans recognized her among Valentino's guests.

The Valentino show also welcomed Korean model Soo Joo. Soo Joo is very popular and has modelled for the biggest international brands. Her baby-pink outfit and make up didn't conceal the fiery look of the super-model.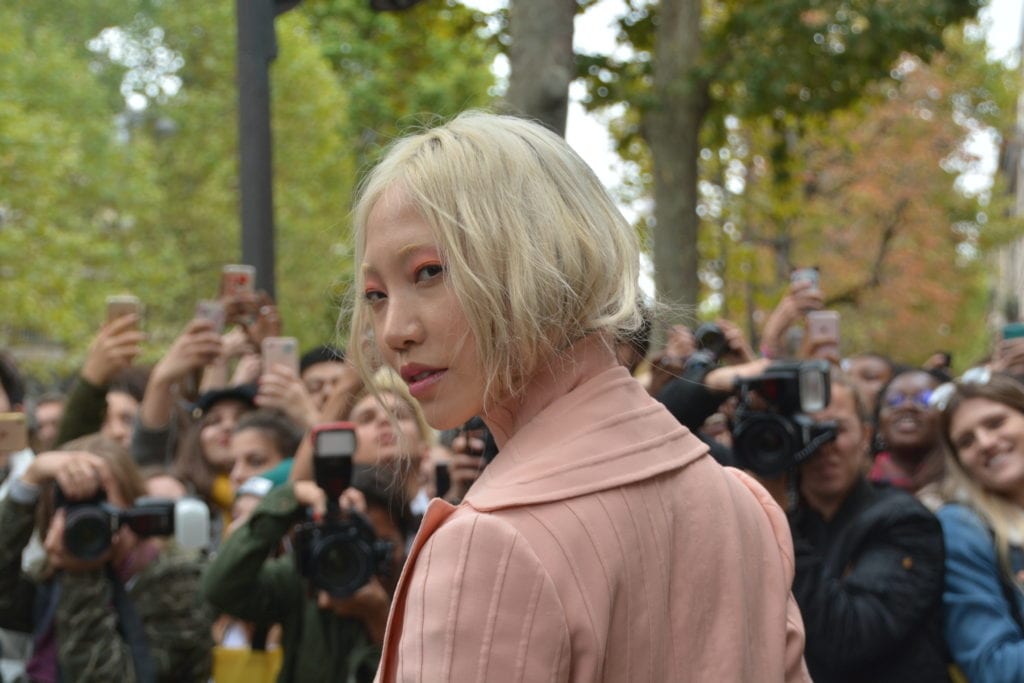 Paris is known as the home of many luxury brands, so it is no wonder many celebrities visit Paris during its fashion weeks.
For more information on Paris Fashion Week, you can visit the event's official page 
Article and pictures : Céline