Everyone is familiar with the grandeur of K-Pop, that has swept across the globe for the last decade. Korean beauty has long gone viral and ingrained in you, with those "god knows how many steps" skin care routines. During this same period, Korean fashion was also "quietly" blossoming, with the Seoul Fashion Week attracting global attention in recent years especially with the rise of Instagram and street style photographers.
What defines K-Fashion?
Seoul's fashion scene is very much involved with street culture; the city is not really into high-end fashion, but more so into affordable streetwear that is influenced by K-pop stars and K-entertainment.

Jung Ku-ho, Executive Director of Seoul Fashion Week (Interview by HYPEBEAST)
… the domestic market is quite young (once you have money, you tend to shop international brands), and so the clothes are generally young and more commercial. It's why you see a lot of logo hoodies, statement tees, fun denim…things like that.

Monica Kim, Fashion News Editor at Vogue.com (Interview by HYPEBEAST)
The secret to help "evolve" you
The known way to follow the Korean style is to follow the Korean celebs' fashion style (provided you can carry off the look), since celebrities are styled by professional stylists right? However, if everyone wears the same logo hoodies and statement tees, it would probably look a little awkward as well.
While we continue to follow trends blindly, why not also play on the subtle differences? We are referring to the accessories you wear and carry, be it to work, a gathering, to school, or just simply to the market.
---
MARHEN J
From the more casual style of the Rico and Ricky series, to the Roy and Cindy series that are also fit for work, Marhen J has come a long way since it started in 2015. With a myriad of "celebrity endorsements" (we actually meant celebrities who loves and uses it) to boast about. The brand seems to pursue some form of minimalism while adding character through the usage of colours and patterns. With the growing voices of sustainability, Marhen J is also a supporter in terms of producing what they call "Animal Friendly" bags through the use of high quality artificial leather.
The best thing about their bags is that they stay true to Korean fashion, by creating luxury products at prices that will not burn that big a hole in your pocket. Definitely worth adding a piece or 2 to your bag collection, in order to add some real colour to your style.
Oh! Not forgetting their beautiful flagship store "Marhen.J Salon" at the heart of Hongdae. Definitely worth checking out while you are there in Seoul.
MARHEN J bags are available on sale at Sift & Pick. As every brand on sale is carefully hand-picked by the fashionistas at Sift & Pick, you can ensure that you will be wearing a fashionable piece when you shop there.
---
GENTLE MONSTER
The eyewear brand was founded by Hankook Kim in Seoul, South Korea in 2011. Apart from carrying bags, proper eyewear adds another dimension to the overall Kpop fashion style. The cult Korean eyewear brand earns many fans due to its popularity among K-wave celebrities, and never mind the luxury price tag, even the common among us can't help but lust after their designer frames.
Apart from the quirky and artistic looking designs, their flagship stores are often a piece of art as well. As such, Gentle Monster's first Southeast Asian outlet in Singapore opened to loads of fanfare in 2017. Time to hit the store and pick a pair of shades to enhance the look.
Gentle Monster is available at their Singapore stores below:

Gentle Monster Marina Bay Sands
B2 103-104-105, 10 Bayfront Ave,
Singapore, 018956

Gentle Monster ION Orchard
#01-13 ION Orchard, 2 Orchard Turn,
Singapore, 238801
---
ALICE MARTHA
Alice means nobleness and Martha originally refers to a noble woman. Owning a unique Alice Martha bag is like realising a woman's desire to be loyal, noble and honourable. According to its head executive Kwak Chang Hun, Alice Martha makes about 500 pieces per color per design, but some stop at 100 or 200 pieces depending on the response. Essentially, this makes their bags always "limited edition" depending on popularity.
Due to its design philosophy of manufacturing simple and functional pieces at consumer-friendly prices, designs are often very minimalistic yet gives off its unique charm.
Alice Martha bags are available on sale at Sift & Pick. As every brand on sale is carefully hand-picked by the fashionistas at Sift & Pick, you can ensure that you will be wearing a fashionista piece when you shop there.
---
PLAYNOMORE
Instagrammers and Korean fashion followers must get their hands on PLAYNOMORE's adorable line of handbags and accessories. Taking inspiration from the classic silhouettes of Hermès Birkin bags, PLAYNOMORE added its own character through its key "SHYGIRL" identity. Being spotted with PLAYNOMORE products will definitely help attract eyeballs – just like the cute and recognisable pair of "SHYGIRL" eyes imprinted on the products.

Their more recent MicroCandy series of bags are also a hit amongst female celebrities, if the classic cutesy eyes are too much for you to carry.
PLAYNOMORE is available at the below physical locations in Singapore:

PEDDER ON SCOTTS
Level 2, Scotts Square 6 Scotts Road, Singapore

ROBINSONS THE HEEREN
The Heeren, 260 Orchard Rd, 238855, Singapore
---
JUBILER
The Korean accessory brand does not have a cult status as the above brands, but has their own following amongst Korean celebrities. In fact, rising JYP Kpop group ITZY went "달라달라 (Different Different)" in these. Perhaps we may see them in these come 13 December in Singapore for their "ITZY PREMIERE SHOWCASE TOUR 'ITZY? ITZY!' IN SINGAPORE".

Inspired by the word "Jubilee", its name has a celebratory meaning especially of an anniversary or any joyous event. The brand hoped that their varied range of accessories will always be by your side to celebrate your happiest moments. With their selection of small, dainty pieces in materials like marble, tortoiseshell, and a variety of metals, Jubiler's jewelry collection is the smart way to accessorize without feeling overwhelmed.
Jubiler (쥬빌레) accessories are available on sale at Sift & Pick. As every brand on sale is carefully hand-picked by the fashionistas at Sift & Pick, you can ensure that you will be wearing a fashionista piece when you shop there.
Sift & Pick is a young and trending e-marketplace working closely with indie and original designer labels, who brings authentic fashion and beauty products that are lovingly handpicked and uniquely curated for shoppers. The annual "Singles Day" is around the corner, and the good peeps at Sift & Pick is out to bring some joy to the singles through their first ever Super 11.11 Sale!! Who needs a hot date when you have great deals to pamper yourself?
From 5 to 18 November 2019, there will be huge discounts & special deals for star K-Pop brands like MARHEN.J and Alice Martha, as well as other popular best-selling brands like Frequent Flyer, Goodordering and Grace Gift.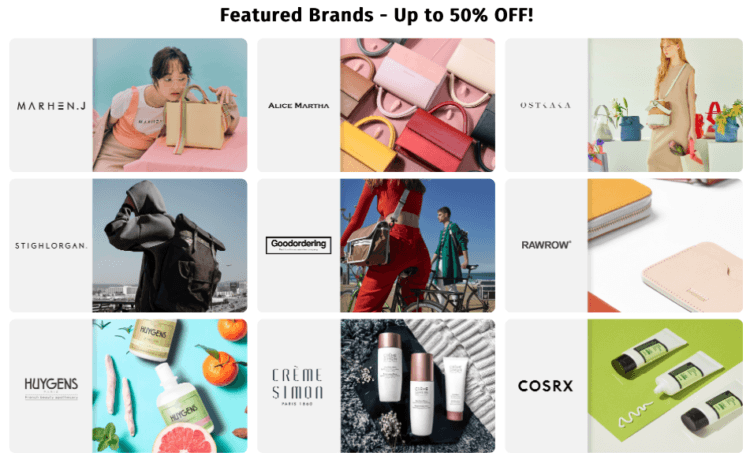 On top of these attractive discounts, shoppers can also enjoy further irresistible bargains through exclusive brand mystery boxes, flash deals, and sitewide discounts! Think:
Up to 50% off on featured star brands
Sift & Pick Exclusive Mystery boxes
Limited daily cash vouchers
Crazy flash deals up for grabs