Seems like Singapore is a hotspot lately for Korean celebrities to visit unannounced – from taking photoshoots to attending art events, and perhaps to party? Here are the list of stars who dropped by Singapore last month, and you might not even be aware that you were breathing the same air as them!
1) Super Junior's Leeteuk and SHINee's Onew

Leeteuk gave Singapore fans a shock when he suddenly Instagrammed a photo with the captions "..Singapore go go~~..". But what most people did not expect was Onew coming along as well, and everyone was curious what the purpose of their trip here was for.  
Looks like the boys had a good time in Singapore with Leeteuk's multiple Instagrams posts of local food and even Onew, who seldom tweets and not to mention posting photos, actually tweeted a selca of himself in Jumbo seafood restaurant looking adorable with the apron on! The chilli crab must have done some wonders to Jinki.
Anyway, it turned out that the two leaders were in town for a Cosmopolitan Korea magazine photoshoot.
---
2) Hong Jonghyun
Model-turned-actor Hong Jonghyun was in town on January 19 for an overseas pictorial with BNT news, and news only emerged on the day itself by BNT who posted airport photos of him making his way to Singapore.
However, there was not much news of his sightings in Singapore except for a photoshoot which was held in The Shoppes at Marina Bay Sands. How can anyone possibly not spot a fine-looking chap donning a dusty pink suit sitting on a gondola right smack in the middle of a mall?
---
3) BIG BANG's T.O.P
Actually, T.O.P had arrived in Singapore on the same day as Hong Jonghyun (in fact a few hours earlier!), but most people were unaware of his presence until this was posted the next day:

T.O.P was in Singapore to attend the Prudential Eye Awards, where he also accepted the award for the most good-looking walking exhibit in Singapore Visual Culture on behalf of South Korea. Also, T.O.P seemed to be spotted everywhere despite his short duration here in Singapore: T.O.P chilling out with the Singapore night skyline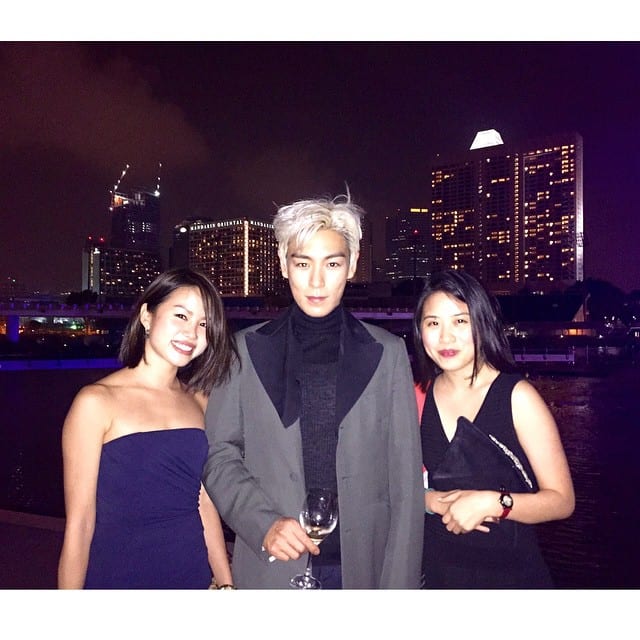 T.O.P at Singapore Art Museum
Case of being in the wrong place, at the wrong time. So my sister was a breath's away from Choi Seunghyun today. #that #hair #dameGothel #haha #TOP #bigbang #singapore #vscocam A photo posted by H Wahianuar (@heeqmah) on
T.O.P at STPI Gallery

  T.O.P at Art Stage Singapore
 T.O.P at Ikkan Gallery
T.O.P nearby Raffles Hotel
[one_half]
[/one_half] [one_half_last]
[/one_half_last]
T.O.P's visit also coincided with the Singapore Art Week, and he definitely went exhibition-hopping around more than a typical Singaporean does! Also, we are wondering how he can still look so smokin' hot in that outfit of his under the humid Singapore weather – or maybe he's the reason why Singapore is so hot.
---
4) Jung Ryeo Won
Actress Jung Ryeo Won was also in Singapore for the Prudential Eye Awards, where she presented the award for the Best Emerging Artist Using Painting.

The talented actress also took a trip to the Singapore Arts Museum with her stylist, and her Instagram posts of the exhibits showed that she well enjoyed her time there!
---
5) Wu Yifan
[one_half]
[/one_half] [one_half_last]
[/one_half_last] [one_half]
[/one_half] [one_half_last]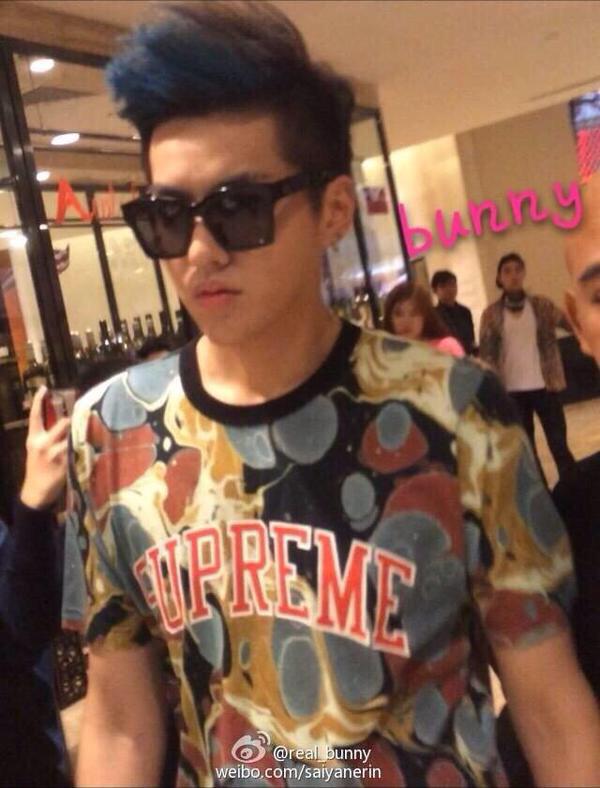 [/one_half_last] Technically, Wu Yifan (better known as Kris) is not Korean, but he rose to fame in Korea and was an ex-EXO member, hence the categorization. KAvenyou has posted about his arrival in Singapore last week and since then, he has been spotted playing basketball, filming a CF, out and about in town and errr, spotting a new hairdo?
---
6) Jay Park

No one definitely expected this! Until now, we're not exactly sure why Jay Park was in Singapore, but he was the most happening one out of those who came by our sunny island – Jay was spotted in town, at a wedding (can I invite my idol to attend my wedding too?) and in Zouk partying too!  
#chong couple @jparkitrighthere @estherpang88 @lalunex @syongzee A photo posted by @royal_vamp on
Many lucky clubbers got to snap photos with the man himself – too many for me to share the photos here!
So… did you manage to bump into any of them when they were in town last month? Maybe this is a sign for you to head outdoors more… who knows who you might meet along Orchard Road? *wink*
Read more at "KAvenyou: Your Avenue to Non-Stop Entertainment, Lifestyle and Fashion"