KAvenyou Beauty Carnival 2019 – If you're familiar with the Korean culture, you should know what 'oppa' is – an older brother. For the K-fanatics, we call our idols our 'oppa' for their god-like looks with a tinge of aegyo. We went to analyze what it takes to be a TRUE #OPPA and no, you do not need a perfectly proportionate face to be an 'oppa'. Here's the secret – HAIR.
We don't really know how it started – but this trend really skyrocketed in 2018, and it is continuing in 2019. In fact, the internet has gone crazy with people attempting the "Trying Korean Oppa Hairstyle" challenge. Here's an example from famous YouTuber Edward Avila who attempts to turn his friend into a classic K-drama 'oppa' by first transforming his hair from 1:16 – 4:45.
Clearly, Korea has set itself as the benchmark of cutting-edge hairstyles. Take a look at our favourite hairstyles and let us know if you have or attempted these ones before!
Korean Oppa Hairstyle – The Curtain Haircut
This was a huge trend in the 90s, but it revived last year – and what a blessing it did. To get this look, your hair needs to be medium length to create the perfect curtain look, and create a parting down the middle to get the shape of a curtain hair. And voilà – you've done it! And did the boys not tell RM the group hairstyle for the night?
Korean Oppa Hairstyle – Two block with a side part
I can confidently say this look is a cliché that you've definitely seen before in ANY drama – yes. So how does this style work? The top crown is parted sideways and separated from the short sides. There's no going wrong here – definitely, no way. Simple? Yes. Hot? Yes.
Korean Oppa Hairstyle – Fringe Up
Without a doubt, this is a hairstyle that has fans BEGGING every idols' stylist to give them. As the name is, this style is pretty much having the top section of the hair styled into a fringe with A LOT of volume, while the sides remain at a medium level. In simple terms, #FREETHEFOREHEAD.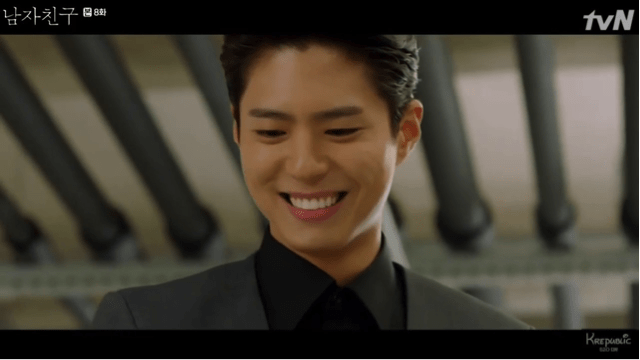 I mean, fans of 'National Boyfriend' Park Bo Gum literally started a hashtag on Pinterest asking for the #FREETHEFOREHEAD movement. Seriously, on behalf of every single fan out there, we need it – #FREETHEFOREHEAD.
Korean Oppa Hairstyle – The Mullet
When did this happen? We have no idea when it started or even how it started but we do know – this is a GOOD look. And this trend may have been brought back with people trying to go nostalgic back to the 90s. Some iconic idols who has had the mullet for a while now is none other than SEVENTEEN's The8, GOT7's JB and EXO's Baekhyun.
As you can see, the mullet gives off a badass punk, kind of rock-and-roll yet subtle look. A few tips to achieve this look is to start with a skin taper and then a high temple fade. In lament terms, it is a bald fade except the sides of the hair are not faded higher than the temple area. Confusing, but we recommend just showing a photo of your desired look to your hair stylist to avoid any mishaps. Unless you're as ballsy as BTS's Jin, then sure.
Korean Oppa Hairstyle – The Hair Tinsel
No, you didn't read me wrong. You probably think hair tinsels are for girls, and also because we've covered it here before: https://kavenyou.com/glitter-hair/. Turns out guys can rock the look as much as girls. If you're up-to-date with the K-pop world, you've probably seen K-Pop male idols trying out the Hair Tinsel Trend (It's so glittery, it's actually a challenge NOT to see it!).
Fans are constantly on their feet worrying about scalp damages, as a result of their oppas' constantly changing hair and colours. This glittery thing is basically a god-sent, as all you need are glitter hair extensions where you can just attach them by yourself! Easy, and sparkly! These boys are really making the Holographic highlight trend stay forever.
These are really just our "amateur TOP 5 picks" out of a plethora of hairstyle choices for the dudes out there – so why don't you guys give it a shot, and see if could rock that #OPPA look? Of course, we don't expect you guys to style it yourselves (Unless you want to). Go pamper yourself for that little makeover at a proper Korean hair salon.
As part of our inaugural KAvenyou Beauty Carnival, we have some partners who are more than capable of sorting things out for you; so check them out and get some expert advice.
Article by: Vanessa @ KAvenyou