Being the ambassador since 2018 last year, South Korea Nation's Little Sister Kim Yoo Jung is back in town to launch the new Water Bank line from Korean cosmetics brand Laneige.
Glowing Luminous Skin; this is exactly what we all want. Everyone wants good skin. In Singapore, the weather is so hot. You perspire; you wipe it off and everything else is gone with it.
Water Bank Hydro Cream EX

Hydration cream for providing a fresh hydrating layer by moisturising the skin. It is lighter, and can be used in the day and underneath your makeup. Keeps your skin hydrated throughout the day and doesn't dry out your makeup.
Water Bank Moisture Cream EX

A highly moisturising cream for providing a healthy moisture layer by strengthening the skin barrier. It is recommended to be used at night, especially when you sleep in an air-conditioned space, or have dry skin, working in an office or always in an air-conditioned place. It doesn't dry up your skin and it keeps it extra hydrated.
Different from the current products, these 2 moisturizes smell good, makes you beautiful and are super charged with super green mineral water. A key ingredient is that it is filled with the moisturiser that are bouncing minerals as well as imperative minerals that is extracted from a collective selected range of super vegetables. Vegetables are good for your skin ain't it? But sometimes it's hard to get to the essence of it. In which Laneige has extracted it out and put it into a bottle for you to use it conveniently.
Q: What are some of your beauty secrets for luminous skin?

A: To let my skin rest, I like to stay bare face when I am not working. I make sure my skin is always hydrated and moisturised all the time. I like to use Laneige Water Bank Hydro line, and I apply it regularly to lock in moisture.
Kim Yoo Jung also reveals the new Water Bank Hydro Cream EX as her favourite, alongside with Laneige Layering Lip Bar and Cream Skin Refiner which she carries around with her all the time.
A series of 'Would You Rather' with Kim Yoo Jung
Q: Red Lips vs Nude Color Lips
A: Red ?
Q: Sheet Mask vs Sleeping Mask
A: Sleeping Mask
Q: Stinky Tofu vs Durian
A: Stinky Tofu
Q: Cats ?vs Dogs ?
A: Cats & Dogs ??

Q: It's your second time here in Singapore, what would you like to do or try different as compared to your previous time here?

A: I arrived 2 days ago and it has been very hectic as I had a very packed schedule and I did a photoshoot yesterday too. I didn't really get to try many local delicacies, but this is my last schedule for Singapore today, and I really wish to try Chilli Crab later.
Q: Anything you can share with us on your new upcoming project?

A: I am currently working hard and am still filming it. It's a film titled 'The 8th Night', please do continue to give your support and look forward to it.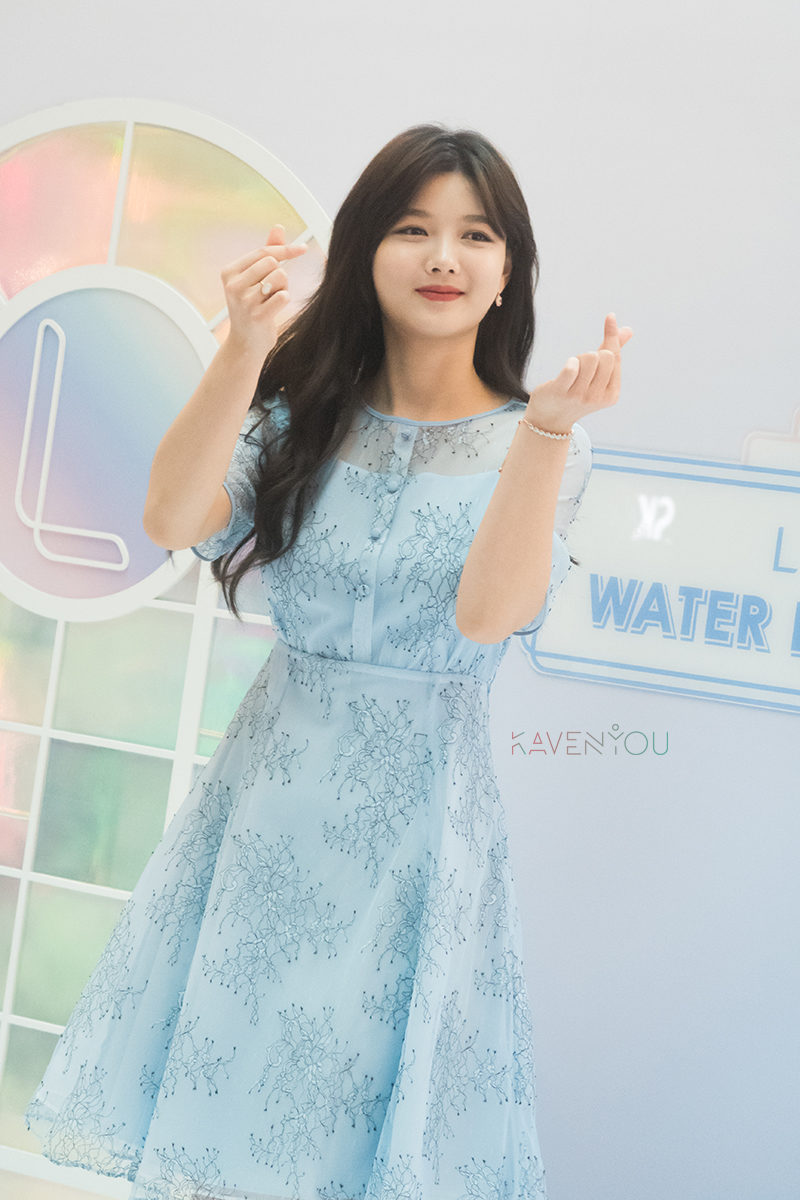 "It's been really enjoyable to be back in Singapore for the second time and it has been really really fun. I'm so happy and grateful that so many of my Singapore fans are here to see me. It was a very very enjoyable moment. I do look forward to coming back to meet all of you guys again. Please wait for me. In the meantime please continue to support Laneige as well as myself. Thank you"
Article by: Leslyn @ KAvenyou
Photography by: Leslyn @ KAvenyou