South Korea – It's never too early to start planning for your summer vacation! Love the sun and beaches? Here is a list of must-try water activities in Jeju.
Surfing

Samyang Black Sand Beach, Jungmun Saekdal Beach and Iho Tewoo Beach – take your pick! The 3-hour beginner's surfing course typically comes with an English-speaking instructor, a surf lesson and surfboard rental. Do take note to bring your own wetsuits (not provided) or rent it on site at 10,000 won. Surf away!
Kitesurfing

Kitesurfing, also known as Kiteboarding, is a 3-in-1 combination of surfing, sailing and paragliding. Choose between the 2-hour basic lesson or 3-hour advanced lesson to learn the A to Z of Kitesurfing. If you're up for a quick experience, opt for the tandem kiteboarding and ride the kiteboard with a professional instructor!
Scuba Diving
Explore the underwater world with and get up-close with nature by scuba diving! If you're an outdoor person, you may consider starting your journey at Seongsan Ilchulbong (Sunrise Peak). Not a fan of the sun? Don't worry, we have something lined up for you! Dive indoors at the Aqua Planet Jeju, one of Asia's largest aquariums! These activities typically includes basic instructions of scuba diving by an English-speaking instructor and equipments rental. If you're interested to obtain an international diver's certification with the Open Water Diver Course, click here to find out more.
Parasailing

Indulge in the mesmerising landscape of the Jeju's coasts not on the ground, not in the waters, but up in the air! Kickstart your parasailing adventure by boarding a speedboat with other participants (up to 7 pax) and each person will enjoy approximately 7 minutes of screentime "air" time. You won't regret this experience for sure!
Paddle-boarding
You're one "paddle" away! Learn the basic paddling strokes from the Paddleboarding lesson conducted by an English-speaking instructor and choose between the 1, 2, or 3 hour course. Navigate on the Jeju seashores and admire the beautiful sceneries while you paddle along! Click here for Paddleboard rental (without lesson). Fun fact: Paddleboarding originated from Hawaii and is a relatively new leisure sport!
Kayaking

Take a closer look at Jeju's clear waters in a transparent kayak! That's double clarity, isn't it? Otherwise, opt for the vibrantly coloured modern kayaks at Jeju's Hado Sea here!
If you are not so much of a sporting person, try the horse-riding by the beach (at least you are still close to the waters, right?)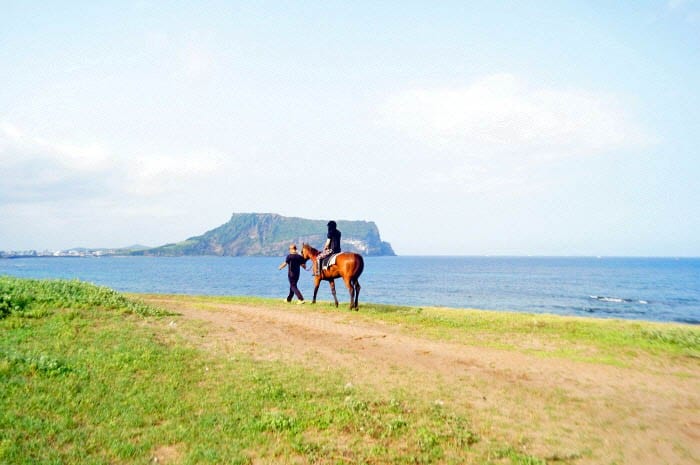 What other water activities would you recommend? Comment below!
Article by Xuan Lin @ KAvenyou.com