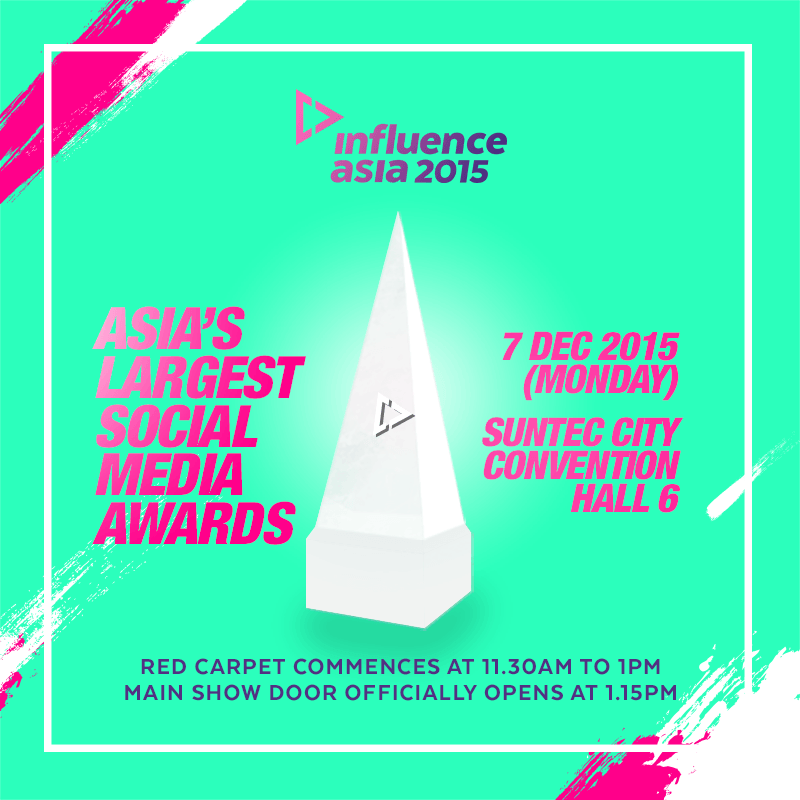 Gushcloud, a Singapore-based influencer marketing network and marketing agency, announced that it has added two new artistes to its star-studded line up for Influence Asia 2015, Asia's largest social media awards show.
American rapper, dancer, record producer, DJ and singer Stefan Kendal Gordy, better known by his stage name Redfoo, will be flying to Singapore to present awards at the show on 7 December 2015. Redfoo is half of electronic dance music duo LMFAO, known for his hit singles 'New Thang' and 'Let's Get Ridiculous'.
Joining him is KPOP singer and actress Stefanie Young Hwang, known professionally as Tiffany or Tiffany Hwang, from South Korean girl group Girls' Generation and its sub-group TaeTiSeo (TTS). Tiffany, along with TTS members Taeyeon and Seohyun, will release their comeback album in the first week of December.
Influence Asia 2015, produced by Gushcloud, and hosted by South Korea's Yello Digital Marketing (YDM) Group, one of the largest and fastest-growing digital marketing groups in Asia, will see more than 180 leading social media influencers from Singapore, Malaysia, Indonesia, Thailand and the Philippines compete for top awards.
Redfoo and Tiffany will join Korean pop star Jay Park, the adorable four year old baby Yebin, best known for her Stranger Danger video with more than 14 million views on YouTube, and editors of American news platform Elite Daily, to present awards to the top influencers in the region.
Amongst the nominated finalists are Thai host and model TubTim, Malaysia's singing sensation Elizabeth Tan, Miss Indonesia Putri Anindya, and Philippines' fashion blogger Laureen Uy, who will be flying in for the event. Singaporean influencers such as Narelle and Benjamin Kheng from The Sam Willows, food bloggers Seth Lui and Daniel Food Diary, and YouTubers Night Owl Cinematics have also been nominated.
Mr Vincent Ha, Gushcloud Chief Executive Officer and Co-Founder, said: "We are glad that Redfoo and Tiffany are able to join us at the show to celebrate the achievements of the top social media influencers in the region. We cannot wait to unveil the list of trend setters and opinion leaders who have taken the Internet by storm."
Mr Sang Seok Lee, CEO of YDM Group said: "Influencers who produce high quality creative contents will play an even more important role in leading the digital content marketing scene. Influence Asia 2015 will be the great chance for influencers in Asia to network and celebrate its glory moments together."
The influencer marketing industry in Asia is fast growing, with Asia-Pacific expected to surpass North America in total digital ad spending share worldwide by 2017, according to eMarketer, a New York-based research firm.
Reflecting the growth trends, a recent survey by CMO Council, a global network of Chief Marketing Officers, found that 63% of Asia Pacific companies are planning to increase investment in content marketing, and 62% in mobile marketing.
Asians are among the most broadband-penetrated people in the world, with 60% of Malaysians and 69% of Singaporeans connected with brands on a social media site. 100% of Indonesians Internet users also have Internet access through a mobile device.
Influence Asia 2015 will also see performances by Raisa, Indonesia's most popular songstress with more than six million Instagram followers, Joe Flizzow & SonaOne, Malaysia's award winning hip-hop artistes, Thailand's top hip-hop rapper Dandee, and Singapore's Shigga Shay with the Grizzle Grind Crew, and Gareth Fernandez.
The show will be hosted by Sheikh Haikel, Singapore's godfather of hip-hop, and Canadian comedic blogger and YouTube personality Peter Chao, known for his unconventional portrayals of Asian stereotypes, alongside other politically incorrect videos, with more than 860,000 subscribers on his platform.
More information on Influence Asia 2015 and the full artiste line up can be found at http://influence-asia.com.
NOMINEE SELECTION & JUDGING PROCESS
Influence Asia 2015 has partnered with social media experts from all five countries to curate the top 15 nominees in the nine categories from each country. The curating was done based on the influencer's Reach (number of unique visitors, followers, subscribers), Engagement (number of likes, comments, shares), and average number of Brand Endorsements.
Following the curating of the top 15, all judges of each country then gathered together to further narrow down the list to top 8, and then to top 4. After a thorough judging process, the top 4 influencers in each category from the five countries are chosen to attend Influence Asia 2015 in Singapore, where they will have a secret vote amongst themselves to decide on the overall winner in the nine categories, and the Influencer of the Year.
Judges include representatives from government bodies, regional brands, creative agencies, and digital platforms, such as the National Youth Council in Singapore, Unilever in Indonesia, The Coffee Bean and Tea Leaf in the Philippines, Samsung Malaysia, and Leo Burnett Thailand.
Full list of judges can be found here: http://influence-asia.com/judging
Mr Ng Siang Hang, spokesperson of Influence Asia 2015, commented on the judging process: "As each country in the region has significantly different audience size, trends and preferences, nominees are selected and judged alongside others from their own country, rather than across borders."
INFLUENCE ASIA COUNCIL
The Influence Asia Council is built to govern the nominations and judging processes of Influence Asia Awards. The Council is built through a by-invite only membership and consists of members from advisory panel, yearly judging panel, and winners of each category in their countries. The Council aims to be transparent, objective and fair in choosing the nominees and will grow in size every year.