K-pop sensation, iKON, has once again transformed Singapore into a 'Love Scenario' last evening at Samsung's 'Unleash Next Gen Bold' event. Held at Resorts World Sentosa Theatre, iKON was invited to grace the event to promote the new Galaxy S10 series.
The Samsung Galaxy S10 series consists of three models – Galaxy S10e, Galaxy S10 and Galaxy S10+. Some of the highlights of the S10 phones are its Ultra Wide Camera, Wireless PowerShare, Dual Aperture Camera and more.
Eugene Goh, President of Samsung Electronics Singapore, gave a short speech to thank the audience for their support before kicking off the show officially.
iKON opened the show with their hit song 'Love Scenario' to enthusiastic screams from their fans, also known as iKONICS. Although it was just a short one-hour show, iKON wowed the crowd with 'Killing Me' and 'Bling Bling', songs that have received great love from iKONICS all over the world.
Other than performing some of their hit songs, iKON also sat down for a short Q&A session. When they were asked what they liked the most about the new Galaxy S10 phones, Jay said: "There's seven members in iKON and sometimes it is difficult to squeeze everyone in when taking a photo. With the new Samsung Galaxy S10 phone's wide angle, we can fit everyone in easily."
Cheeky Jay's description of Singaporean fans also brought laughter to the crowd. When asked to describe the Singaporean fans in a few words, Jay teasingly said: "Siloso Beach. It is a beautiful beach and I think our Singaporean fans are even more beautiful."
Samsung also collaborated with Fortnite for an exclusive game content. "I personally love playing games and of course Fortnite as well. We introduced our iKONIC outfit on Fortnite so do look out for it and enjoy the game," shared Chan.
To many of the iKONICS' delight, the show was very interactive. The hosts went around to get fans to express their love for iKON. Some of the fans got an eye contact chance with the members and other fans got to tell iKON their heartfelt messages. One of the excited fans exclaimed, "Bobby oppa, you have worked hard!"
iKON members showing their selfie poses – we have Donghyuk, Chanwoo, Yunhyeong, Bobby & B.I! Now you iKONICS know what to do when posing for selfies ? #iKONxSAMSUNGinSG pic.twitter.com/GJpxYqg783

— KAvenyou • 케이애버뉴 (@KAvenyou) February 21, 2019
To reiterate how amazing the phone camera is, iKON took a group shot and selfie with the audience using one of the Galaxy S10 phones.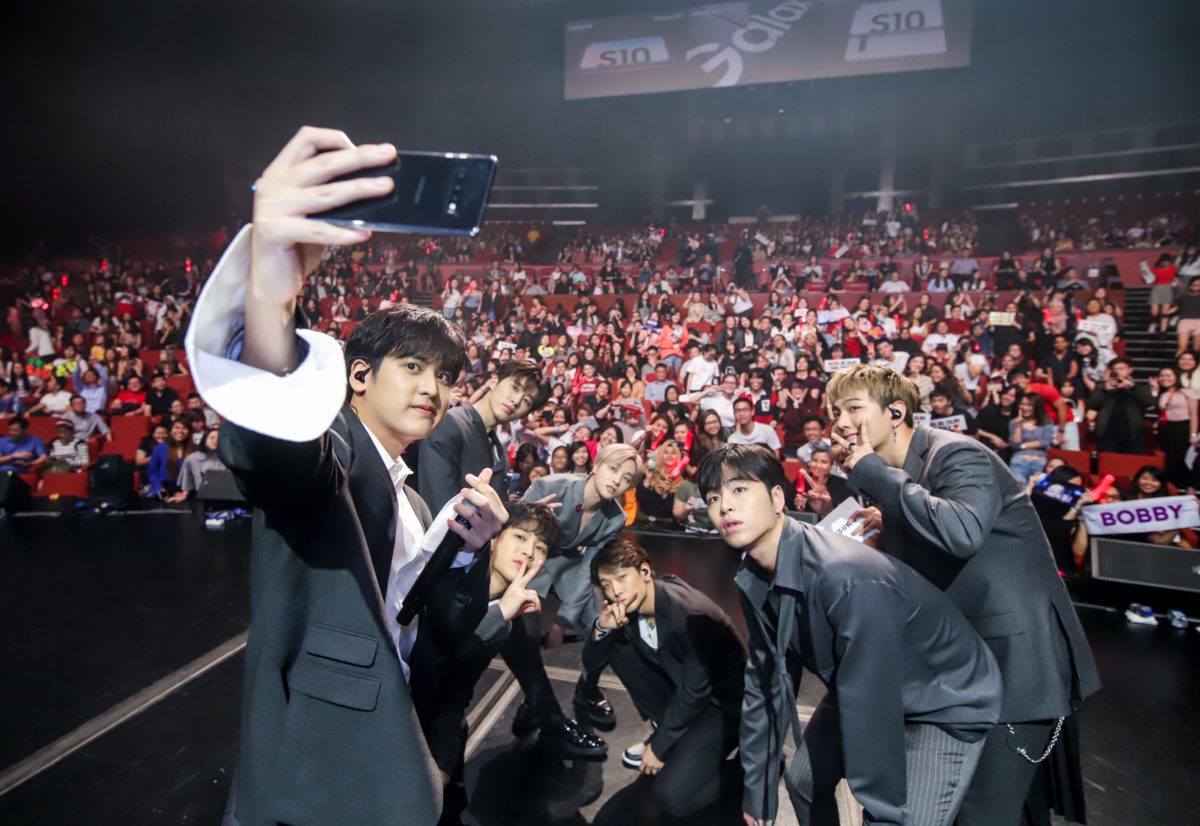 The event ended off on a high note after iKON's performance, with the President of Samsung Electronics Singapore gifting each iKON member a Galaxy S10 phone.
It was truly a successful launch event and unforgettable night for iKONICS. Before heading backstage, the iKON members also told their fans to sit tight and wait for their next concert in Singapore!
Article by: Wei Yin @ KAvenyou
Photography by: Zan @ KAvenyou, Samsung