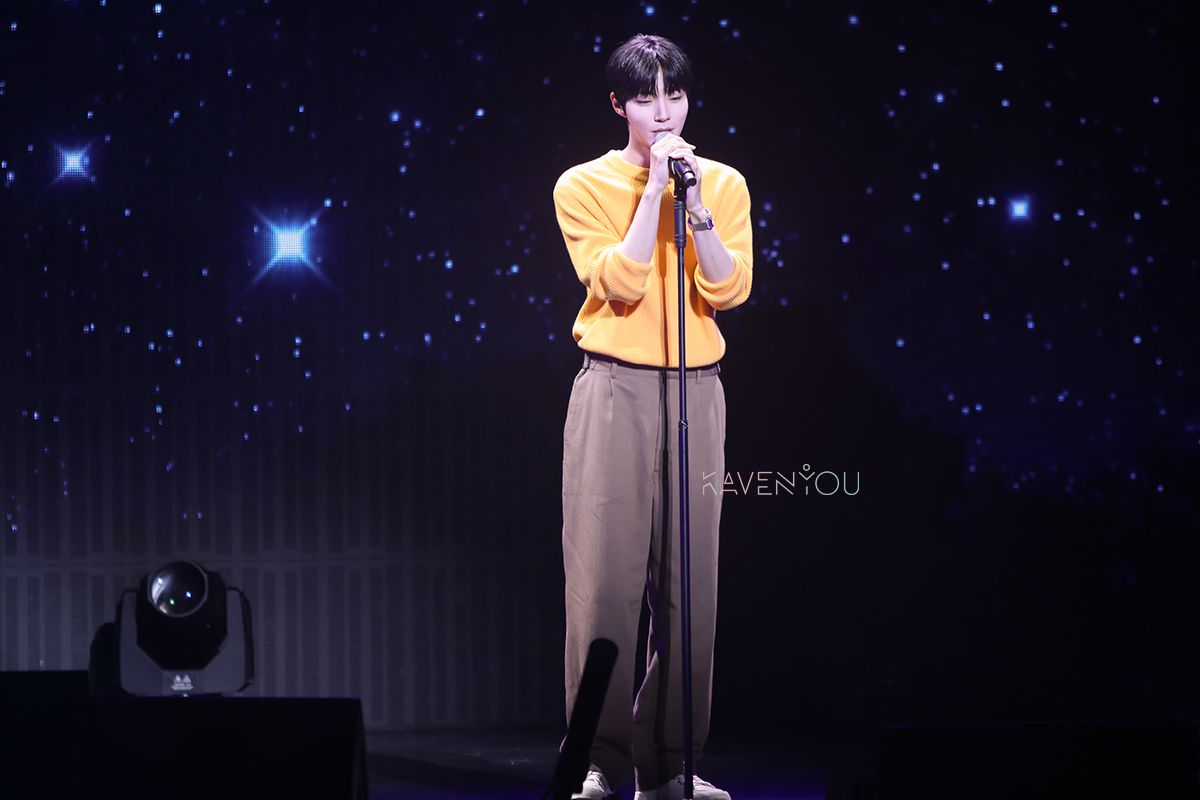 It was an evening of magic as the first overseas stop of 2022 Hwang In Youp 1st Asia Fan Meeting Tour kicked off in Singapore on 30th July.
Beginning with "It Starts Today" from 'True Beauty', the K-drama that saw Hwang In Youp skyrocket in popularity, he serenaded the packed Capitol Theatre filled with Singapore HIYILY and overseas fans who specially travelled over for the fanmeeting.
Hwang In Youp then greeted the fans present and also revealed that it was actually his first time in Singapore, and he had already visited the Merlion and ate chilli crab on the day he touched down in Singapore.
Fans got to know more about Hwang In Youp through segments like the 'Hwang Quiz?'—which was a quiz testing his knowledge about Singapore and answering fans' burning questions they submitted through the Q&A board outside the venue. A lie detector was even brought in, in the form of an adorable cat ear headband which will twitch if they detect him lying!
The actor got to try Singapore's local delicacies, kaya toast and teh tarik, which he couldn't stop taking extra bites and sips (that he joked also pausing the fanmeeting just to finish them!)
For 'In Youp's Filmogram', the talented actor and the emcee sat down to talk about his acting career. Starting from his acting debut as serial killer Park Dan Ho in 'The Tale of Nokdu' to his latest role as Gong Chan in 'Why Her?', Hwang In Youp touched on his different characters and interesting tidbits that fans may have not known previously.
On his character Han Seo Jun in 'True Beauty', Hwang In Youp was really thankful that his character already received a lot of love with it being adapted from a popular webtoon, and he also revealed that he is absolutely in love with Seo Jun, and that Seo Jun is better looking than him (but he IS Seo Jun though!)
Han Seo Jun is very cool and Na Il Deung (his character in 'The Sound Of Magic') is very cute, so it is hard for Hwang In Youp to pick between the two. Instead, he hopes that in the future he will get the opportunity to act as a character that is able to portray both characteristics.
Fans' wishes also came true as Hwang In Youp performed the Okey Dokey dance which went viral from 'True Beauty' in front of everyone for the first time overseas, much to the fans' delight. Under the emcee's cue, fans also got up to join in dancing along with Hwang In Youp as he did the Okey Dokey dance for a second time!
During the games segment and several special segments, lucky fans got to go up on stage to receive gifts from the heartthrob himself, or to play games with him and also win prizes. The most special gift was the one-of-the-kind Korean traditional fan that Hwang In Youp has specially prepared and decorated on stage with his autograph, message, his name and the lucky fan's name.
The fanmeeting concluded successfully with Hwang In Youp ending off with "I Mean It" from 'The Sound of Magic', and before that not forgetting the surprise banner event from Singapore HIYILY during the group photo session.
KAvenyou would like to thank IMC Live Global for the media invite.

Photography by: Yanglin @ KAvenyou