HallyuPopFest 2019 is back again, this year with more attractive line-up and interesting goodies you can find during the festival!
HallyuTown (Opening hours: 10AM – 8PM)
Brand new home ground for the red carpet in the afternoon, HallyuTown is a new area for K-Pop fans to enjoy the K-Pop vibes! The HallyuTown will also be selling official HallyuPopFest merchandise such as tote bags, enamel pins, notebooks and pens featuring the adorable HPF pals!

P.S. You can get a limited edition HPF pals pocket calendar for just $1.50 and you'll get a free bottle of water!
In addition, Jinjja Chicken will be making their very first pop-up street food kiosk at the HallyuTown! They will be selling the popular Korean food such as Odeng (fishcake sticks), Rabokki (Korean Ramyeon mixed with teokbokki), fishcake cheese hot dog, kimbap (rice roll) and many more!
Kimchi ice cream and Doenchang ice cream (from Udders Ice Cream) will also be sold exclusively at Hallyu Town!
On Sunday (26 May), Showcase artiste KANTO will also be present at HallyuTown to meet fans and sign autographs, from 11:30AM – 12PM at the HallyuPopFest merchandise booth.
Be sure to get familiarized with the line-up for each day so you will not be confused!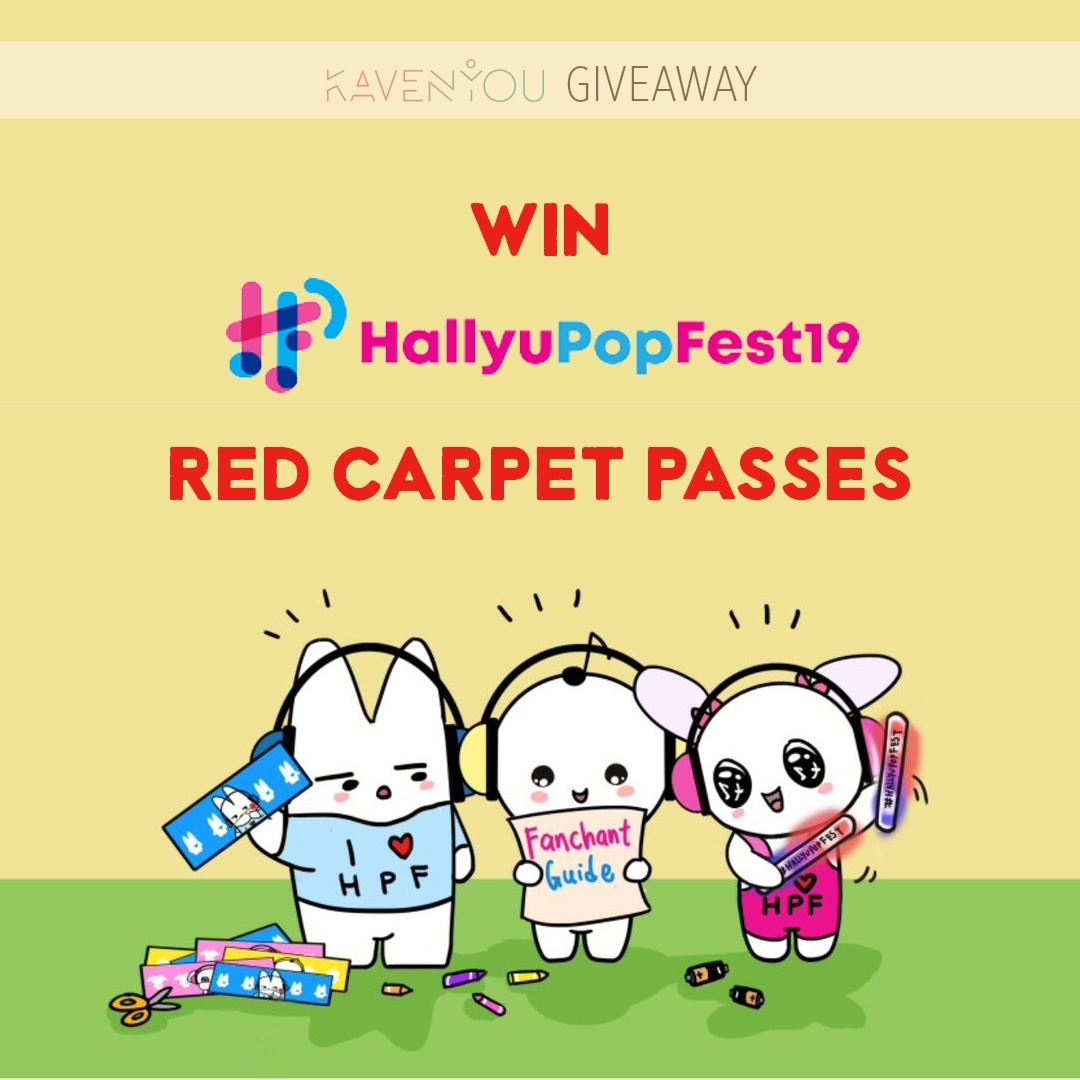 And good news to all our fellow followers who are also HallyuPopFest 2019 ticket holders: KAvenyou has partnered with H.A.H. Entertainment to give away FREE Red Carpet passes to HallyuPopFest 2019!
How to win?
Note: For those who had submitted before 23 May (Thur) 12pm, please submit your entry again as there was an issue with the form ㅠㅠ Thank you!
Simply fill in the relevant information on the form: https://forms.gle/oHAxkFDhmVnJ9bZS9

Entry submission ends on Friday, 24 May 2019, 5PM!
Winners will be contacted via email, please check your inbox (including junk mail and spam) by Friday, 24 May 2019, 8PM. Winners will be re-picked if they fail to reply by 10PM.
Redemption will be on HallyuPopFest event days – you can collect your wrist bands at the Visitors Centre.
Giveaway FAQs
Q: How can I participate in the giveaway?
Make sure you have a valid HallyuPopFest ticket (either Day 1 or 2) and fill in the Google Form above!

Q" What if I don't have the ticket barcode number?
I am sorry but our giveaway requires a ticket holder to participate! This is to reward existing ticket holders – you can consider buying a ticket in order to win our Red Carpet Pass! 😉

Q: Can I submit both Day 1 and Day 2?
NO. Please do not do that! You can only choose EITHER Day 1 or 2. Double entries will be disqualified.

Q: Can I submit multiple entries BUT just for Day 1 or 2?
NO. One entry is enough. Rest assured we will collate all the entries before we choose our winners.

Q: What's the difference between your Red Carpet pass and VIP? Is the Red Carpet open to public?
YES! The Red Carpet is open to the public! VIP pen is exclusive for people who purchased their HallyuPass. But our passes allows you to stand in the designated pen as well – closer than the general public! 😉