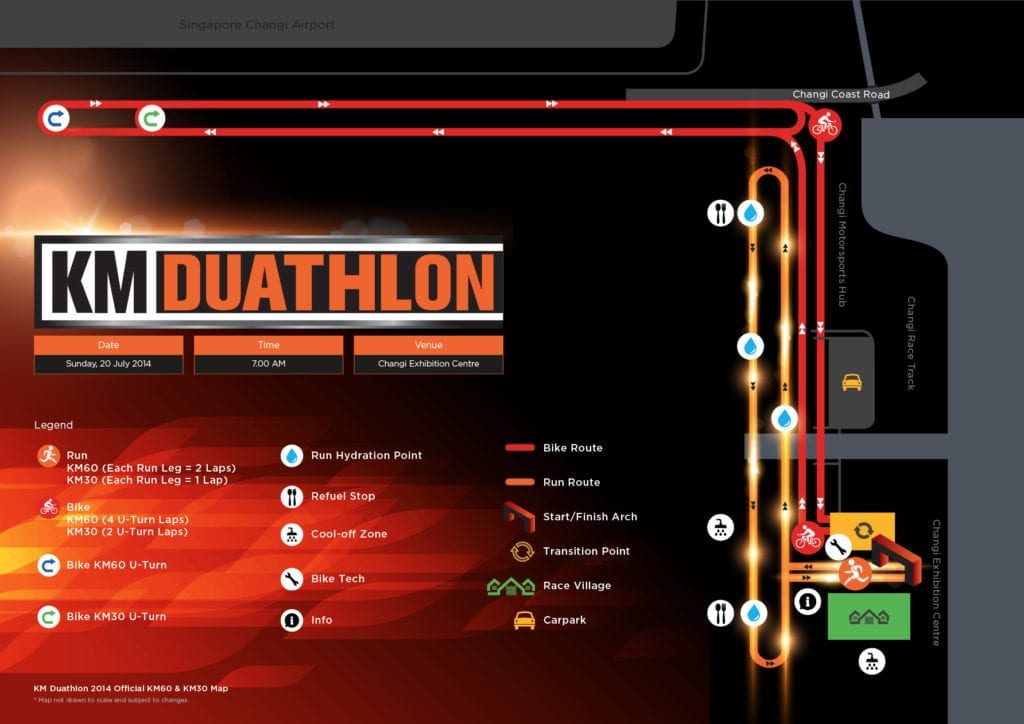 Rising up to the challenge this 20th July, sports personalities Kelly Latimer, Claire Jedrek, and Cheryl Tay will be going the extra mile at the inaugural KM Duathlon all for charity.
Combining efforts for the first time in the longest ever duathlon distance in Singapore, the ladies will be running and cycling a gruelling distance of 10km-40km-10km to raise funds for Children-at-Risk Empowerment (CARE) Singapore (www.care.sg).
Supporting the ladies' healthy cause, organisers Infinitus Productions have agreed to raise the bar and encourage the girls further – they will donate S$2,500 to CARE Singapore on top of what the girls have managed to raise by race day. To motivate the ladies in their first-ever duathlon, simply log on to www.giveasia.org/movement/km_duathlon_for_care_singapore to show your support.
Kelly Latimer commented, "I often host sporting events like marathons only recently did I start taking part in them too. When the chance came to try a different challenge, I leapt at it. Doing it for charity will keep me motivated. So please do support Cheryl, Claire and I as we strive to make a difference to these children."
"This is the longest duathlon in Singapore and we're especially excited that Kelly, Claire, and Cheryl are not only game to take on this challenge, but to do it for charity. As their first ever duathlon, we are happy to provide them the platform to push their limits and believe that this step towards charity will be a heartening motivation for them," said Jeffrey Foo, Director of Infinitus Productions.
Held at the Changi Exhibition Centre this July, the race route promises a relatively flat terrain that provides participants the potential to hit their personal bests. Spanning across cyclists' hot favourite, Changi Coastal Drive, the lanes also stretch wide enough to prevent crowding. Participants can also expect a good race experience while competing, with hydration points, a refuel station and a cool-off zone enroute.
Providing a post-race experience to match the challenge, the organisers of KM Duathlon will also be pampering all participants at a one-stop race village. Post-race services will be housed under one roof and will include complimentary full-body massages, chilled towels, light bites and cold beer for all participants.
The inaugural KM Duathlon also boasts a premium race pack worth more than $250 for all participants, including a special edition COMPRESSPORT® KM Duathlon compression wear (worth $160), complimentary sports injury insurance and items from event sponsors.
To join the dynamic trio, athletes can still sign up under the KM60, KM30, Relay, or Team Challenge at www.KMDuathlon.com. Can't make the race but would like to chip in? You may make a donation at www.giveasia.org/movement/km_duathlon_for_care_singapore
Event information
Venue: Changi Exhibition Centre
Date: 20 July 2014, Sunday
Time: 7.00AM
Official Compression: COMPRESSPORT®
Official Magazine: Men's Health Singapore
Officiial Bike Support: t3 Bicycle Gears
Sanctioned by: Triathlon Association of Singapore
In Support of Sports Promotion: Sport Singapore