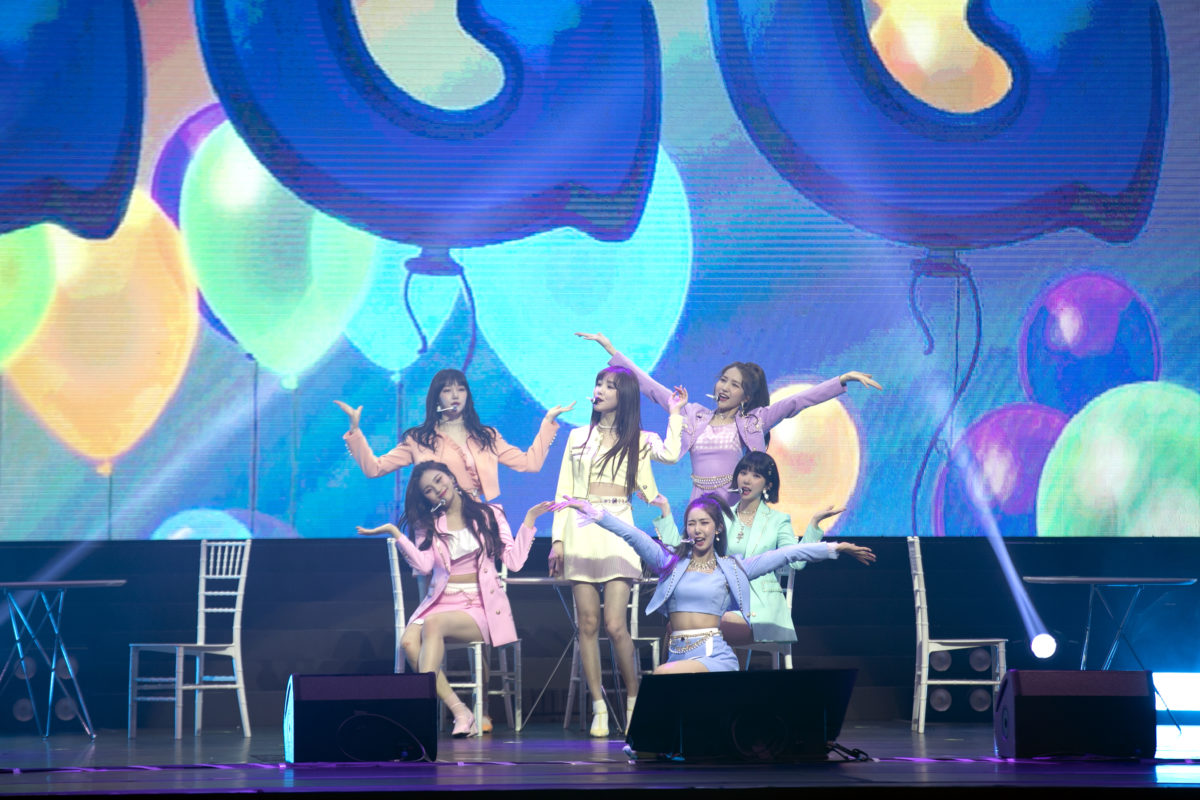 The lovely girls of Gfriend were here in Singapore last night for their 2019 Gfriend Asia Tour – Go Go Gfriend, bringing to Buddies in Singapore their beautiful performances after 3 years of waiting.
Gfriend opened up the night with cute and lively stages – Me Gustas Tu, Life is a Party and Vacation, hyping Singapore Buddies up for the rest of the night ahead of them. The girls also revealed a little of what's in store for Buddies during their opening ment.
The girls are now introducing themselves in English! The girls are so excited to be here tonight! Go Go GFriend means to have fun, and Buddy, we're going to be doing just that amirite?? #GFRIENDinSG #GoGoGFRIENDinSG #ohktvasia #여자친구 pic.twitter.com/uuDB6rIvo1

— KAvenyou • 케이애버뉴 (@KAvenyou) July 20, 2019
VCRs were shown throughout the concert, giving Buddies a glimpse into different sides of Gfriend. One featured handwritten wishes of the girls, and another a short and comedic clip of the girls debuting in two different units – Hug Hug and World Peace.
Hug Hug consists of Umji, Yerin and Eunha, while Sowon, SinB and Yuju were in the unit – World Peace. The girls then emerged on stage in their respective units performing the two songs they prepared in special outfits, Hug Hug in pink dresses and World Peace in Cheetah outfits.
They mentioned that the songs they performed in their separate units – Shy Boy and Monday Blues were actual songs they practiced for their debut.
Omg we saw this coming but here's Hug Hug… Daebak really???? #GFRIENDinSG #GoGoGFRIENDinSG #ohktvasia #여자친구 pic.twitter.com/URTRus8t8S

— KAvenyou • 케이애버뉴 (@KAvenyou) July 20, 2019
Emotional Gfriend
The girls presented many of their upbeat hit tracks like Love Whisper, Sunrise, Time For The Moon Night and Navillera. They also brought on stage "Emotional Gfriend" as they performed songs – You Are Not Alone, Only 1, a ballad version of Rough, and Flower Garden in beautiful black shimmery outfits.
Although Singapore Buddies and Gfriend are bound by distance and language, Eunha mentioned that she couldn't thank Buddies enough for their continuous cheer and support towards Gfriend.
As the night drew to a close, Sowon even attempted to make a special request to their director, hoping that they could perform their recent comeback – Fever, although it wasn't on their setlist. Gfriend ended up performing a short part of Fever without the background music.
Before leaving the stage, the girls promised that they will try to come back to Singapore as soon as they can instead of making Singapore Buddies wait 1050 days again. Check out the fan project video by the local Singapore fans here.
Are you looking forward to the next Gfriend concert already?

GFriend is a group produced by Source Music, Go Go GFriend in Singapore was brought to you by Unusual Entertainment, and supported by Official Pay-TV partner Oh!K TV Asia.