On 3rd August 2020 at 4PM KST, (G)I-DLE held their online media showcase, celebrating the release of their new single 'DUMDi DUMDi'.
(G)I-DLE has always received public interest and recognition due to their self-produced sound and their unique concepts. Since their debut back in 2018, 'DUMDi DUMDi' presents a fresh side of the chart-topping group. The track features a flirtatious and fun tropical base and Moombahton rhythm – perfect for summer.
(G)I-DLE First Solo Concert
Initially planned as a world tour but cancelled due to the COVID-19 pandemic, (G)I-DLE held their first online solo concert, 2020 (G)I-DLE Online Concert 'I-Land: Who Am I' on 5th July 2020. The members showed off their individual charms during their solo stages and the following is the members' ratings for their own stages:
Soojin: 5 out of 5. You should watch it in person in order to feel the stage.
Miyeon: 5 out of 5, because i must love myself. Though it's a shame as it's my first solo stage and I feel that there's still room for improvement. So same as Soojin, you have to see my solo stage in person. Although I'm the main vocal, I will like to try dancing for my solo stage the next time. It will be nice for me & Soojin to swap solo stages and we can try different things.
Soyeon: 5 out of 5 – I'm 5 right? (Others: yes!) My solo stage is something I wanted to show when I was a trainee, so I worked very hard and showed my all during this stage.
Yuqi: i feel that 5 points is too little! Because you will see various charms of me for my stage, and if you don't see it, you'll regret it. The public is quite confused about my position in the group – actually I'm the vocal, so I finally had the chance to show my vocal skills and I hope everybody liked it. I am vocal~
Shuhua: 5 out of 5 too. From what I saw, I felt that my stage was very pretty. I looked at the monitor and thought, if I'm not Shuhua and I watch the stage, I'll fall in love with Shuhua.
Minnie: 4.5 points out of 5. it will be 5 points if Neverland can watch the stage in person.
Minnie also revealed that they went to dye their hair right after their solo concert, and she herself went from blonde to pink hair. It was her first time bleaching her entire head and her members were the ones that recommended her to dye pink, and she was glad that it came out really well.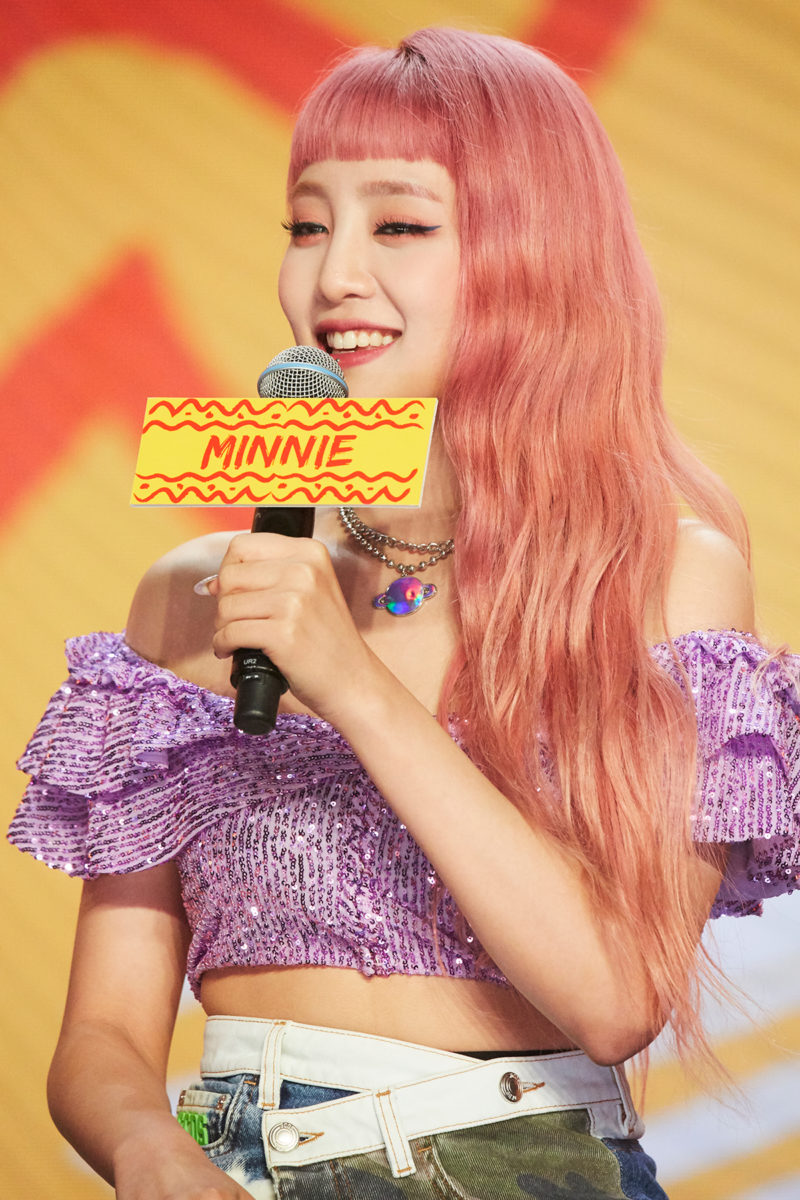 How 'DUMDi DUMDi' Came About
Soyeon, who co-wrote and produced the track with Pop Time, shares that her initial thoughts producing it was to incorporate summer feels and base it on the theme of youth. Soyeon said, "When I was writing the song, I was thinking what was similar to summer, and I felt that my youth is similar to summer, which is cool, hot and passionate. I hope everyone can feel the youth and the summer together through the song."
To the question of how the members came up with the visual concept, Soojin mentioned they did a lot of research and found many photos on hair and makeup, as well as outfits. The group wanted to pull off a vintage feeling for their album, showing (G)I-DLE's very own summer. In terms of dance, she mentioned there were two main points: the drum dance and the aloha dance.
Also, to the question of what new side of (G)I-DLE wants to show the public through their new song, the group mentioned that instead of saying they are showing their new side, it would be more accurate to say that they have a new story to convey each time, and that they hope people of all ages can experience and enjoy the youth along with the heat of summer. As expected, (G)I-DLE is definitely one of the most versatile groups out there.
(G)I-DLE's New Reality Show
Finally, to the question asking about what they have prepared for Neverland this comeback, Yuqi announced that they would be having a new reality show to show a side of them that you would not be able to see normally. This would show them cooking, playing games, and their individual talents. Minnie added on with information that the reality show would be available every Tuesday, at 4.30PM KST on CubeTV, and 5.00PM KST on (G)I-DLE's official YouTube channel.
When asked about what the members want to achieve for this comeback, Soojin replied that they want to get #1 on the charts. Without a doubt, (G)I-DLE continues to soar through the charts, and their latest single 'DUMDi DUMDi' will contribute to maintain their trajectory high.
(G)I-DLE answers KAvenyou's Questions
Due to the limited time given during the Q&A session, (G)I-DLE could not answer all of the media's questions at the online media showcase. However, the lovely ladies of (G)I-DLE set aside some time to answer KAvenyou's questions for the group. Read on to find out their answers (some were already answered earlier but this time round with other members' inputs as well):
1) (G)I-DLE members participated in creating the performance, as well as the planning of the visual concept for DUMDi DUMDi. Where did the inspiration come from?
SOOJIN: I looked up a wide range of photos.
SOYEON: I was very much inspired by vintage film photos.
2) What sets this stage apart from their previous stages?
MINNIE: The fun choreography and the performance that portrays youth in the style of (G)I-DLE!
SHUHUA: It's a lot brighter than our previous performances, and the choreography is also full of energy.
3) There is a DAY version and NIGHT version for the DUMDi DUMDi single. Can you tease the fans what can they look out for in each album version?
YUQI: If the DAY Version is an afternoon pool party mood, the NIGHT Version is an evening party mood.
'DUMDi DUMDi', (G)I-DLE's latest single, was released on the 3rd of August at 6PM KST on various online music streaming services. Watch the full MV below:
Photo Credits: Cube Entertainment