Last Sunday, Andy Su, 16, from Taiwan, was crowned the winner of Scoot K-Pop Star Hunt 3. He had battled his way through hundreds of hopefuls coming from 7 different countries (Singapore, Malaysia, Thailand, Hong Kong, Taiwan, Indonesia, Philippines), underwent three weeks of intensive training and elimination in Seoul, before making his way to the grand finals held in Singapore on 12th January 2014. Unlike the past two seasons, there were 4 finalists (previously 2) and the finals were not held in Korea, but in a public area in Singapore. This increased the difficulty of the competition as contestants would have to learn to manage their stage presence amidst screaming fans.

The 4 finalists, Malaysia's Putri Norizah Ibnor Riza, Thailand's Siriburee Chananan (Pik), Taiwan's Andy Su and Singapore's Stephanie Koh, opened the show with their rendition of F.T. Island's Like a Bird. This song was well received by the audience, who were not only present to see the contestants, but also to see Lee Jae Jin from F.T. Island, who was one of the 3 judges for the competition.
For the first round, contestants had to sing an assigned song. Malaysia's Putri (22) started off the show with a strong and powerful rendition of Gummy's There is No Love (사랑은 없다).  Being a performer since she was young, she was able to handle her stage presence naturally and delivered the high notes perfectly. Similar to all her previous performances in the show, she received positive comments from the judges.

Next up on stage was Thailand's Pik (18). For this performance, she shed off her cutesy image and sang a popular G.NA song, I'll Get Lost, You Go Your Way (꺼져 줄게 잘 살아). Not a strong singer from the start, she seemed a little reserved on stage. Judges commented that although it had been a strong performance, she looked nervous on stage.
The third performance was from Taiwan's Andy (16). Despite being the youngest and the only male finalist, he was leading in the official online voting by a very wide margin. He sang an acoustic cover of Taeyang's I Need A Girl, together with his guitar. Although the performance seemed a little shaky, the audience were very supportive and clapped along to his song. However, Andy performance was slightly disappointing and the judges commented that he looked a little distracted by the environment and that they hope to see more power in his next performance.

The final contestant for the first round was Singapore's Stephanie (21). Similar to Andy, she sang an acoustic cover of Lee Hi's Rose, together with her guitar. It was a very nice rendition as she delivered the song smoothly with strong stage presence. She even penned her own English lyrics for the rap portion. The judges enjoyed her performance but commented that she looked a little over confident and might be exaggerating too much.
At the end of the first round, Putri and Stephanie were chosen by the judges as the better ones as they could deliver a very stable performance. Pik and Andy, on the other hand, had been too nervous.

For the second and final round of the contest, contestants were able to sing any song of their choice. Once again, seasoned singer Putri started the ball rolling and sang Homeless by Leona Lewis. It was a strong and powerful performance which was not only emotional, but also a great display of all her strengths. She received positive comments from all judges and Jae Jin commented that he was touched by her rendition of this song.
Pik was next up on stage and she sang and danced to Twinkle by TaeTiSeo (TTS). Perhaps this was the image that Pik suited and did best at. Judges commented that it was a good performance with a cute dance. However, she would need to have more strength and power in her vocals.

Andy managed to turn the tables around with his final performance where he rapped, sang and danced to Michigo + Crayon by G-Dragon. He was able to capture the attention of the audience, who were probably wow-ed by his sleek dance moves. Loud cheers can be heard and it can be seen that Andy was an obvious favourite among the audience. The judges looked happy with his performance and Jae Jin commented that he liked his dance and style.
Stephanie rounded up the competition in style – performing Rock n Roll by Avril Lavigne with a 3-men band. It can be seen that Jae Jin enjoyed the performance greatly as it was something that he could relate too. He suggested that Stephanie suited a band really well and that she could shine as a band vocal. Although the other judges also agreed that it was a nice performance, they suggested that she could try out different styles as well.
While awaiting the results, there was a special medley performance from K-pop Star Hunt Season 1 & 2 Singaporean winners – Maressa, Rachel, Anthea and Yvonne, the other Singaporean contestant for Season 3. It is comforting to see the alumni delivering a great performance in both singing and dancing. It seems that they have not given up on their dreams and have progressed even further! Other Season 3 contestants like Ryan from Malaysia and Elma from Philippines were at the venue to support the finalists as well.
After weeks and months of auditions, preparation, training and elimination, this was the moment everyone had been waiting for..
Final comments from the judges:
Putri has a very good voice which shows all her strength.
Pik's charm is in her cute voice and dance.
Andy is young but he is able to transform on stage.
Stephanie has a special voice and is very stable on stage.

Finally, Mr Han – CEO of FNC Entertainment, announced that Andy Su from Taiwan has been crowned the winner of Scoot K-Pop Star Hunt Season 3. He had won himself a contract deal with CJ E&M and FNC Entertainment, and will undergo intensive training to be a K-pop singer. He will also stand a chance to collaborate with artists from FNC Entertainment and make a stage appearance on Global M!Countdown with his own debut single.
During the press conference (Andy, Jae Jin, Mr Han, Mr Ko) that was held shortly after the announcement of the winner, Andy indicated that it was a big surprise as he did not expect to win.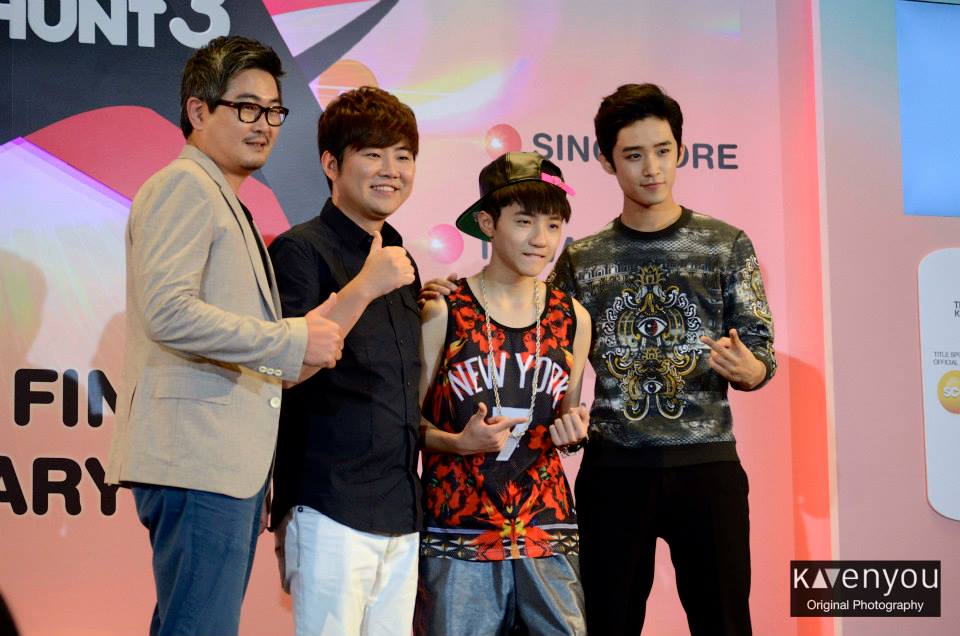 Some highlights from the press conference:
Q: What qualities did you see in Andy that made you pick him as the winner?
A: He has a lot of potential and he displayed lots of talent on stage. His dance was very powerful and it also helps that he has a lot of supporters cheering for him.
Q: Did you think that Andy was a potential winner right from the start?
A: Honestly, we didn't think that Andy will be the winner. The second performance successfully displayed his strengths and talent.
Q: Why did you think that Stephanie did not win?
A: Stephanie is talented and she has lots of stable basics. We had a lot of expectations from her right from the start. Although the winner was Andy, the decision was tough. Stephanie is a charming and memorable contestant with lots of potential. However for Andy, we can see that he really put in a lot of effort for his performance while Stephanie was probably too used to performing.
Q: Looks, talent, attitude. Which is more important?
A: We need a balance. All three factors are important to be a very great artiste. We have to look at the strengths, charms and character as well. Passion is the most important factor but Potential to become a star is a crucial factor as well. This was also one of the main reason why we have chosen Andy as the winner.
K-Pop Star Hunt Season 3 may have ended but this is not the end. Mr Ko, Head of FNC Entertainment has indicated that it is likely that this franchise would continue with a Season 4. K-pop star hopefuls, it is not too late to start practicing and training right now!
Do not forget to catch the exciting finale of Scoot: K-Pop Star Hunt 3 when it airs on 25th January 2014, Saturday at 9pm on Channel M (StarHub TV Ch 824 and SingTel mio TV Ch 518)!
Check out more photos of the exciting finals on KAvenyou's Facebook page: Scoot: KPSH3 Grand Finale
Article by: Jiayu @ KAvenyou
Photography by: Kristabelle @ KAvenyou