After the success of Yoogane's (유가네) opening in Singapore in May, as seen by the long snaking queue at the Bugis Junction outlet, the famous chicken galbi (dakgalbi) restaurant hailing from Busan in 1981 has finally opened its second outlet at Westgate on 29th November to cater to the west-siders.
Despite the long waiting time needed to enter the restaurant during peak hours, Yoogane has ensured that the wait once you are seated inside will be kept to a minimum. Waiters take customers' orders as they are still waiting to be seated so once they are ushered to their table, drinks will already be placed there and their food will be served shortly. Aprons are also available on every table for the diners to wear to prevent the galbi sauce from splattering onto their clothes.
Having tried the signature Yoogane's Chicken Galbi ($18.90/pax) previously in the Korea outlets before, the KAvenyou team decided to be more adventurous and try the Octopus and Chicken Galbi ($21.90/pax) instead – a perfect match made in heaven for both meat and seafood lovers! We also ordered another popular menu item – Korean Style Seafood Pancake ($17.90) to go with our main dish. Remember to dip the pancake into the sauce accompanying it!
As we were starving, we also added on Combination Dokboki ($6.90), Ramyeon Noodles ($3.90/pax) and Mozarella Cheese ($3.90) to be mixed with the galbi. For the choice of dokboki (Korean rice cake), customers can also choose from the usual Dokboki ($3.90), Sweet Potato Dokboki ($5.90) and Mozarella Stuffed Dokboki ($5.90). For a more filling option, there is a side dish alternative of the usual Dokboki ($7.90) and the non-spicy Royal Court Dokboki ($12.90).
Besides ramyeon, there are also sticky noodles ($3.90/pax) and fried rice ($3.90/pax) to choose from to mix with the galbi. Alternatively, there is also Combination Fixings ($10.90), consisting of fresh vegetables, mushroom, noodles and rice cake set which is more worth the value if you want to try a bit of everything.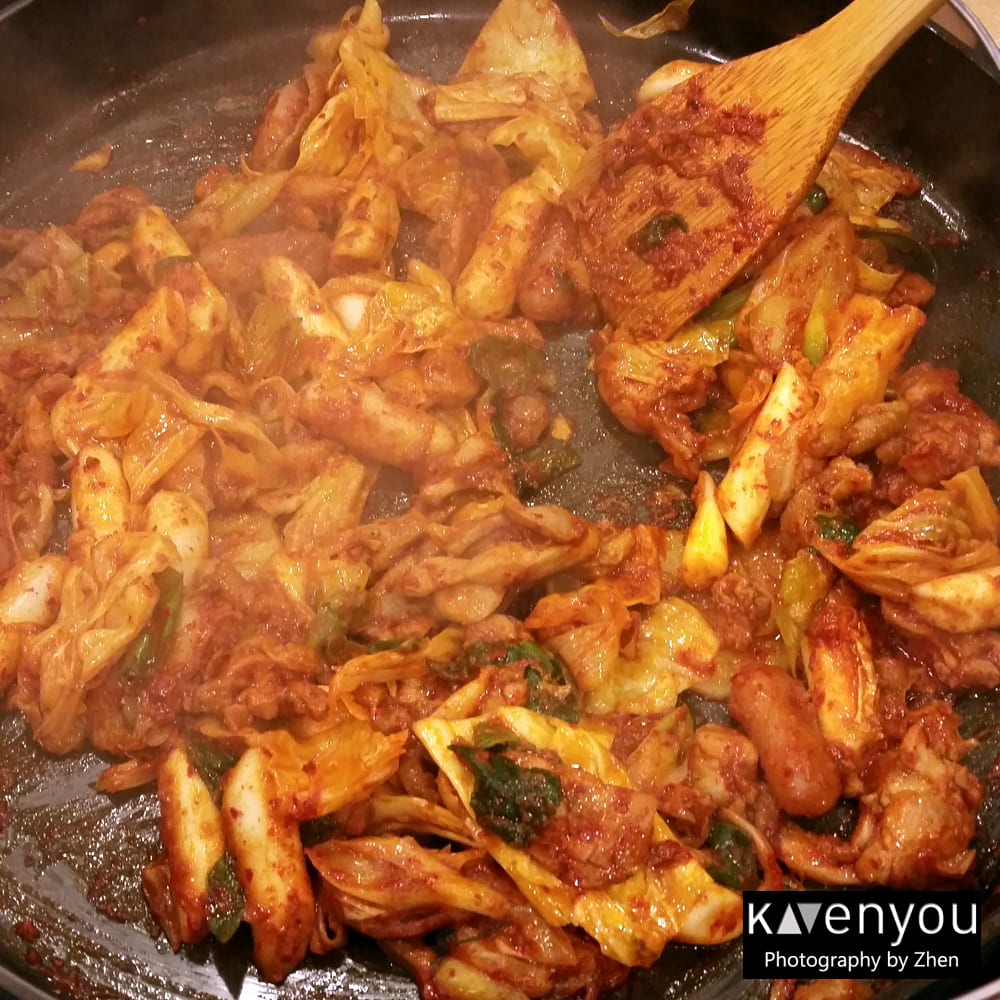 Do not worry about how to cook the galbi as the staff will personally help to cook them. Firstly, the galbi, vegetables and dokboki are mixed and cooked together with the gochujang (Korean hot pepper paste), followed by the ramyeon, octopus and lastly topped with cheese.
Despite only ordering 2 servings of Galbi and 2 servings of ramyeon for 3 people, the meal was very filling and we could not finish the entire thing! We washed down the spiciness and oily goodness with DemiSoda (grape, apple orange, lemon flavours), a refreshing Korean fruit soda drink that is also offered in Yoogane. Alcohol lovers can opt to go with soju or makgeolli (Korean rice wine) instead!
For those who are still confused about how to go about ordering, Yoogane has kindly summarised the ordering process with this simple steps:
As I mentioned earlier, the KAvenyou team has tried the original Yoogane in Korea before, and the one in Singapore tastes exactly the same! I guess we'll be coming here often to reminisce on our Korea adventures while savouring that familiar taste of authentic Korean dakgalbi.
As I'm writing this post, I'm practically salivating from seeing the pictures, and I am already planning on the next visit to Yoogane with my friends – I just hope the queue is not that crazy when I drop by again! But then, good things are worth the wait.
Tips:
There is a free-flow salad bar to get your unlimited kimchi fix at! There are other salad options available but who can say no to kimchi?
The minimum order for galbi is two servings, and the galbi cannot be mixed for one table so you can only order one type. (an excuse to visit Yoogane again to try out the others!)
Do order rice or noodles to go along to ensure your meal is a filling one!
For people who cannot handle spicy food, there is also a non-spicy Marinated Chicken Bulgogi ($21.90/pax) option to choose from.
Yoogane Westgate
#03-08, 3 Gateway Drive, Westgate Mall
Yoogane Bugis Junction
#02-47/48, 200 Victoria Street, Bugis Junction
11:30am – 10:00pm
Facebook: https://www.facebook.com/yoogane.singapore
Instagram: http://instagram.com/yooganesg
Share and Like KAvenyou's review link that is posted on Yoogane Singapore Facebook page to be one of the three winners of $50 Yoogane Singapore vouchers!