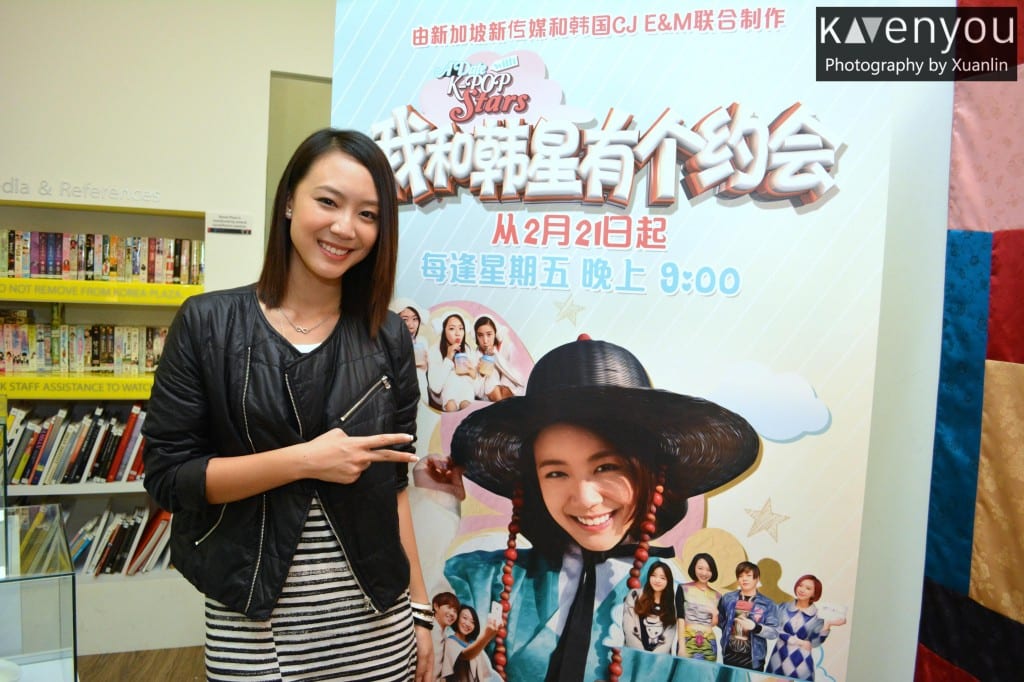 12 February 2014 – KAvenyou sat down for a short interview with Julie Tan after the private screening of 'A Date with K-pop Stars'. Read on to find out what Julie has to say about the filming process!
 Q. Were there any awkward moments with the Idols during the filming?
Julie: Yes. There was an awkward moment with Kwanghee. I know that he has a large fanbase. During one of the scenes, there was a glass panel behind me and there were alot of fans taking photos and shouting for Kwanghee. I'm so nervous, I didn't dare to speak to him. It came to a point where the production has to stop for a while and the staffs were asking what was wrong and I told them that I was scared to interact with him. They told me that the fans understand that it's a variety show and I felt better afterwards.
Q. Were you a K-pop fan prior the filming?
Julie: *laughs*  Not really. I do watch some Korean drama but not so much to the Kpop side. I do listen to GD songs now and watched more Korean dramas.

Q. If you could choose a Korean Idol to film 'A Date with K-pop Stars' with, who would it be?
KAvenyou: Would it be GD?
Julie: No.. It'll be Lee Min Ho. I've recently watched his new drama. As an actress, I am really amazed at how he could portray the character so well.
Q. You've attended the Style Icon Awards 2013 in Korea, how was the experience like compared to awards show in Singapore?
Julie: Yes, it is definitely different. I was pretty nervous that day. I was supposed to say "Hi I'm Julie Tan and I'm here to film A Date With K-pop Stars" and so on. But I actually said "Hi I'm Julie Tan and I'm from Singapore" and ended with a classic smile, that's all! I was really nervous and at that moment I couldn't think anymore. I kind of regret it afterwards, I could have done better.
Q. Are there any must-watch episodes in 'A Date with K-pop Stars' ?
Julie: Yes of course! You must watch the Style Icon Awards episode. Because you'll get to watch GD. He's really awesome! He's not just a Fashionista but his LIVE performance was really engaging and you can feel that everyone is going crazy over him! I've never seen such a powerful performance before, it was my first and it was LIVE.
 ________________________________________
*** Catch 'A Date with K-pop Stars' on Channel U, Every Friday at 9PM! ***
Photography and Article by XUAN LIN @ Kavenyou.com
Click here to view more photos.
Click here to watch the interview video.