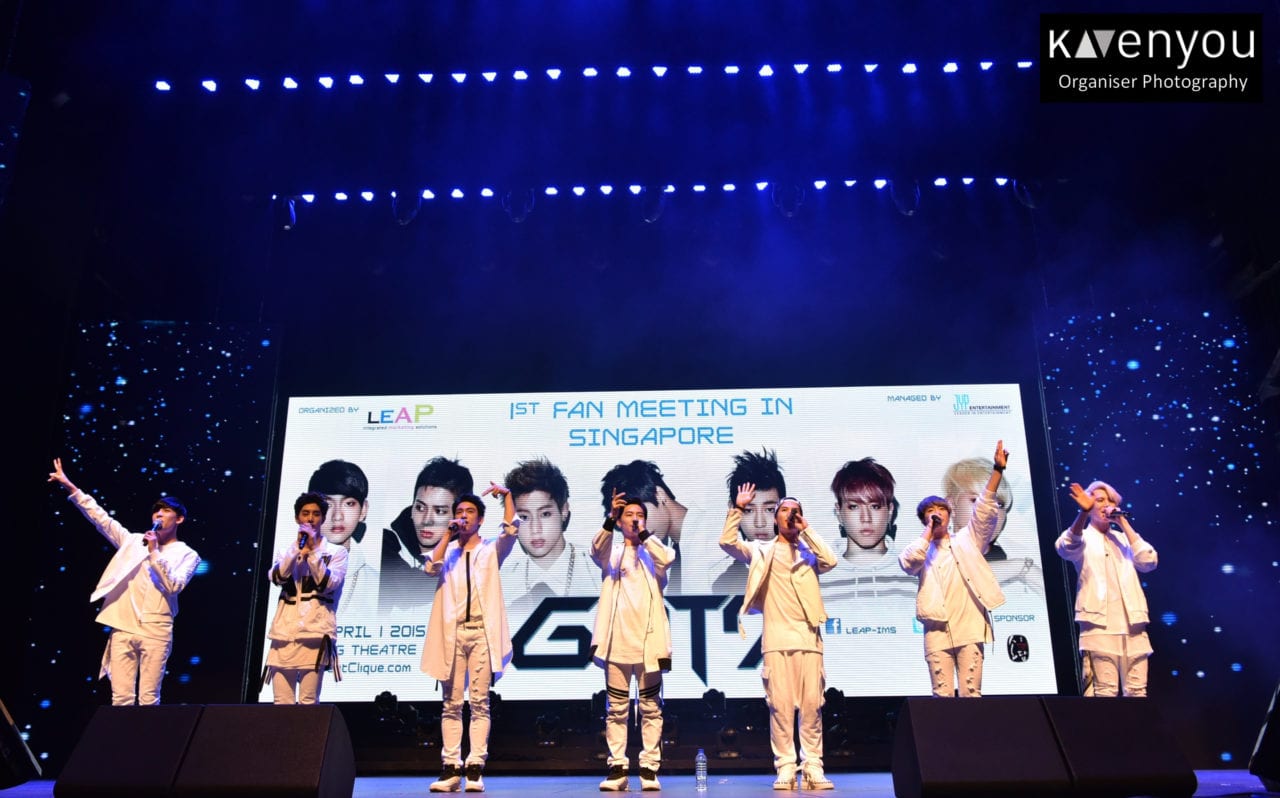 2 May 2015, Singapore – Known for their 'martial arts tricking', hip-hop boy group Got7 was in Singapore the past weekend as they performed a series of hit songs and had close interactions with the fans at Got7 1st Fan Meeting in Singapore!
Got7 appeared in white outfits as they started their fan meeting with their song "Gimme!" They also did a short introduction of themselves as they greeted the fans with Singlish, such as "Hello lah~"
The fans were really amused as Got7 answered a series of questions from the emcee,
Who is the most talkative member?
Got7 all voted for Jackson (even Jackson himself admitted as he raised his hands up!)
Who is more beauty conscious?
Got7 all voted for BamBam!
Who is the slowest member?
Most of the members voted for Jr, Jackson then added in to say that Jr is not slow, but he is just not there (LOL)
Who is the cutest member?
Got7 all voted for BamBam (even the fans agreed too!)
Who can't do aegyo (cute poses)
Got7 all voted for JB! And he did aegyo for the fans, followed by Yugyeom! (The fans were crazy after that!)
Who is the best dancer?
Most of the members voted for Yugyeom and he even showcased his dancing skills while Jackson did beatbox! JB also took the stage as he did a little B-Boying for the fans!
Got7 then played a series of games with the lucky fans where they get to take back home autographed posters and albums!
They continued to perform for the fans as they sang songs like "Moonlight", "Forever Young", "A", "Girls Girls Girls" and "Bounce" that was originally a JJ Project song! (Jr and JB)
Not forgetting BamBam's birthday which is happening in a week's time, the fans prepared a special birthday cake for him as they sang the birthday song together with the rest of Got7!
Before they bid farewell to the fans, Got7 thanked the fans for coming over and the support they gave.
Jackson: "Instead of clapping for us, I think our IGot7 also deserves a round of applause for tonight!"
Youngjae: "I love you lah~~~"
Jr: "Thank you so much, we will come back next time for our concert!"
IGot7 definitely had a fun and exciting night with Got7, as they showed us both serious and cheeky sides of themselves through performances and close interactions with the fans.
KAvenyou would like to thank LEAP IMPS for the invite to GOT7 – GOT7 First Fan Meeting in Singapore
Check out KAvenyou Facebook page for more photos of the event!
Article by: Xiaosi @ KAvenyou.com
Photography by: Organiser