Eric Nam, touring Europe for the 1st time, visited Brussels on June, 16th.
A concert that not only let everyone hear Eric's talent but also see his funny side and good relationship with fans.
Eric Nam has always been recognized for his voice. Living in the USA, he managed to attract attention from big agencies through his covers posted on YouTube.
So it's no surprise that his live singing awed everyone in the audience. What is more surprising, however, is that his voice still sounded perfect despite having a cold.

He jokingly warned fans that "If my voice goes AaaAaaA" (imitating a voice crack), please know it's part of the song. I don't care if it's different from what your hear on the CD, it's still part of the song. It is a Brussels version".
However, he sang the chorus of Adele's "Someone Like You" a cappella just because a fan asked for it and there was no sign of being sick in his voice.
The joking atmosphere could be felt all throughout the concert.
For example, when Eric Nam gave a shout out to whoever came against their will.
Firstly, he mentioned parents who were dragged by their children. Then he talked to the usual "angry boyfriends" he sees in every concert. To those angry boyfriends, he said he hopes that the concert isn't too painful but that now their girlfriend owes them something huge.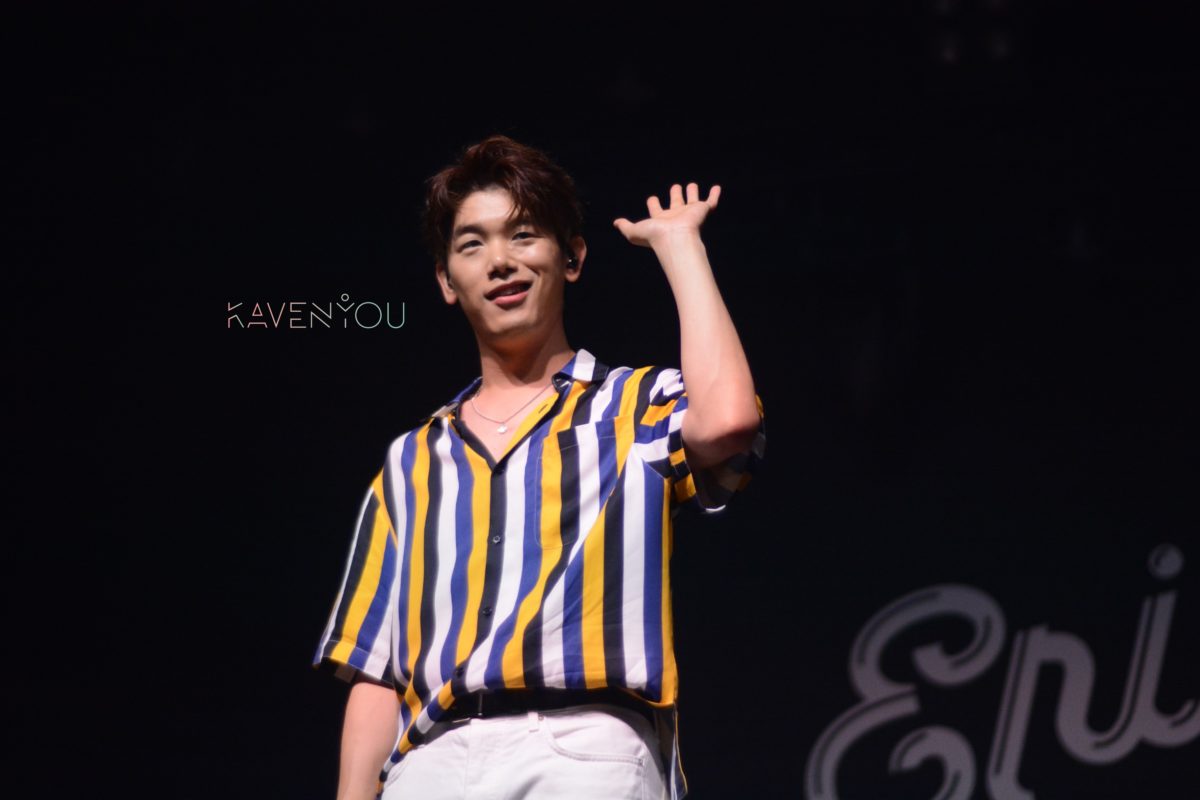 He also made fun of fans who were excited and jamming to "This Is Not A Love Song", because only the fans get this excited over sad lyrics.
But he also proved that he's genuinely caring towards his fans. He asked if there was anyone with a birthday and made sure to sing them Happy Birthday, including their names (even if one of the names did get him slightly confused).
The birthday girls included Natacha, 10 years old, who led Eric Nam to one of his story-telling moments. This event is not just a concert, but also a way to learn more about Eric Nam and his memories as an artist.
The fans had prepared special projects when when he asked everyone to turn the phone lights on, he asked "Why is it pink ? What is this Belgian sorcery ?". Well this sorcery is more commonly called a sticker but it seemed enough to make him happy.
Besides, when Eric Nam sang Runaway, the fans held red paper hearts with sweet messages written on it. A sure way to show that they are giving him all of their love.
In return, he made sure to thank the fans who could have been anywhere in the world, doing anything else on this Sunday evening but chose to spend it with him. We're pretty sure no-one regretted this choice, not even the parents or the angry boyfriends.
A concert organised by Greenhouse Talent : we thank them for welcoming us to the show.