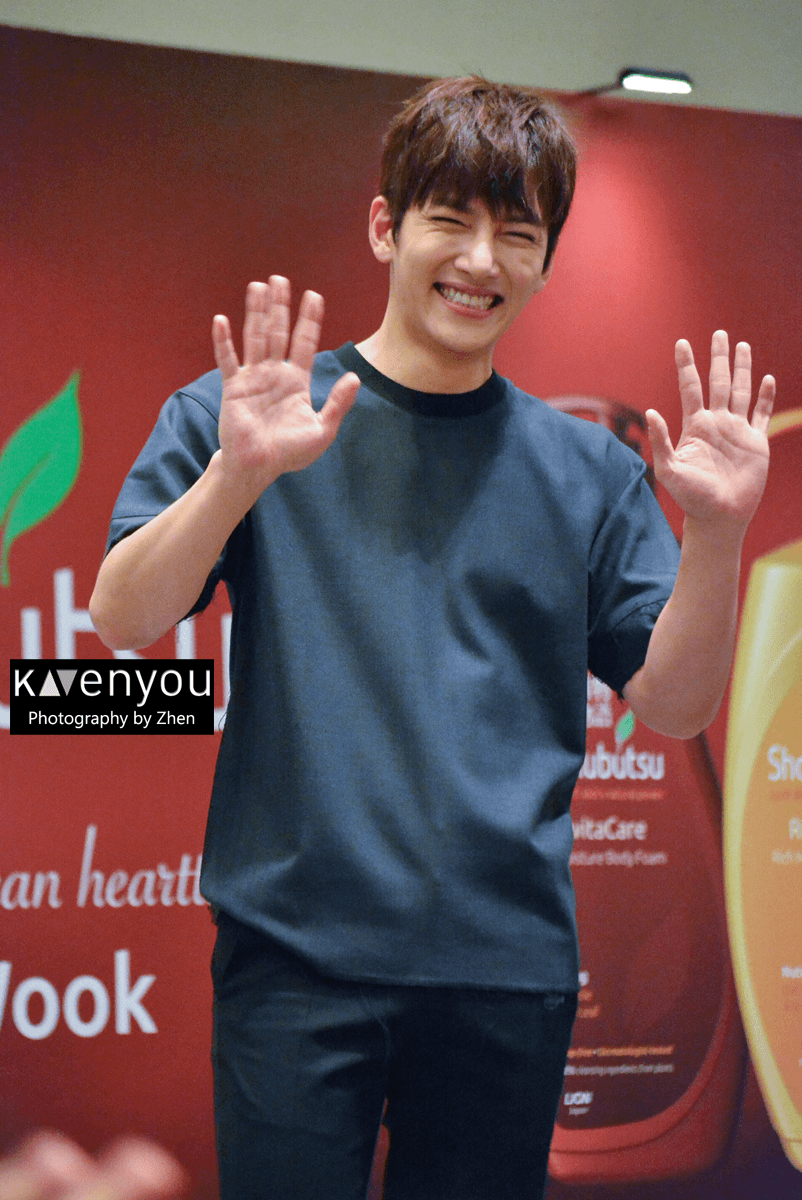 Korean heartthrob Ji Chang Wook continues his high energy at both his private and public fan meetings despite a tiring flight and a press conference earlier on!
The private fan meeting, held at The Westin, saw a crowd of 160 lucky fans who won meet and greet passes from their Shokubutsu purchases. During the private fan meet, Ji Chang greeted the endearing fans with his warm and thoughtful greetings and assured them their presence have been felt and appreciated.
2 rounds of games were played and over 10 lucky fans got a chance to go up and stage and play games with Ji Chang Wook himself! These fans not only had close interaction with Chang Wook himself but also walked away with a bagful of products from Shokubutsu as well as a personalized autographed poster hand-signed on the spot by Ji Chang Wook!
Although a tiring afternoon has passed for the sweet actor, he still made it in time for his public fan meeting held at Suntec City! Close to a thousand fans and supporters were present to show their support for Ji Chang Wook, some of which have been in line since early morning. Not wanting to disappoint his fans, he continued on with his cherry persona, making the fans buzz with joy.
During the public fan meet, 5 lucky fans won an exclusive opportunity to go on stage to interact with Ji Chang Wook after being asked what they would do if they got to spend a day with Ji Chang Wook, after which their answers were read to the actor personally. The 5 lucky fans also walked away with Shokubutsu products and an autographed poster!
Throughout the 3 events we have covered, it was heartwarming to see Ji Chang Wook keep his happy and humble disposition despite his hectic schedule, making his fans adore and support him even more.
KAvenyou would like to thank Shokubutsu for the opportunity to cover the press conference as well as both fan meetings.
Do check out our coverage of Ji Chang Wook's Shokubutsu press conference in Singapore if you have not read it yet: Ji Chang Wook impresses at first ever press conference in Singapore
For more photos of Ji Chang Wook's Shokubutsu promotional activities in Singapore, do visit and like KAvenyou on Facebook: Shokubutsu x Ji Chang Wook in Singapore
Article by: Beatrice @ KAvenyou
Photography by: Zhen Zhen @ KAvenyou