To be honest, I only heard about Chir Chir (치르치르) half a year ago when I was in Korea and my friend showed me an Instagram photo of a pile of fried chicken on a hotplate topped with whipped cream and white cream sauce beneath it. We headed to Myeongdong (there's 2 outlets there!) almost immediately to try this seemingly weird combination, and the rest was history. Who knew whipped cream and fried chicken could go well together?
Fast forward to a few weeks back, I was chatting with my friend one day and she mentioned about seeing a Korean fried chicken store named Chir Chir opening soon in Bedok Point. I thought she got the name wrong – until I went to search about it and behold, Chir Chir has opened its first outlet in Singapore at 313@Somerset! I knew I had to drag my friend that first introduced me to this very fried chicken down to try it and relieve the moments we had enjoyed in Korea, together with another friend.
Chir Chir Fusion Chicken Factory is a casual restaurant chain specializing in delectable freshly cooked chicken dishes. The Chir Chir (pronounced chi-reu chi-reu) chain originated from Seoul, South Korea. With its unique menu and a great variety of selection to choose from, Chir Chir has earned a strong following in Korea. Chir Chir's mission is to meet the needs of customers who are tired of having chicken cooked in same simple style. K-Pop fans may also find this brand familiar as the current ambassador is Park Hyung Sik.
Located in B3 of 313@Somerset near one of the escalators, Chir Chir Fusion Chicken Factory was relatively easy to find. We were soon brought to our seats and were presented with complimentary buttered corn and pickled raddish, a common accompaniment to Korean fried chicken.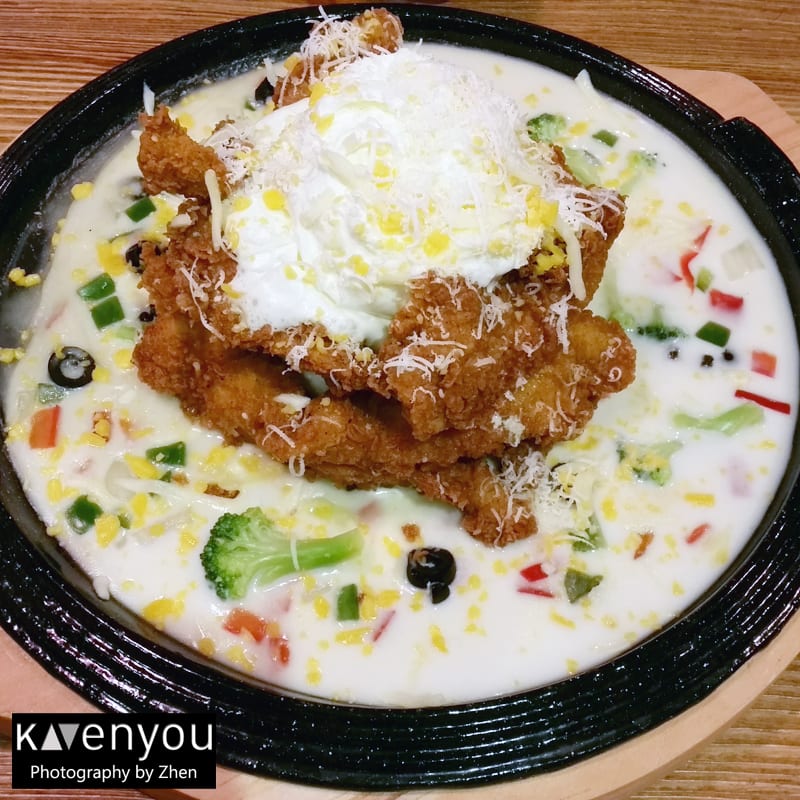 Of course, we had to order the Nest Snow ($32.90), aka the fried chicken with the whipped cream that I've mentioned above. Nest Snow consists of spicy fried cajun chicken tenders piled in a nest (and hence the name), topped with whipped cream and surrounded with delicious cream sauce, with sweet potato salad hidden underneath the chicken. I am always skeptical of trying Korean brands that are brought into Singapore, but this dish I had in Chir Chir Singapore definitely did not disappoint – the portion was generous and the taste was just like the one I had in Korea!
Being worried that just one plate of Nest Snow will not fill the stomachs of the three of us, we also ordered Garlicky Chicken ($26.90). The soy flavour of the fried chicken was rich and the crunchy garlic flakes were addictive. I cannot compare this to the one in Korea because I have only tried Nest Snow back there, but the delicious and authentic taste of this Korean fried chicken reminded me of the days I sat by Han River indulging in fried chicken. Alternatively if you prefer to enjoy your fried chicken boneless, you can go for the Garlicky Tenders option instead.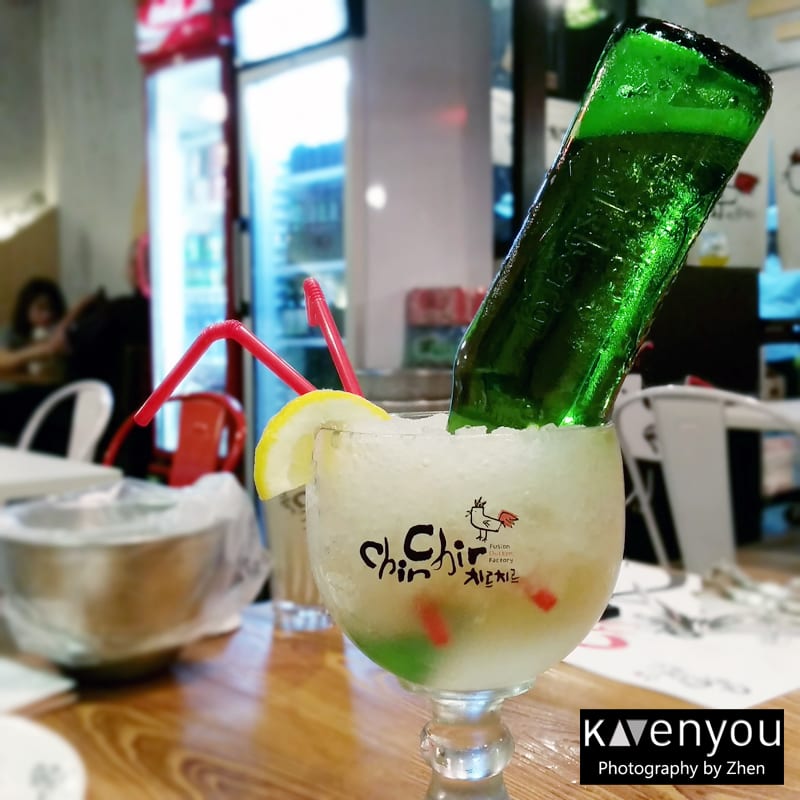 Another really Instagram-worthy dish is from the drinks menu – the Lady Killer ($16.90). Remember to slightly lift up the beer bottle (it was supposed to be Cass but it was out of stock ㅠㅠㅠㅠ) to allow the beer to flow out as you drink the concoction!
If you are a whipped cream lover (or not afraid of getting fat, since you are already having fried chicken), another option is the Chir Cream Beer ($13.90 [350ml], $18.90 [650ml]) – ice cold beer topped with a layer of fresh whipped cream. This chimaek (fried chicken and beer) combination is a perfect match to unwind to after a long day, or simply as a treat to yourself.
Those two plates of fried chicken proved to be an overkill for the three of us as the portions are really quite big although we barely managed to finish all of them, and thus the pricier dishes as compared to other fried chicken counterparts for the huge portions. So if you want to try as many flavours as possible, do go down with a biiiiiig group of friends!
Do try to head down during non-peak hours to avoid long queues (like how I did!) before the dishes from this Korean fried chicken restaurant become the next viral subjects (which I think will be with their photogenic Nest Snow) you'll often see on your Instagram feed! Also, do check out their Facebook page for the latest updates and promotions – they currently have a Valentine's Day promotion ongoing!
P.S. Chir Chir Fusion Chicken Factory Bedok Point outlet will be opening somewhere in March!

Chir Chir Fusion Chicken Factory (치르치르)
313@Somerset
#B3-04/05/06
Mon – Thurs: 10:00–22:00
Fri – Sat: 11:00–23:00
Sun: 10:00–22:00
Facebook: Chir Chir Singapore
Read more at "KAvenyou: Your Avenue to Non-Stop Entertainment, Lifestyle and Fashion"
Article by: Zhen Zhen @ KAvenyou