Not a stranger to the sunny island, Yook Sung Jae from BTOB is back in Singapore for an intimate meet and greet session with his fans. The idol, who has visited the city multiple times for events such as last year's ION Orchard's anniversary celebrations as well as the recent HallyuPopFest, still managed to attract a sizeable crowd at Bugis Junction X Bugis+.
BtoB's Yook Sung Jae back in Singapore to "Power with the stars" for Samsung
Dressed in a smart full black suit, Sung Jae appeared on stage looking fresh with a Samsung Galaxy Note 9 in his hand. Being an idol with multiple talents, he not only has to participate in BTOB activities, but is also active in hosting variety shows and acting. When asked about how he keeps up with friends and families, Sung Jae revealed that he is unable to see his family often. Therefore, whenever he has free time, he would do video calls with them.
The idol also mentioned about local band Gentle Bones! A question posted to him was to choose one artist that he wishes to collaborate with.
"Even though I like listening to ballads, I am into R&B and EDM nowadays. I also looked up on Singaporean singers; one of them is Gentle Bones and they are really cool. If there is an opportunity, it would be an honour to collaborate with them".

Yook Sung Jae
"I can't open my eyes, because you guys so shine." This is the english phrase that Sung Jae has prepared for the fans! The crowd was impressed as they cheered enthusiastically. He repeated the line with his spontaneous acting of being blinded by the crowd in front of him. After which, he continued the meet and greet by serenading fans with his soulful singing of Confession.
Moving on to the interactive segment where five lucky fans get to meet Sung Jae up-close and personal on stage. The five fans had the chance to receive a Wefie and exclusive morning greetings recordings from Sung Jae. One of the fans was lucky enough to be fed by the idol, with his favourite Korean snack. He even teased the fan as he went "ah~ ah~".
Reaching the end of the meet and greet, the vice-president of IT and mobile Samsung Electronics Singapore, Ms Sarah Chua was invited on stage for a photo opportunity with Sung Jae where she handed him a caricature drawing of himself; and he couldn't stop exclaiming "wow!".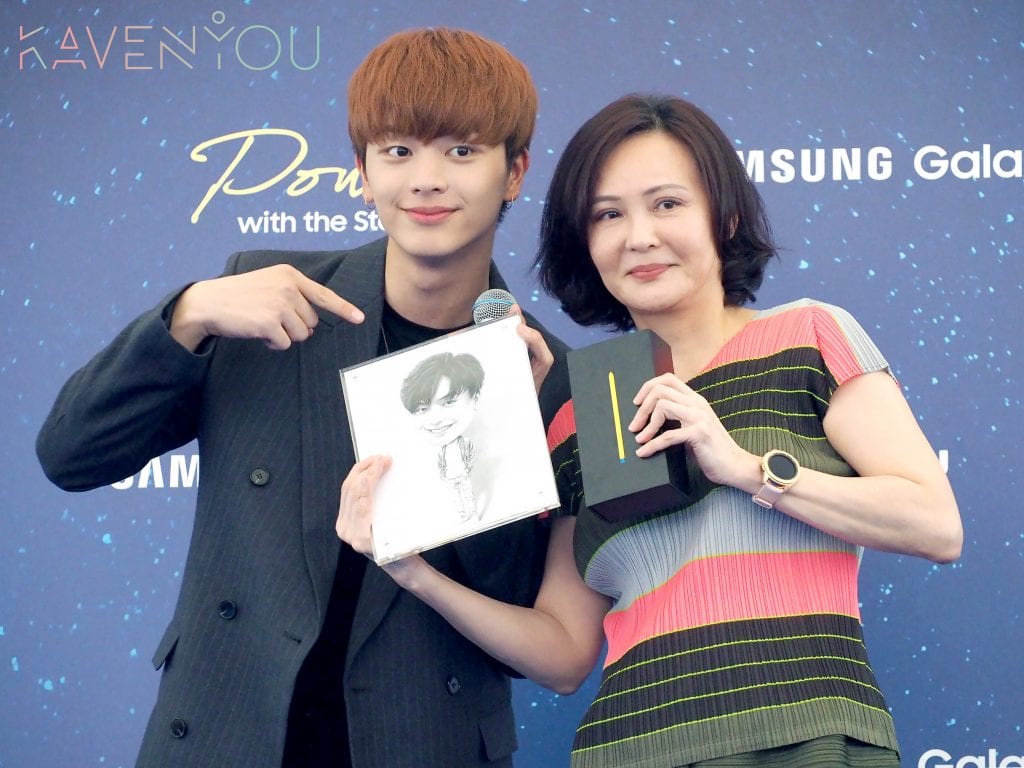 The meet and greet came to an end with Sung Jae giving his last speech: "It is a pity that I can only be here for such a short period of time. However, I will come back again with my BTOB members to perform for all of you. Thank you for coming every time whenever I am back here! Thank you!"
Even though it was a short meet and greet session, it was a valuable time spent with Sung Jae.
In addition, 20 limited edition Samsung Galaxy Note 9 personally signed by Sung Jae are up for grabs at the Samsung experience store!
KAvenyou would like to thank Samsung for the invitation to Yook Sung Jae Meet and Greet Session!

Article & Photography by: Jac @ KAvenyou.com