If you are looking for a unique experience in Korea, Boryeong Mud Festival 2019 that will take place from July 19 to 28 at the Daechon Beach in Boryeong might be your answer! Every year, both locals and tourists come to Boryeong Mud Festival 2019 to spend a day soaked in mineral-rich mud while enjoying mud-incorporated activities like a mudslide, a mud air bounce, and a mud massage zone.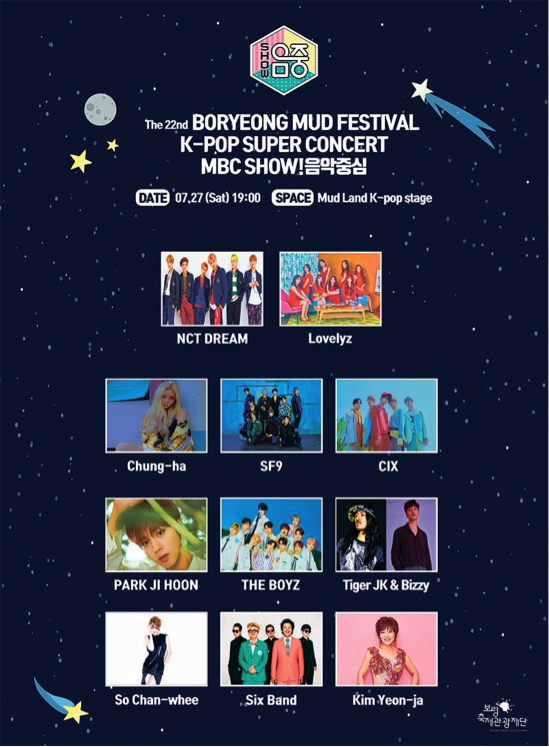 Along with the mud-filled festivities, on July 27, the lineup for MBC's Show! Music Core, a popular K-pop TV program, will be performing at the festival to make your summer's day absolutely unforgettable! The hottest K-pop stars such as Chung-ha, NCT Dream, Lovelyz, SF9, The Boyz, Park Ji-hoon, Tiger JK & Bizzy, and many more will get on the festival stage and mesmerize you with their spectacular performances! 
With Trazy, you can get the prime seats for this K-pop concert. You'll also be able to skip the long entry line into the concert via a separate entrance and secure round-trip transportation to and from the festival, which will make your life so much easier! 
Date: 7 PM, July 27, 2019
Location: Mudland at Boryeong Mud Festival
Line-up:  Chung-ha, NCT Dream, Lovelyz, SF9, The Boyz, Park Ji-hoon, Tiger JK & Bizzy, So Chan-Whee, Kim Yeon-Ja, 6 Band (Yuk Joong-Wan Band)
Tickets: Available at Trazy 
Early Bird 37% OFF until July 18
Grab this deal ASAP, because Trazy is offering an early bird discount up to 37% for customers who book by July 18, 2019! You definitely do not want to miss this fun event nor this incredible deal!
Apart from the usual entertainment, the 10 days festival will include many other activities for you to spend your time fruitfully, getting all tribal with the mud. Games, local products, various mud experiences and many more will ensure you won't have a single moment to slow down.