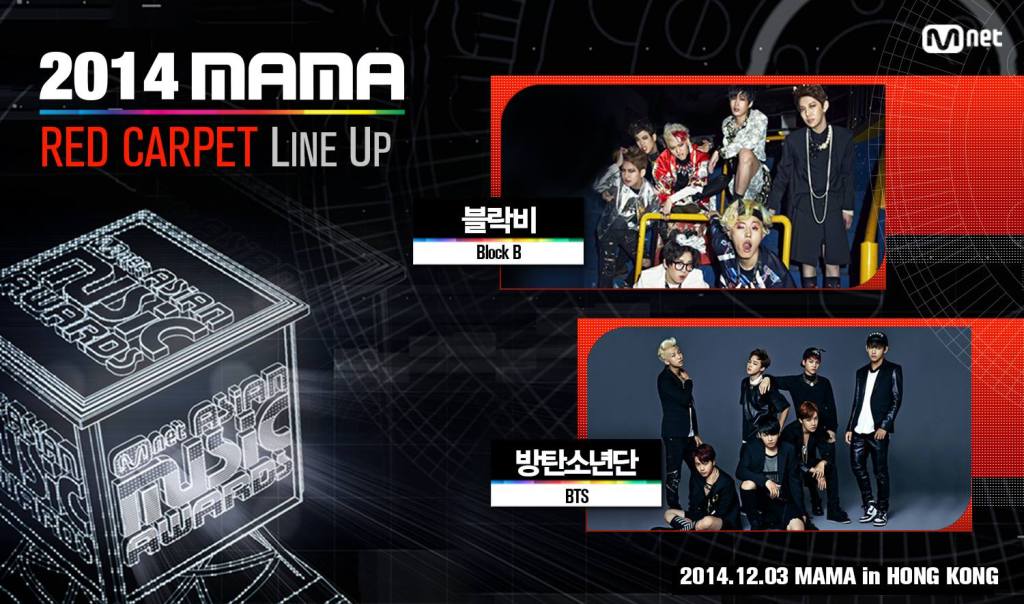 Prominent K-Pop boy bands Block B and BTS are confirmed to perform on the red carpet at the 2014 Mnet Asian Music Awards (MAMA), announced by Asia's leading content and media Company CJ E&M [http://en.cjenm.com] today. Asia's No.1 music awards 2014 MAMA [www.2014mama.com] is set for 3 December at AsiaWorld-Expo in Hong Kong this year.
With the release of their 4th album 'HER,' Hip-hop idol Block B has topped both major online and offline music charts. BTS, known for its energetic performance, has made major TV appearances performing their new hit song 'War of Hormone.' Along with EXO, G-Dragon and Taeyang as the first lineup, the appearance of Block B and BTS at the red carpet is expected to stir up excitement for K-Pop fans in Hong Kong.
Exclusive tickets for 2014 MAMA's red carpet performance are available online at [http://www.hkticketing.com/]. The standard ticket price is HK $580.
From now till Tuesday, 2 December 2014, online voting is also possible at 2014 MAMA's homepage: [http://www.2014mama.com/], as well as its mobile application and official sponsors' websites as follows:
–    UnionPay: [http://haigou.unionpay.com/MAMA2014.aspx] to vote for UnionPay Artist of the Year and UnionPay Song of the Year
–    Youku Tudou: [http://zy.youku.com/2014MAMA, http://zone.tudou.com/2014mama]
–    WeFans (mobile only): [http://m.wefansapp.com]
MAMA began in 1999 as the Mnet KM Music Festival (MKMF), an awards show instrumental at the time in leading growth of the Korean music industry. In 2009, MKMF was renamed the Mnet Asian Music Awards (MAMA), and in 2010, the festival started its Asian tour in Macau, followed by 2012 MAMA in Singapore. For the last two years, MAMA has been held in Hong Kong at the Hong Kong Convention and Exhibition Centre (HKCEC) and AsiaWorld-Expo, Arena (AWE) respectively. Last year, world famous artists Stevie Wonder, Ylvis, Icona Pop, and Aaron Kwok joined to celebrate 2013 MAMA which was simultaneously broadcast to many countries in Asia, Europe, North America, Africa, and Oceania.
Mnet Asian Music Awards (MAMA)
Premieres Wednesday, 3 December 2014
SingTel mio TV Ch. 518, StarHub TV Ch. 824
Channel is available in dual-subtitles