1. N.Flying
N.Flying is a 5-member Korean rap rock band formed in 2013 by FNC Entertainment. Originally started out as a 4-member team, the band debuted with their single "Basket" in 2013.
Fun fact about this band is that they made their debut in Japan before they did in Korea. N.Flying officially debuted in Korea in 2015, two years after their Japanese debut.
Being active in Japan for 2 years, the band has scored significant achievements on Japan's music charts and has since then been active in releasing Japanese singles. N.Flying also performed as opening acts for their senior bands, F.T. Island and CNBLUE's concert tours. The band also won the Best 3 New Artists award at the prestigious Japan Gold Disc Awards in 2017 despite their hiatus for almost a year during 2016 to 2017.
The 5th member, Yoo Hoe Seung, was added to the band in June 2017 as a vocalist. He was a contestant from the popular Korean reality show, Produce 101 Season 2. Being the new maknae (youngest member) in the band, Hoe Seung is well-loved by the other members who referred him as a 'whiny little brother'.
N.Flying recently made their comeback in January 2018 with the title track "Hot Potato". In celebration of their comeback, the members created their unique lightstick using real potatoes for their fans which created a buzz in Korea. Check out their "Hot Potato" MV below!
---
2. DAY6
DAY6, the first ever band to debut under JYP Entertainment, follows a slightly different pathway from the company's usual idol groups. Consisting of 5 members, the band debuted in 2015 with the title track "Congratulations" in their first mini album, "The Day". Rather than going onto mainstream music programmes, DAY6 focuses on building relationship with fans through platforms such as live performances, radio broadcasts and busking.
Hence, unlike the usual boy groups in JYP like 2PM and GOT7, many do not know that DAY6 is actually from the same company as the former. Even Koreans who listen to kpop are unknown of this fact. Check out this street reaction (https://www.youtube.com/watch?v=Cf_0WNXdsm0) of DAY6's "When You Love Someone".
In 2017, DAY6 took on an immense challenge of releasing self-composed new songs and holding concerts every month, from January to December. And this project is titled Every Day6. As the project title suggests, the band would release 2 new songs on the 6th day of each month.
Kicking off Every Day6 in January, the band released their first title track "I Wait", an energetic, hard-rocker alongside with their b-side track, "Goodbye Winter", a much gentler emotional rock song to balance out the dual releases. To wrap the year up, DAY6 treated the fans with a sweet confession song "I Like You" alongside with two b-sides, "I'll Try" and "Better Better" in December 2017. Just within a year, DAY6 has accumulated an impressive discography of 25 songs from the Every Day6 project.
Seems like 2018 will be another busy year for DAY6 as they will be embarking on a new project as revealed by JYP Entertainment, starting their first nationwide tour in Busan, Daegu and Daejeon and making their Japanese debut in March. Fans of DAY6 will rejoice too, as the band will finally be making appearances on local tv programmes such as Immortal Song 2, I Can See Your Voice 5 and Weekly Idol.
Check out the ultimate title track, "I Like You" from Every Day6.
Source: (1), Wikipedia, JYP Entertainment
---
3. Drug Restaurant
Drug Restaurant might sound unfamiliar to you but you must have heard of Jung Joon Young, the singer-songwriter as well as one of the permanent cast of 2 Days 1 Night. Jung Joon Young is currently the vocalist of Drug Restaurant, which was formerly known as the JJY Band (Jung Joon Young Band). Consisting of 4 members, the band released their first album "Escape to Hangover" and debuted with the title track "OMG" in 2015.
Ever wonder what does the unique band name, Drug Restaurant means? It basically refers to the band members' desire to provide healing to people through their music instead of any other drugs. Starting afresh with a new appearance, the band released an album titled using their own band name, "Drug Restaurant" along with the title track "Mistake".
In 2017, Drug Restaurant released their third album, "Pomade" where all the song lyrics are sung in English, hence making this their first English album since debut. All the songs in this album are composed and written by the band itself too. Hot on the heels of promoting their new album, Drug Restaurant headed off to Europe in September 2017 for their first European tour—bringing their music live to fans in more than 10 cities!
To commemorate the completion of the Europe tour, the band specially released a self-composed track, "Her" on 1 January 2018. Though the band is not in the mainstream kpop scene, their unique alternative rock sounds make them stand out and continue to stay true to their roots.
Check out Drug Restaurant's "Mistake".
---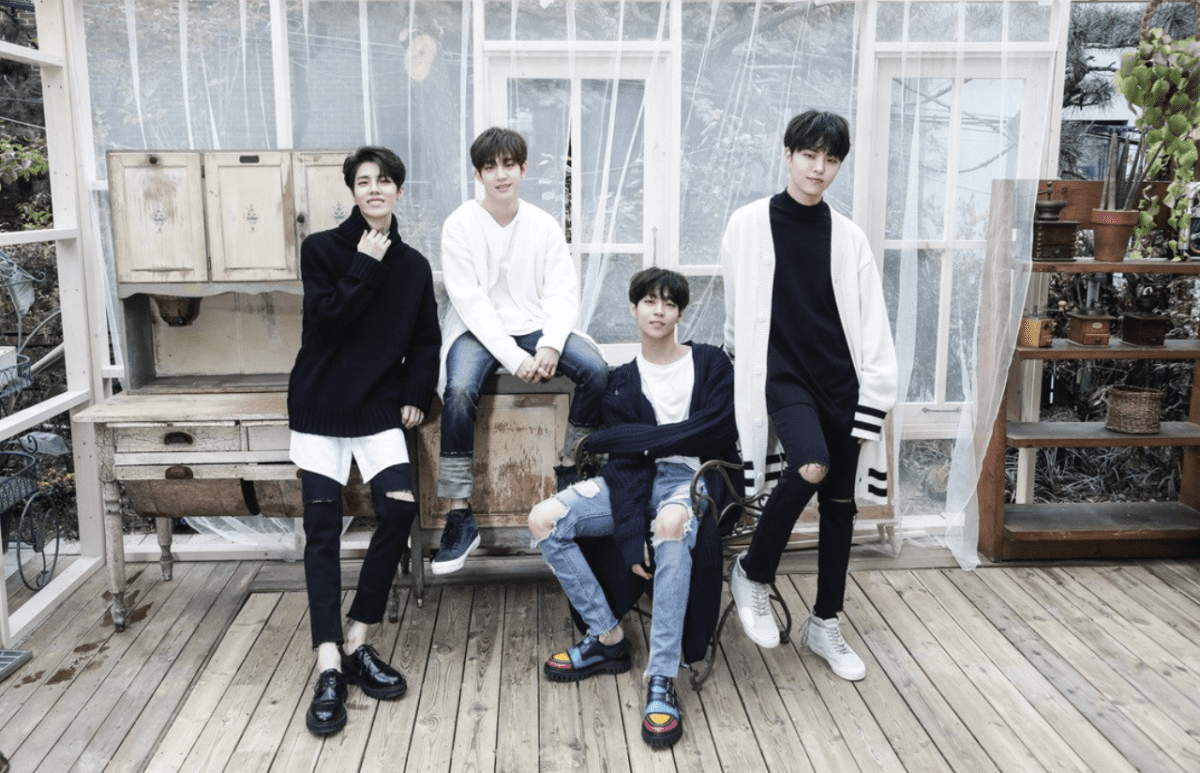 4. The Rose
The Rose is a 4-member band under J&STAR Entertainment. The band debuted in August 2017 with their first single, "Sorry" which received impressive rankings on the iTunes Kpop chart and was even recognised by Billboard as one of the best kpop songs of 2017.
The band has so far released 2 singles, "Sorry" and "Like We Used To". While slowly building their discography. The Rose has been doing covers during radio broadcasts, VLive and busking. One of their covers, "Breakeven" performed during their street busking, was even noticed by The Script—the script official account liked the video posted on Instagram. The Script is also one of the bands that The Rose have been wanting to collaborate, as mentioned by the members themselves regularly.
One fun fact about The Rose is that all four members are great vocalists! Despite having only two main vocalists (Woosung and Dojoon) in the two previously released songs, the other two members (Hajoon and Jaehyeong) have been supporting them through harmonising and backing up. Check out their cover of WINNER's Empty, where all four members show off their vocal skills: https://www.youtube.com/watch?v=FonCd0QMUMg
On Christmas Eve last year, The Rose held their first solo concert in Seoul as a Christmas gift for the fans. Black Roses (fandom name) in Europe can look forward to seeing The Rose as the band will be embarking on their first European tour in 2018!
With their debut song "Sorry" standing at over 3 million views within 4 months, it is considered a great achievement for a rookie group. The band also won the Most Promising Artist award at the International K-Music Awards. Filled with much potential, The Rose is sure to succeed in the near future.
Check out The Rose's debut song, "Sorry".
---
5. The East Light
The East Light is probably one of the youngest Korean bands—with the youngest member aged 15 and the oldest member aged 18. Consisting of 6 members, The East Light debuted in 2016 under Media Line Entertainment. Despite debuting at such young ages, the members of The East Light are full of talents and skilled in their respective instruments.
Even prior to the band's debut, each member had participated in music, variety programmes and movies, thus gaining some experiences in the showbiz. Junwook, one of the guitarists in the band, made an appearance in "Star King" as the "13 year old guitar prodigy" prior his debut with The East Light. The leader and drummer of the band, Seokchul had classical percussion background—focusing on timpani and marimba.
In January 2018, The East Light made a comeback with "Real Man", a funky and catchy track featuring the members' bright vocals. This is a 180 degree change of concept as they unveil their mature sides by dressing in suits in the music video, a switch from their past music videos where they showed off their bubbly and young vibes.
One thing unique about this band is that they include choreography in their songs! Instead of performing like how a usual band does, the members of The East Light rock out with simple dance moves when performing. Check out their latest release, "Real Man" below.
Bonus: Check out this acoustic cover of BTS's "Spring Day" by The East Light.
Article by Jac @ KAvenyou
For enquiries and collaborations, please send an email to xuanlin@kavenyou.com.