KakaoTalk (카카오톡)

Google Playstore: Click Here
Apple Store: Click Here

Available in: English, Korean
If you've seen your oppas post screenshots of a cute messenger app that can send cute emoticons, it's probably KakaoTalk. KakaoTalk is a messenger app that is practically like the WhatsApp of Korea. People in Korea (including your favourite idols) often use KakaoTalk as their primary communication tool.
There are many functions that allow you to send various types of media (photos, videos, voice recordings etc.) and make online phone calls 1-to-1, in groups, send your own location information and more!
The days of asking for someone's number are long gone. The best way to keep in touch with someone in Korea is to ask for his or her KakaoTalk ID. You can keep in touch with them without having to worry about international phone numbers and phone bills!
And if you're ever "feeling like Jackson", you can literally send a Jackson to your friend. Cute emoticons of various idols are available for purchase on the KakaoTalk store!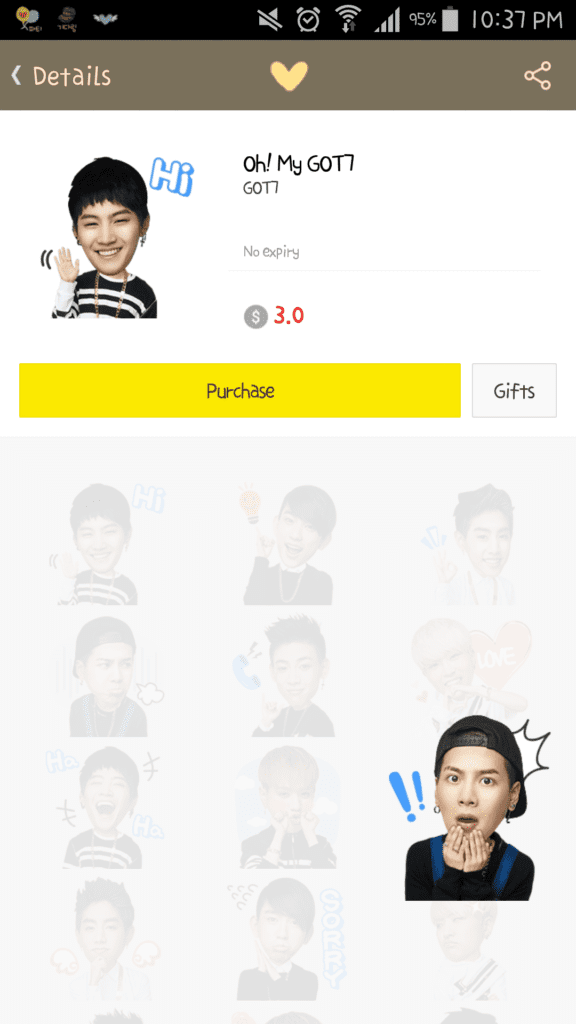 Yogiyo (요기요)
Google Playstore: Click Here
Apple Store: Click Here

Available in: Korean
CAUTION: Requires simple Korean to use
Up your food delivery game with this app that delivers almost everything that can satisfy your morning craves and your midnight hunger pangs. The app gathers different stores that offer food delivery and all you have to do is to make a few taps and the food will be on your way and the best part is you don't have to speak to anyone if you don't want to.
Although this app requires the user to be able to understand basic Korean in order to create and account and order food, with the help of a translating app everything should work just fine.
They offer different types of cuisines because there's nothing like a good old kimchi jjigae (김치찌개) or if you want to be bolder there's delivery fried chicken and beer, boiled pork wraps (보쌈) and many more. My mouth is watering already and I hope you're not reading this at 3am.
Jihachul (지하철)
Google Playstore: Click Here
Apple Store: Click Here
Available in: English, Korean
Jihachul (pronounced jee-ha-cheol) is Korean for 'subway' or rather the terminology we're all familiar with, MRT – I would dare say the fastest way to commute in Seoul, away from the heavy traffic on the roads. It's a sunny day, the weather is great and the subway is not crowded. Your eyes shift to the Seoul subway map to look for your destination. Except that you can't find it. The fact that the subway stations are huge don't really help.
By using this app, all you have to do is to select where you're leaving from and where your destination is and this app will provide information on the train schedule, the estimated time of arrival and the best feature for lazy people – This app even tells you which door to board from so it's nearer to where you need to transfer lines later!
A plus point is that this app offers the subway maps for not only Seoul but also Busan and Daegu.
SeoulBus (서울버스)
Google Playstore: Click Here
Apple Store: Click Here
Available in: English, Korean
Similar to the Jihachul subway app, this SeoulBus app offers real-time bus arrival information not only in Seoul but also in 15 other Korean cities. Wherever you are in Korea, this app has got your bus trips covered.
Personally, this is one of my favourite apps because usually the bus maps available at bus stops in Korea are only available in Korean and might be confusing to read and understand for tourists.
And also, it tells you how many seats are available on the bus so if you're in need of a seat, you can always wait for the next bus if it's full. Talk about information and convenience, this app has it all.
Naver/Daum Maps
Naver Maps
Google Playstore: Click Here
Apple Store: Click Here
Daum Maps
Google Playstore: Click Here
Apple Store: Click Here
Available in: Korean
CAUTION: Requires simple Korean to use
You might be the adventurous kind and instead of asking for directions, you would like to find your way round yourself. Until you open Google maps and realize that it doesn't work very well here in Korea. Just like how China has Weibo and Tudou, Korea has Naver and Daum – Their very own "Google". I've used this app a lot in Korea because I like to explore the streets of Korea without having an actual human guide and this helped me a lot along the way when I was stuck in small alleys and also when I needed to look for directions to the nearest supermarket.
Special Mention: TourMateKorea
Google Playstore: Click Here
Apple Store: Click Here
Available in: English
Are you feeling lonely sightseeing by yourself in Korea, and wish it was easier to make new Korean friends? This app provides tour matching service for foreigners visiting Korea and native Koreans. There are many unique experiences offered in Seoul, Incheon, Busan etc, by energetic and warm Korean Tourmates. This app is ideal for solo and small group of travelers to Korea, as all of the local experiences are rather short, and could be flexible for tourists.
The experiences will not be overly commercialised, as the guides are not professional tour guides; and is offering their time with the main aim to meet foreign friends.
Without these apps, I probably wouldn't have survived and thrived in Korea. I felt like the apps made me feel like I'm living like a local and I believe there is no better way to experience a country's culture than to live in it and try it yourself. Ditch those maps, you've got apps.
Are there any other apps that you think should be added onto this list? Let us know in the comments section below! And of course, if you know someone who might need this information, pass it on!
Read more at "KAvenyou: Your Avenue to Non-Stop Entertainment, Lifestyle and Fashion"
Article by: Cass Zheng @ KAvenyou