It is uncommon for two vastly different industries to work together, yet renowned local online fashion store Klarra and café Strangers' Reunion complements each other surprisingly well. KLARRA and Strangers' Reunion bring you the perfect union of two Singaporean favourites, Fashion and Food.
From now to 2 February, head over to KLARRA's pop-up showcase at Strangers' Reunion café (33-35-37 Kampong Bahru Road) to see and feel KLARRA's quality pieces from the new collection before purchasing! At the same time, enjoy Strangers' Reunion brand new menu – interesting dishes such as Ocean Trout on Hash & Berry Ricotta Hotcake!
Online fashion store KLARRA ups the ante with a feel of luxury targeting PMEBs
Renowned online fashion store KLARRA, fronted by local fashion icon and influencer Beatrice Tan, has re-emerged in the Singapore scene with a brand new focus – to offer the independent working woman designer-style timeless classics.
Spearheading the move from the booming online fashion scene into a niche market, KLARRA's Spring Summer 2015 collection unveiled carefully curated separates for the KLARRA woman by integrating the classic with modern tailoring techniques to complement the feminine silhouette.
The range is targeted at professionals, managers, executives and businesswomen whom KLARRA envisions as the KLARRA woman – an independent individual with a vivid mindset. Unfazed by passing trends and undefined by age, she is a confident woman that seeks empowerment within.
KLARRA currently features two lines, its namesake being the pillar of its fashion range while a conceptual line, FRONTROW by KLARRA, focuses on unique and quality fabric and prints created with a specific theme.
In their rebranded line, the star of the show belongs to FRONTROW by KLARRA's Kendaz Playsuit and Tulle set. Available in both 'Tea Rose' and 'Bondi Blue, this playsuit and skirt set is believed to be the first of such in online fashion. Kendaz embodies KLARRA's belief in detail and versatility – wear it as a playsuit for the dress down weekend, and then jazz it up a notch for that dinner later by adding the tulle skirt.
Other ensembles in the collection include a stylish pair of textured culottes, the Todd Tailored Culottes, crafted with carefully sourced crepe back satin to create eye-catching structure. Featured in a trendy seasonal seafoam colour, this versatile piece is designed to perfectly enhance the feminine silhouette. A whole range of tailored culottes, skorts and sweaters in different prints, materials, cuttings and colours is also available.
Loyal fans of lace and skirts will also be delighted at KLARRA's new design concepts. From mini to maxi skirts, crochet to lace, 2015's Spring Summer collection will bring you hues of colours, both pastel and vibrant.
"The local fashion scene is saturated, and at KLARRA, we want to set ourselves apart from the rest. We decided the best way to do this was to introduce apparel focusing on quality and design. To bring unique upscale designs to the market, we conceptualised the whole product line to emphasise on unique fabric and workmanship. In addition, customers can also see, feel and touch our outfits before purchasing.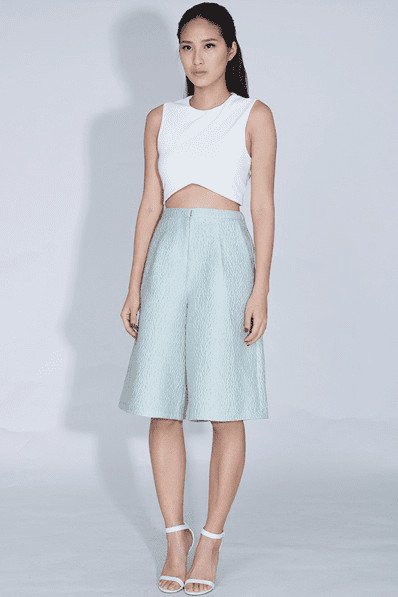 "This ensures customers get the best value for the clothing. We want our customers to look good, and also feel good. Thus far, the response has been encouraging and we are excited to introduce more of such quality pieces to our customers," shared founder Beatrice Tan on KLARRA's rebranding.
Customers may purchase KLARRA's Spring Summer 2015 collection on their website www.klarra.com. Customers who wish to see and feel KLARRA's quality pieces before purchasing may visit the KLARRA pop-up showcase at Strangers Reunion café (33-35-37 Kampong Bahru Road) between 21 January to 3 February 2015 or register for KLARRA's showroom through their website.
Café Strangers' Reunion serves up a clever twist to cafe staples with new seasonal menu
Food lovers can look forward to several never before seen dishes at popular local café Strangers' Reunion this season, in addition to improved versions of current favourites.
Strangers' Reunion is famous for its coffee, which is specially sourced and curated by three-time Singapore Barista Champion and co-founder Ryan Tan.
World Gourmet Summit-certified chef Daniel Chin constructed the latest menu, where each dish is designed to bring to one's palate a mix of unique flavours and textures, with at least five different elements.
Patrons may pique their appetites with a choice of starters such as:
The soul-soothing Wild Mushroom Veloute ($9.90) topped with shimeiji mushrooms and togarashi croutons for just the right amount of crunch. A drizzle of fragrant truffle oil completes the dish.
A refreshing Tuna Tataki Niçoise Salad ($15.90), tossed with fresh cherry tomatoes, pickled white onions, pea sprouts, wasabi dressing made in-house, and a perfectly-poached egg.
Beetroot Salad ($12.90), a colourful combination of tastes and textures with fresh garden greens, smashed avocado, sundried tomatoes, artichoke, red turnip, pistachio, croutons and house dressing.
Thereafter, get ready to savour one of the mouthwatering Strangers' Reunion All Day Breakfasts:
Ocean Trout on Hash ($21.90) with petit salad and a poached egg. The potato hash and trout is complemented with savoury bagna cauda, a traditional Italian sauce made from anchovies, garlic and cream.
An excuse for you to have steak anytime of the day with Breakfast Steak ($23.90). Truly in Breakfast style, the dish is accompanied by braised chick peas, apple fritters, petit salad and a sunny-side up.
A palette of colours in Beetroot Corn Fritters ($17.90, or $21.50 with bacon) bringing out a unique blend of flavours with arugula, beetroot, corn, tomato relish, Za'atar spiced poached pear, and a poached egg.
Italian Pork, spiral and Bockwurst Sausages & Hash ($23.90) accompanied by sour cream, petit salad and a sunny side-up for a refreshing twist on Bangers & Mash for brunch.
A redesigned version of the traditional Benedict: Freshly Shaved Proscuitto Benedict ($19.90) with anchovies, crisp parmesan chips, petit salad and country bread.
And another Benedict bearing the Strangers' Reunion touch – House Smoked Salmon Benedict ($18.90) garnished with hazelnut béarnaise crafted by chef Daniel Chin, feta cheese, walnut crumble, petit salad and sultana bread.
Once fully satisfied with your mains, don't forget that some stomach space is necessary for sweet treats:
The vibrant and colourful Berry Ricotta Hotcake ($18.90), featuring a generous serving of a soft and fluffy hotcake, served up with fresh berries, pumpkin seeds, sunflower seeds and vanilla bean ice cream.
Smooth and flavourful Chocolate Panna Cotta ($16.90) drizzled with homemade berry compote, walnut-infused gold dust, salted caramel and the perfect touch of dark chocolate sables.
The signature Strangers' Reunion Buttermilk Waffles ($12.90) – famed for being just the right amount of crisp on the outside, and soft and fluffy on the inside. Topped with fresh fruits and your choice of vanilla bean ice cream or greek yogurt, this is the dessert that will complete your meal.
Better still, be adventurous and try a waffle from Waffle Slayer – Strangers' Reunion's dedicated waffle and specialty coffee bar next door. With savoury waffles such as the Squid Ink Waffle with Dijon Maple Bacon and Pistachio Tuile, and sweet items like the Banana Brûlée Buttermilk Waffle with Walnut Crunch, you will be spoilt for choice.
After the delectable meal, end your meal with Strangers' Reunion's most popular coffee – Magic ($5.50), a double ristretto with milk. Known as the shot for purist baristas, a ristretto is the first 20 seconds/20 milliliters of an espresso shot – it brings a lot more aroma and sweetness, cutting away the caffeine and bitterness that comes towards the end.
To epicures and the curious: come, revel in the delights Strangers' Reunion has to offer. We know you want to.