Months after the introduction of Honey Butter Chip in Korea, the craze is still going on strong and the fire does not seem to be dying down anytime soon yet. McDonald's Korea has launched honey butter shaker fries for a limited time period – for 10 days until this weekend, 8th March.
Besides eating it with fries, innovative Koreans have also tried the honey butter powder together with their McWings, mixed it into their corn cup as seen on McDonald's Korea Facebook page. I've also came across photos of people mixing the powder with their McFlurries!
And ever since the release of a seemingly mediocre pack of potato chips, which however took Korea by storm, there are all sorts of honey butter flavoured products out in the market now. And by all sorts, I really do mean all sorts. (warning: be prepared for a honey butter picture spam)
---
Chips
[one_half]
[/one_half] [one_half_last]
[/one_half_last] [one_half]
[/one_half] [one_half_last]
[/one_half_last]
The most popular successors after the original Honey Butter Chip would be Honey Tong Tong and Sumi Chip in honey mustard flavour. They're slightly easier to get than Honey Butter Chip, although demand is still high for them. In fact, I've read comments online that some people prefer Honey Tong Tong to Honey Butter Chip!
I guess Homeplus was fed up about customers constantly asking about the availablity of Honey Butter Chip and people snatching them up almost immediately every time stocks arrive, that was why they have also released their own Honey & Butter Kettle Chips.
---
Snacks
[one_half]
[/one_half] [one_half_last]
[/one_half_last] [one_half]
[/one_half] [one_half_last]
[/one_half_last] [one_half]
[/one_half] [one_half_last]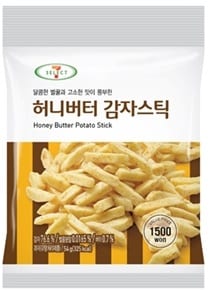 [/one_half_last]
Riding on the increased sales of macadamia nuts in Korea since the infamous Korean Air nut rage incident, there is also honey butter flavoured macadamia nuts now. Korea's 7-11 has also jumped on the bandwagon and introduced their own Honey Butter Potato Stick. These snacks are a hot favourite with Koreans as a late night snack along with their beers.
---
Drinks & Desserts
[one_half]
[/one_half] [one_half_last]
[/one_half_last]
Latte King is at it again. After coming up with interesting flavours such as wasabi latte, salt latte and Bailey's latte, the franchise chain has unveiled its honey butter latte in mid-January.
Besides the Honey Butter Potato Stick, 7-11 has also released its own Honey Cream Cheese Latte. How I wish the 7-11 stores in my country carry such interesting products too! My all-time favourite Petitzel pudding has also released a new Honey & Creme Blanche flavour so as not to lose out in this craze.
---
Fried Chicken
I have never heard of this Korean fried chicken brand before, but it is gaining popularity in Korea lately because of its latest addition to the menu – Honey Butter Chicken. This will be the first on my to-eat list when I visit Korea next time!
---
Besides food, the honey butter craze has also spread to other areas…
Skincare & Beauty
[one_half]
[/one_half] [one_half_last]
[/one_half_last]
If you can't get enough of the taste of honey butter, why not apply it on your face as well? Missha has released its Honey Butter Pack, with honey, butter and potato as the components. It sounds scary to have the same ingredients of a packet of potato chips applied on your face, but apparently they do wonders to your complexion: potato extracts give brightening effect, Korean acacia honey hydrates, French gourmet butter nourishes. Another Korean beauty brand Kskin has also came out with its own Honey Butter Sleeping Pack.
---
Others
If you want to proclaim your love for Honey Butter Chip to the whole world, you can also use this Honey Butter Chip phone casing. It's quite cute actually, and they're sure to be a conversation starter! "Have you tried Honey Butter Chip yet?" "Where did you get your Honey Butter Chip from?"
The honey butter game is indeed strong, man.
If you are tempted after reading this article and is heading to Korea soon, I believe I have helped you to compile your shopping list for your upcoming Korea trip, and yes, you're welcome. Do remember to think of me when you hunt these items down (and please help me get a packet of Honey Butter Chip – I will love you long time for it!)
Read more at "KAvenyou: Your Avenue to Non-Stop Entertainment, Lifestyle and Fashion"
Article by: Zhen @ KAvenyou.com