KUALA LUMPUR — On March 12th at Stadium Merdeka, EXO successfully held their first solo concert in Malaysia, 'EXO PLANET # 2 – The EXO'luXion – in KUALA LUMPUR,' which was also the final stop of this world tour concert. It was a full house on show day, the entire stadium was lighted in silver with over 14,000 local and oversea fans coming from Indonesia, Thailand, Brunei, China, Singapore and etc.
EXO landed in Malaysia with full members including Lay who had a back injury and was rumored to not join the tour in Malaysia. The night officially kick started with a futuristic intro VCR. All the exhaustion fans suffered from waiting and squeezing to enter the stadium before the concert vanished immediately when the 9 members emerged on stage to perform the first song of the night – Overdose. Suited in golden jackets, EXO continued with 'History' and later proceeded to the extended stage for 'El Dorado'.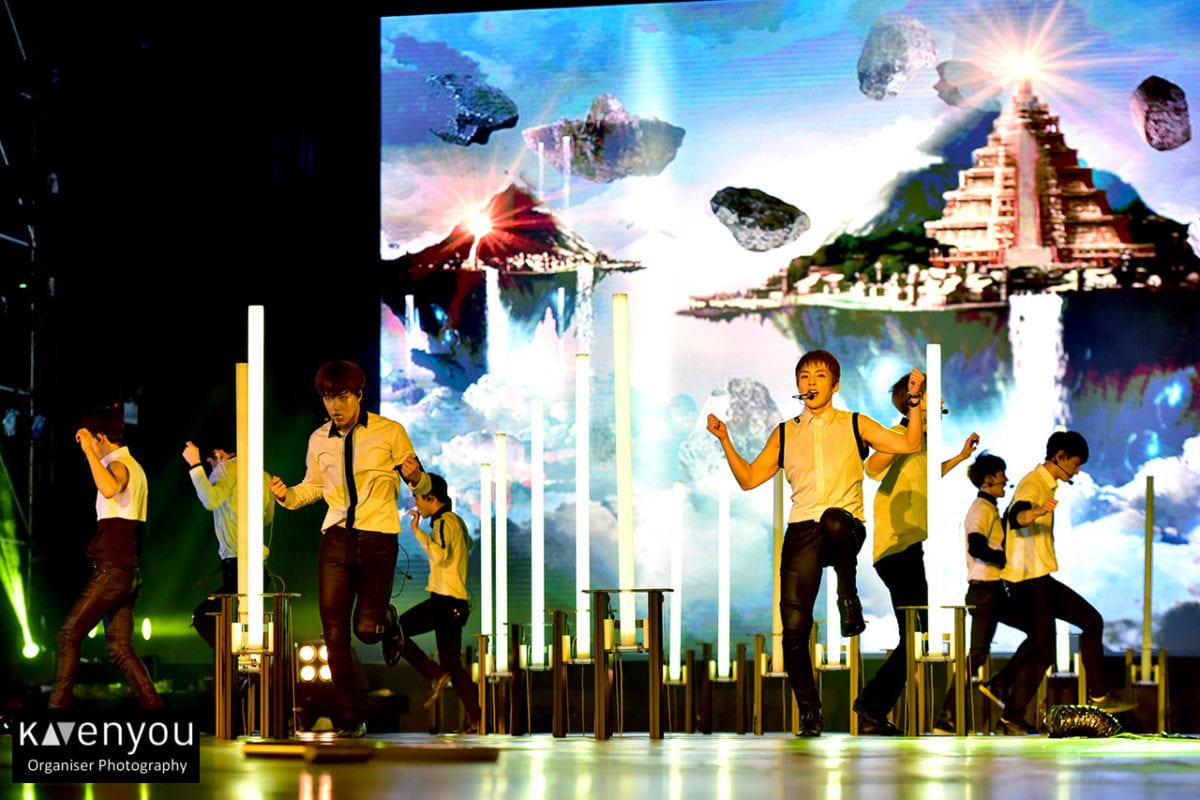 A ment session was carried out after the 2 intro performances. Member Chen welcomed everyone by shouting 'Malaysia! Welcome to Exo'luxion! Selamat datang! (translated as 'welcome' in Bahasa Melayu)' The other members then took to the stage to greet the fans individually. Lay, as the only Chinese member in the group made his introduction in Mandarin. Baekhyun did his introduction enthusiastically by raising his voice to shout 'annyeonghasaeyoooo~ Baekyun imnidaaaa! (translated as 'hi everyone, I'm Baekhyun!'). EXO-Ls burst into laughter when leader Suho defined Malaysia as volcano due to the hot weather.
Right after the talk, EXO members enlightened the crowd with 'Don't Go', 'Playboy' and 'Baby Don't Cry'. Random fireworks were launched during 'Playboy' performance, heightening the euphoric atmosphere of Exo'Luxion World Tour in Malaysia! One of the highlights of the concert would be when lead dancers Sehun and Kai showcased a sexy (and wet!) solo dance in a pool of water on stage. The stage was then taken over by the vocal line – D.O, Suho and Baekhyun to perform 'My Answer'.
After the second VCR – 'My turn to cry', EXO members changed into their second outfit of the night and reappeared on stage to perform 'The Star', 'Exodus' and 'Hurt'. The boys took off their red blazers during 'Hurt' (I guess we could thank the Malaysia weather for this). The boys transformed into 10 dwarfs in the third VCR. Shortly after, they changed into a new outfit which included a red mickey mouse hat to perform 'Peter Pan'. Halfway throughout the performance, Lay gave Baekyun a peck on his forehead and caused another outburst among the fans! Fans were treated with energetic performances of 'XOXO', 'Lucky (Chinese version)' and '3.6.5' before the next talk session came on.
The sweet-talker Suho said: "Are you all having a good time, Kuala Lumpur? You all (fans) are so so beautiful.' Chanyeol also mentioned that this was the first time he had sweated so much. Suho wrapped up the talk saying 'we'll turn this place into a Christmas party now since we didn't get to spend it with you guys.' The Exo'Luxion Christmas party started with 'Christmas Day', followed on by 'First Snow' and 'Miracles in December (Chinese version)'.
EXO pushed the energy levels of the crowd further with their powerful performances of 'Full Moon' and 'Machine'. Xiumin thanked the fans for being so passionate and they felt very appreciated. Chanyeol then took over the DJ deck for 'Drop That'. Stadium Merdeka turned into a major dance floor during a consecutive performance of 'Let Out The Beast', 'Run', 'Call me baby' and 'Growl'. Before proceeding into the final song 'Love Me Right', Suho asked the fans did they have to attend school and fans answered loudly with 'no!'. The cheeky leader then said he would want to bring all the fans to Seoul.
While waiting for the encore stage, fans started singing to Sing For You and they also chanted 'We Are One' when a touching VCR was being shown on screen. The wait was finally over when EXO reappeared on stage to serenade the fans with 'Sing For You'. Another highlight of the night would be when the members acknowledged the fan project done by EXO-L. The fans were holding banners with "당당하게 너를 사랑하고있어서 행복해" written on them that could also be understood as "We are happy to love you virtuously". Sehun explained that it was something that he said to the fans before. The 2 and a half hour concert finally came to an end after a pleasant birthday surprise was given to Xiumin.
The EXO'luXion World Tour Live in Malaysia 2016 was jointly presented by Spritzer Mineral Water and Robsonhill Residency and was organized by Star Planet Sdn Bhd. Stage setup kick-started with large containers flown in from abroad. Elements included gigantic high-definition screens, state-of-the-art audio, and visual, pyro, hydraulic lifts, mini pools and stage extended well into the audience. Total production moved on more than 30 trucks with about 300 crew. The stage production expenses were close to RM 2 million.
Besides that, the organizer had been receiving many complaints from the fans due to the poor queue arrangement. For clarification, Star Planet posted this on their Facebook page:
'The venue has very restricted space and only has 2 entrances to accommodate almost 15,000 fans to enter and exit due to surrounding construction and site hoardings. Moreover, there wasn't any other venue available and suitable to accommodate the show. We hope that you'll understand that we had tried best to make happen the show for fans here (since this is their last tour) and if it wasn't Stadium Merdeka, the show would not have become a reality. We had done our very best. Hope the spectacular show can make it up for you and we hereby regret for the inconvenience caused to you.
That night was also extra special for an EXO-L named Lee Qiao Siew. Lee Qiao Siew is a leukemia patient and she sent in her story to the Make-a-Wish Foundation wishing to meet EXO in real life. Her meet-up was granted through SM Entertainment. On the day of the concert, Lee Qiao Siew was able to enter the waiting room, talk to EXO, and take pictures with the members. Lee Qiao Siew said, "The fact that I met EXO still feels like a dream. I want to thank the Make-a-Wish Foundation and SM Entertainment for making my dream come true."
Thank you Star Planet for inviting us to the concert. Hopefully we'll get to see EXO again in near future!
Article by: Wenyi       Photos by: Organizer, SM Town weibo, KrisXing U